RINGERS: LORD OF THE FANS is a feature-length documentary currently in production!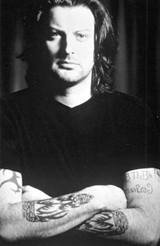 Robin DiMaggio
Composer
Robin DiMaggio is a musical force with whom to be reckoned. Although primarily known as one of the world's premiere drummers and percussionists, Robin is also a highly skilled songwriter, composer, conductor, arranger, producer engineer and instrumentalist (playing piano, bass, saxophone, and clarinet). Having traveled extensively from an early age, his music embodies rhythms and sounds from diverse cultures throughout the world.
Born in Paris, France, Robin is the prodigy of the renowned Christian DiMaggio, Conductor of the National Orchestra of Paris. Robin's life-long obsession with music began at the early age of two when he began tackling the drums. By five, he began his music studies in Montreal with Guy Nadon followed by years of tutoring in Los Angeles by the legendary Joe Porcaro.
By the age of 15, Robin was playing with legends such as Ray Charles and Sammy Davis Jr. at the Hollywood Bowl. By 16, he was asked to perform at WOMAD's Amnesty International Concert with Tracy Chapman. From there, Robin's career ascended in all respects as he immersed himself in the emerging hip-hop and world music scenes. In fact, in 1998, he entered the Guinness Book of World Records for the highest drum performances ever, filmed by MTV France in the French Alps at an altitude of 13,793 feet.
The talent pool with whom Robin has worked is as extensive as it is impressive. He has toured and recorded with veterans such as Paul McCartney, Paul Simon, David Bowie, Quincy Jones and Jackson Brown; divas such as Toni Braxton, Mariah Carey, J. Lo and Celine Dion; rap/hiphop pioneers such as Dr. Dre, Tupac, Puff Daddy and Snoop Dog; r & b superstars such as Usher and Luther Vandross; pop-rock youth icons such as Ashlee Simpson and New Kids on the Block; rockers such as Slash and Glen Hughes; country stars such as Johnny Cash and Chris Isaak; film idols such as Johnny Depp and Jada Pinkett Smith; world musicians such as the acclaimed sitarist/composer Ravi Shankar and violin maestro L. Shankar and the list goes on.
Robin has appeared on talk shows including David Letterman, the Arsenio Hall Show and Soul Train and has performed at the Grammys, the American Music Awards, the World Music Awards (Monte Carlo) and the MTV Awards.
Robin has released two solo albums ("Blue Planet", a musical tribute to his world travels, and "Sphere" a collection of lush, provocative and emotional piano solos) and his third album (jazz-inspired "Trio") is to be released in early 2005 by Sony Classics.