RINGERS: LORD OF THE FANS is a feature-length documentary currently in production!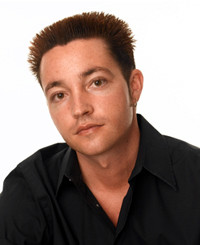 Josh Mandel
Director of Photography & Co-Producer
Filmmaker Josh Mandel has pursued myriad forms of music, film, and art. By age 16, he had formed his own Jazz quartet, and was playing live gigs at night clubs throughout the San Francisco Bay Area. After relocating to Los Angeles to study film at UCLA, Josh began shooting and directing music videos for local bands, and eventually worked on several videos for such prominent artists as; Vanessa Carlton, Weezer, 50 Cent, and Eminem. In 2001, Josh was one of the traveling cinematographers for the U.S. House of Blues Tour of the popular 80s U.K. band, Echo and the Bunnymen. Between 2001 and 2003, Josh co-created and produced a nationally televised magazine show, UCLA: Next, which currently broadcasts to 4.5 million households on Direct TV and the Dish Network. Josh graduated from UCLA Magna Cum Laude in June 2003. In 2004, Josh worked with the Academy of Television Arts and Sciences, filming interviews of prominent television figures for the Academy's digital archives.
Out of several hundred applicants, Josh was 1 of 12 producers recently accepted into the prestigious Producer's Program at UCLA Film School. Designed to train the next generation of independent and studio producers in business strategy and entertainment law, the UCLA Producer's Program is run by such figures as Peter Guber (Chairman, Mandalay Entertainment), Geoffrey Gilmore (President, Sundance Film Festival), and Joe Roth (Founder and President, Revolution Studios). Josh is currently in development on a feature film, Across the Water, as well as a television Sit-Com, Opposites Detract. He will return as Show Producer on UCLA: Next in the Winter of 2005.