RINGERS: LORD OF THE FANS is a feature-length documentary currently in production!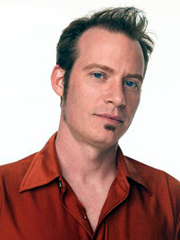 Cliff Broadway
("Quickbeam")
Writer/ Producer/ Interviewer
Cliff Broadway is a multi-hyphenate with numerous performance credits. His first critically acclaimed play, Elevator, was produced in 1998 for the Copperview Theatre Company in Los Angeles. His voiceover work includes TV, radio, and most recently the hobbit Samwise Gamgee in Black Label Games' The Fellowship of the Ring video game. Cliff has worked with TheOneRing.net as a senior editor/writer since 1999. Using the pseudonym 'Quickbeam,' his wildly entertaining (and sometimes controversial) commentary has been a prominent feature of the Green Books online magazine. He served as Master of Ceremonies for three consecutive years at the TheOneRing.net's famous Oscar Parties, attended by thousands.
Also a deeply knowledgeable Tolkien academic, Cliff is co-author of the bestseller "The People's Guide to J.R.R. Tolkien," and the follow-up volume, "More People's Guide to J.R.R. Tolkien," published by Cold Spring Press. Several entertainment companies continue to demand his expertise for a variety of Tolkien-related products and media; including Universal Interactive, Warner Reprise Records, Decipher Games, Pellerin Multimedia (DVD production), and Company Wide Shut. Together, Cliff and his writing partner Carlene Cordova conceived and wrote RINGERS: LORD OF THE FANS, in which he also supplies several character voices.
Cliff is the Interviewer at the heart of Ringers, being familiar to both the Fan Community and also the creative team behind New Line's Lord of the Rings films -- allowing him to create engaging and literate conversations with his subjects. He is based in Hollywood, and yes, it really is his last name.
Click on the names above to read
each filmmaker's bio!
Click Here to watch Cliff's appearance on
The Jamie Kennedy Experiment.