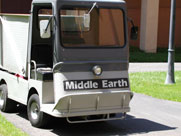 About the film
Ringers: Lord of the Fans
RINGERS: LORD OF THE FANS shows how, after 50 years, "The Lord of the Rings" continues to spark the minds and hearts of millions. RINGERS explores the real foundations of Middle-earth; a community of true fans who share a common bond. Moving beyond "cult classic" and over several different generations, the film unearths countless people gathered under the banner of 'Ringer' -- academics, musicians, movie stars, authors, filmmakers, and a plethora of pop junkies. Celebrity interviewees include Peter Jackson, Elijah Wood, Ian McKellen, Clive Barker, and David Carradine.
RINGERS features a dynamic rock-driven score with musicians who were influenced by J.R.R. Tolkien. Several indie recording artists have provided new covers of songs from previous "Rings" adaptations. Produced in association with the popular fan-site TheOneRing.net, RINGERS stands as the most comprehensive film document of the ongoing fandom of "The Lord of the Rings."
From the hippie counter-culture to the electronic age; from the Bakshi animated film to Jackson's epic trilogy; this documentary brings together extensive footage collected over 21 months -- across three continents. Our cameras have captured the most energetic "Lord of the Rings" events.
What began as the private amusement of a tweedy Oxford professor has now become a new mythology for the 21st century. RINGERS: LORD OF THE FANS shows how an adventure story published in 1954 has had dynamic ripple-effects through Western pop-culture. RINGERS carefully pulls away the veil between Tolkien's book and the creations of art, music, and community that have been inspired by it.

List of cast names.
Peter Jackson, Elijah Wood, Ian McKellen, Viggo Mortensen, Sean Astin, Dominic Monaghan, Billy Boyd, Andy Serkis, Cliff Broadway, Sala Baker, Clive Barker, Cameron Crowe, David Carradine, Terry Pratchett, Peter S. Beagle, Terry Brooks, Lemmy Kilmister, Geddy Lee, Dr. Jane Chance, Christine Crawshaw, Colin Duriez, Chris Gore, Forrest J. Ackerman, Bill Mumy, Brian Sibley, Colleen Doran, Jill Thompson, Elvis Mitchell, and hundreds of Tolkien fans!