Ringers pose at San Diego Comic Con 2003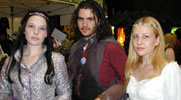 Ringers Community!
Join the rest of the Ringers online. Hook up, chat and discuss Tolkien.
Log on to the new RINGERS chat room and meet other Ringers! Click Here!
TheOneRing.net hosts Barliman's, one of the liveliest places to Chat Tolkien on the web. Click here to visit Barliman's.
What's your favorite Tolkien film adaptation? Join the RINGERS: LORD OF THE FANS Message Boards to discuss everything Tolkien with your fellow Ringers! Click here to join!
Chat | Message boards |
Sign up for our Mailing List! Our mailing list includes a weekly newsletter that keeps you up to date with our recent shoots and progress with the film. We'll also be including tidbits about the history of Tolkien fandom from the publication of The Lord of the Rings to the present.
To sign up for the mailing list, submit your email below.