RINGERS Media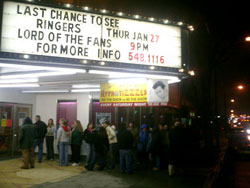 The line for the Slamdance film festival screening.
RINGERS: LORD OF THE FANS has was shot over a two and a half year period. We've documented much of the production process with photos and stories of our adventures. If you'd like to see some of the highlights click the photos link below.

We're lucky enough to have met some very creative musicians who covered some classic Rankin & Bass songs for us. Click the Music link to learn more about these talented musicians.
RINGERS has also been receiving some ink lately so click on the articles link below if you'd like to read some of the articles and reviews.
This site is maintained and updated by Planet BB Entertainment, and is in no way affiliated with Tolkien Enterprises, New Line Cinema or the Tolkien Estate.Copyrights and trademarks for Tolkien's books, films, articles, and other promotional materials are held by their respective owners and their use is allowed under the fair use clause of the Copyright Law. Design and original photography however are copyright © 1999-2005 Planet BB, LLC. Binary hosting provided by Nexcess.net