LODGING AND HOTELS:
All of the hotels within walking distance of the venue have sold out. However, we do have a few suggestions on other locations which are convenient to downtown Hollywood. IMPORTANT INFORMATION. The Subway station at the Hollywood & Highland complex will actually be closed on Sunday, Feb. 29, due to security reasons. People can use the station the days before and after to go there, but not on the day of the Oscars and our party. If they do get on the subway up at Universal Studios, they can exit on Hollywood blvd. near the Pantages theater, which is nearly a mile East of Highland.
Hilton Los Angeles/Universal City
555 Universal Hollywood Dr.
Universal City, CA 91608-1001
(818)506-2500
1(800) 445-8667
CODE: The One Ring Inc. - TORN Oscar Party

Special Rates:
Single and Double rooms are $129
Sierra Rooms: $149
Executive Level: $164
Please note, your card will be charged a non-refundable one nights stay.
---
HOLIDAY INN - $99/night
HOLLYWOOD-WALK OF FAME, CA
2005 N HIGHLAND AVE
HOLLYWOOD, CA 90068
Tel: 1-323-8768600
Fax: 1-323-8763272
SOLD OUT


Comfort Inn & Suites - $109
2010 N. Highland Avenue
Hollywood, CA 90068-3239
Phone: (323) 874-4300
Fax: (323) 874-2290
SOLD OUT


Best Western - $109
Hollywood Plaza Inn
2011 N Highland Avenue
Hollywood, California 90068
Phone: 323-851-1800
Toll Free Reservations: 800-445-4353
Fax: 323-851-1836
SOLD OUT

---

SURROUND AREA/ATTRACTIONS: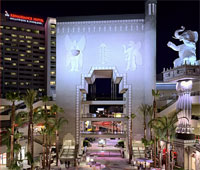 While staying near the American Legion, we suggest that you talk some time and explore the surrounding area. There are a lot of sight-seeing opportunities in the immediate vicinity that you can walk to. One of the most popular tourist destinations is Grauman's Chinese Theater. Be sure to take some time to see the foot and hand prints immortalized outside the doors of the theater, and while you're there, see a show in one of the best movie theater's in the world. In the same area as the Chinese Theater is the Hollywood and Highland Complex, where you can shop, eat, and even get a closer look at the Kodak Theatre where the Oscar's are held. If that doesn't entertain you for a few hours, follow the "Walk of Fame" on the sidewalk and see if you notice your favorite movie personality's sidewalk star. Also on Hollywood Boulevard is the Hollywood Wax Museum, Ripley's Believe It or Not, and the Frederick's of Hollywood flagship store and museum. For those of you who are interested in Universal Studios, a Metro location in the Hollywood and Highland Complex will take you there.
If you are staying in town for an extended amount of time, we recommend renting a car, as the Los Angeles area is very spread out, and travelling by car will make your life much easier. Bring a camera, a good map/tour book, and a bit of patience for the infamous LA traffic.
For more information about the Hollywood area and touring, visit TimeOut Los Angeles. [More]
---