Before I start I'd like to thank all of those who wrote me and told me about my goof in chapter 5. The shadow across the river was not Gollum but a Dark Rider. Thanks guys! - Xoanon
The Old Forest
Frodo woke suddenly. It was still dark in the room.....
Ah we are finally getting into some 'real' chapters now! Not that chapter 6 has any real relevance to the story (and might even be cut!) but I love the fact that the Hobbits have left the Shire and started their Real trek. When I first read this book, it was this chapter that finally caught my attention. The forest, so alive and haunting yet so empty and quiet, Old Man Willow, luring his victims into his roots with songs like a siren luring sailors on the high seas, and of course the introduction of Tom Bombadil, the unassuming maia spirit who 'patrols' the forest. Where to begin....
The Hobbit's laving the Shire is an important scene and should be treated as such. Four brave little Hobbits, knowing nothing of the land, being pursued by 'Black Riders' and the like. Leaving the comfort of their land, to journey into this deep dark forest (which is said to be haunted)
Merry got down an unlocked the gate, and when they had all passed through he pushed it to again. It shut with a clang, and the locked clicked. The sound was ominous....
That would be great with some sorrowful music, as if their hearts are longing to go back home. This is a great opportunity for the film score to push our emotions into this fear/ longing type of mood. As the hobbits enter the Old Forest, (which wouldn't need to be a fake forest in my opinion, NZ has so many great locations) I think it would be time for some more character development. Merry and Pippin especially, we see some of their character's in the old Forrest, Pippin's (somewhat) lack of subtlety and Merry's hiking experience. The Forest itself should be dark and foreboding, with large twisting trees and whispers in the wind, very little noise, but a large 'presence'.
I had this 'great scene/eye candy' thing flash in my head when I read the section in which the Hobbits reach the Bonfire Glade, I'd love to see them walking from left to right (it's NEVER from right to left by the way)
And they are walking in this great gloom which is the Forrest, suddenly they enter this circular glade in which light is flooding in and no trees grow. The camera would pan all around them, do this 360 around them on their horses. Suddenly they see the clear path to the hill tops, they'd almost race there, to get out of the forest, this would all happen with no dialogue, another great chance for the composer to add this sweeping score, great music please!! They push their little ponies up to the top of the hill and look about them in awe!
They stood and gazed about them. The air was gleaming and sunlit, but hazy; and they could not see to any great distance. Near at hand the mist was now almost gone; though here and there it lay in hollows of the wood, and to the south of them, out of a deep fold cutting right across the Forest, the fog still rose like steam or wisps of white smoke.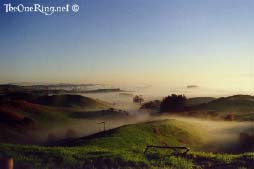 Can't you see it now!
I'd love to see Old Man Willow in this film. I think it's a valuable lesson to the hobbits (thus the viewing audience) That all that is dangerous is not always dressed in black and evil looking. The tree would of course be a CGI creation, and I would love to see some concept art if you folks at WETA have some (I KNOW you guys read my rants!) I'd love to hear the faint music from the tree, putting everyone to sleep..ah, I can't wait for this film!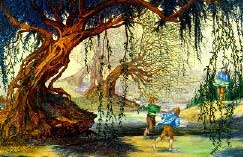 Tom Bombadil, now here is a sticky piece of glue, will he be included? PJ has said no (of course he said no about Sean Connery) If TB isn't included what will he do? Skip this whole section of the book? That has been the debate over many a website and a few posts on our Message Board. So what would I do if this were my film? I'd go for a lunch break and head to the sweets table they have on movie sets (oh man those are good!)
Ok ok, I think I would include him, but in a much much smaller scene, I would not have the Hobbits go to his house, I WOULD have him save them from OMW (I'd include him as well if you haven't guessed) My pic for the best Bombadil? Robin Williams, I'm dead serious, think about it TB has this childlike quality, energetic and is the clown as well, who better that Robin Williams? Plus it's only a small fee, so it fit's in fairly well with my 'mini Hollywood' plan.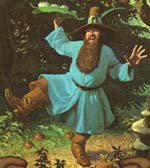 Next Chapter: In the House of Tom Bombadil
All photo's are not copyright TheOneRing.net ™ nor do we imply that they are.