[an error occurred while processing this directive]


Help Support
TheOneRing.net
In a small meeting room of the Bel Age Hotel in Los Angeles, Karl Urban is a million miles away from Middle-earth. Indeed, he seems a million miles away from the proud and fiery Éomer… the character he played for several months under the lens of Peter Jackson. Today Urban is soft-spoken and furiously dressed down, sitting across the table from me with hands in pockets.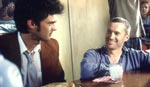 Urban and Sinlcair

Harry Sinclair shows more signs of the traditional showman. He is animated and eager to talk about his new feature, The Price of Milk. He speaks of his work directing the film while its two stars, Urban and the luminous Danielle Cormack, join in with warm anecdotes. But this is Sinclair's moment to shine. He's justly proud of what he's accomplished–and also proud of playing Isildur in LOTR.

The Price of Milk assumes you have tossed logic aside when you enter the theatre. Filled with lush images of the New Zealand greenswards, the film flows dreamlike… steeped with wonderful lyrical moments. Nestled within the poetic imagery is a loose fable of two earnest young lovers, Rob (Urban) and Lucinda (Cormack), who are put through a strenuous test of their faith in one another. Unwelcome events push their relationship to the limit, while the idyllic landscape dominates every frame.

There's a lot of cows too.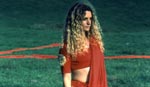 Danielle Cormack (Lucinda)

When asked about the peculiar scene-work, Cormack begins to glow. "One day I'm running through a valley with meters and meters of bright red fabric streaming behind me and the next day I'm hanging upside-down in a truck, smoking pot! It was like working in a fantasmagorical dream," she confesses. "It was a trip."

Sinclair smiles at this. Of the collaborative efforts of his crew he says, "I really enjoyed working such a laid-back schedule. We did only about 2 or 3 days' filming a week." This contrasts greatly with the way most productions are scheduled. Working on The Price of Milk must have been like a slowly unfolding journey… an exploration of creativity that started each day without really knowing what would happen next.

Both actors appreciated this offbeat approach as it allowed them to try out unexpected things. Not the least of which is an episode where Lucinda takes a swim in a giant vat of milk that dairy farmer Rob has carefully collected. Attention ladies–keep your eyes open for Urban's naked buns as he dives into the vat. It's more than you'll see in The Two Towers, that's for sure.

Sinclair is bent on presenting a mystical romance sans the conventional trappings. He succeeds by relying on a rich palette of images. Traditionally, there are two veins of film directors: the Cerebral and the Visual. When asked which of these methods he prefers, Sinclair quickly asserts the latter. "My favorite directors are Jane Campion, Federico Fellini, Martin Scorsese," he says, all of whom are remarkable visual storytellers.

For Urban, it was a big year of working with animals. On the set of Milk he plays keeper not only to 117 cows but also to an agoraphobic dog that lives under a box (and walks around in it like a turtle). "It wasn't really too hard to work with the cows," says Urban. Shortly after finishing work for Sinclair, the dairy farmer donned helmet and spear to lead the horsemen of Rohan into battle at Helm's Deep.

Sinclair adds, "Yes, Karl's good with animals," …a truly under-appreciated trait in Hollywood.

I find it funny how in person Urban is different when compared to the energetic Éomer. That is how you can tell a truly great performer: you peel away the armor, weapons, makeup and dust of many days' riding, and find a mellow young man who doesn't seem at all like the character into which he breathes life. That transformative power is an actor's internal magic, his blessing, and his art. How rare it is. I've seen both sides of Karl Urban, and I'm telling you he is one talent to watch for.

Before the meeting ends, I have to ask about Urban's busy timetable. "Did you have any schedule conflicts while Karl was getting ready for Mr. Jackson's film?"

Sinclair raises an eyebrow at this. "Is that what you call him–'Mr. Jackson?'"

"Well, actually, most online fans call him 'P.J.' You'll find that on any given website." I reply. "What do YOU call him?"

Sinclair laughs playfully, "We call him 'Wacko Jacko' …And you are NOT going to print that!"

I laugh out loud too, knowing that I surely will.

Much too hasty,

Quickbeam

The Price of Milk is currently playing in New York and will open March 16 in Los Angeles. Check the official website for openings in other major U.S. cities:




BACK TO NEWSROOM HOME