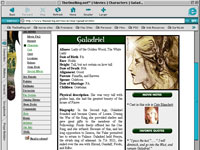 TheOneRing.net has the most complete and in-depth descriptions of Tolkien characters, as well as bios for the actors in the films. This is all thanks to the hard work of Ringer staffer Gamgee and the artistic wonders of Elwing and Mia.



In the Character section, we have a complete list of all the characters from the LOTR novels, with an individual page for each of the major characters and many of the minor ones. The individual pages themselves list biographical information about the character, favorite quotes, a picture of the character as well as the actor cast in the role, and links to images of the character from the LOTR movies. There are even some bios for 'movie only' characters like Lurtz, the Uruk-Hai.



The Cast section is the place to find information on the actors in the movies. Each cast page includes a full biography, pictures, links to related websites, and a list of notable past roles. Also included on every cast page are links to spoiler images of the actor from the LOTR movies.