[an error occurred while processing this directive]


Help Support
TheOneRing.net
Quests, Myths and Archetypes
Tehanu's 12th Note

---

here are only five plots, and every story is a variation on those five."
This is the kind of statement that writer's workshops and how-to-write books love to throw around, rather in the manner of somebody going around putting up 'Abandon Hope All Ye Who Enter Here' placards all over what intially seemed to be a little bit of paradise. Maybe children approaching music feel the same way when they're first told, 'There are only 12 notes in the Western scale.' These restrictions haven't limited our creativity so far, but it's all a bit daunting for the beginner to consider first up.
Being a slow learner or what, I've forgotten what the Five Plots are. Boy Meets Girl, The Hero's Quest, The Bargain with Death, I can't think of the others. Some radicals claim there might be Nine Plots. Or Ten. As in all things, there are schisms.
Part of me thinks that there is a way of reading stories that makes them a journey over a map of human emotions; that, and the quality of the writing, are the things on which the plot hangs like harness on a horse. Equally, one can read a story as though the plot were the driving force and the emotions a by-product. I've talked to people who experience life itself in these diametrically opposed ways, and what's more they live amicably together, sharing the same houses though not inhabiting the same worlds. For one, a day is a series of feelings faintly marked by events, for the other, the same day is a series of events causing emotional reactions.
The fact that we can communicate so well despite these radically different visions is a mark of how adaptable we are as a species. If it weren't for the quality of empathy, why should we be interested in other people's archetypal stories? Why should I care for the fate of the Young Hero's Quest? None of his struggles and victories are relevant to my life.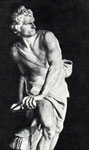 "Bernini's David preparing to whop Goliath"
(475 x 800 114k)
I've been wondering how we relate to these archetypal stories, and whether archetypes can or should change over time. The Quest myth is a good one to look at — relevant to Tolkien, because The Lord of the Rings is a quest epic. Many different quests, but for the central characters, it has the other Quest theme of the hero being tempered by adversity. The hobbits are almost childlike in their simplicity at the beginning of the tale, and by the end of it they have power, wisdom and mana.
I'm reading another book in a similar vein, Richard Adams's Watership Down. Oh, those widdle fluffy bunny wabbits? I've heard people say. Really, no. What with the quotes at the chapter headings from the Greek tragedies, Malory's Le Morte d'Arthur, the Pilgrim's Progress, and the musings of Napoleon, Shakespeare and Clausewitz on war, it's clearly not a tale about liddle bunnies. Like Tolkien, the details of they way the countryside looks and smells, the changing of the seasons, are rendered as delicately as a drypoint etching. What Adams has done is a marvel – without once losing the integrity of their animal nature, he's recreated a history of a roving war-band with the same risks and hopes and ventures that reads like a counterpart to Beowulf or the Sagas. The rabbits too have their Thane with his inner circle of seasoned warriors, the Owsla instead of Eorlingas…..like the Norsemen they inhabit a world where law and custom lay a light hand on the workings of their society, and where the individual relies far more on his strength than on law for his defence, but the wily trickster may succeed too.
But, like so many of the books I loved as a child, there aren't many girls leading the ventures. This isn't intended as a criticism of Adams, who wrote some heroic female characters in Maia nor indeed of Tolkien. A book can't possibly contain all things, and Tolkien's comment that he had problem with The Lord of the Rings being too short shows that he knew there was more he could include – but he was too wise a writer to allow the book to lose focus by trying to contain more than would fit.
One of the things that saves fantasy is that people are not static in their lives, and as we grow older we still contain our childhood and adolescence for reference. When we're in our teens we start to choose who we are going to be, and part of that choice rests in who we identify with. Then the Hero's Quest/Coming-of-Age stories exert a powerful fascination for us, because whatever our culture allows or condemns, at that age we're beginning to feel that same need to venture out and test ourselves. But the choice is not made for all time; and we read these stories again and again because they're one of the pathways to rewriting ourselves and remaking our choices.
One day, years later, your former favourite character, the permanently angry, hard-done-by underdog who makes good, suddenly loses their appeal for you, and you find yourself casting round for other Quest myths. Who will interest you more this time? The hard-shelled, fearless warrior from the princely house? The quiet sage-to-be who always guesses rightly? The klutz with the heart of gold? Whatever, they're yardsticks as well as signposts to how we grow and change.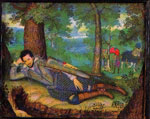 "Young hero as the prince of style. Isaac Oliver."
(507 x 401 92k)
I used to read Biggles and The Hardy Boys when I was small. Excitement! Adventure! Danger! Deserts! Tropical islands! Simple characters and easy plots! (Lots of cigarettes too, at least one a page, but despite that I never took up smoking.) Then I moved on to Henry Treece's wonderful Viking tales and so on.
Then something happened that relates completely to the great Arwen debate. I noticed that none of the people doing the exciting stuff were girls. This jarred so extremely with the outdoors lives of my friends and I, who did little all summer except play at hunting, fighting, chasing and exploring, that I abandoned that genre of book forever and gratefully discovered books by E Nesbit, Diana Wynne Jones and Madeleine L'Engle, where girls were as likely to have adventures as boys. It's not from losing interest or empathy with other ways of being, (which is, as I say, one of the greater things of the human spirit) but more from reaching an age where I was casting around for someone to 'be like' and I didn't at some unconscious level want to feel like a counterfeit boy, a failed boy. Nor did I want to read about women that waited for the men to do something great, and maybe gave them a little bit of help along the way.
What does it take to change the archetypal myth stories, I wonder? On every major continent that human beings have arrived at, the vast majority of large mammals (or giant marsupials, in Australia, and giant flightless birds, here ) has died out shortly afterwards, according to the fossil record that remains. What people did then with their tribal storehouse of stories of 'you, me and Ugh shoulder-to-shoulder against the mammoths,' I don't know. The mammoths died out, society changed, and after a few generations, the story of the lone hunter versus the ultimate mammoth died out too. Or maybe it mutated into the story of the Quest for the ever-receding, never seen, horizon-glimpsed Fabulous Beast.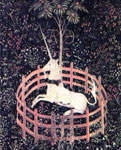 Unicorn
(485 x 600 149k)
(I suppose a debate between creationists versus evolutionary theorists could make the Arwen flame-wars seem like an afternoon tea croquet match at Buckingham Palace by comparison. Don't email me about it, there's a website for y'all out there somewhere I'm sure.)
Grabbing my attention before it can skedaddle out the open window and get caught up in a lawnmower, I'll drag it back to The Lord of the Rings for a moment. And quests. And the obvious point that the only woman who has an active quest is Eowyn, and it's very much a bloke's quest: to go out and find death in battle as a way of keeping her integrity and freedom. That's somewhat negative, but things turn out surprisingly well for her. Great. She's the Shield Maiden archetype, and they're been around since the Vikings. And as the story of Beren and Luthien in The Silmarillion shows, Tolkien didn't have anything against women taking an active role and being risk-takers. Nor is Galadriel a powerless watcher of events, for all that she stays in one place.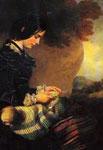 Arwen knits a banner for her man. Well, not really. This is Mary Isabella Grant, painted by Sir Francis Grant.
(301 x 437 44k)
But it's Arwen who's the real sweetheart to so many readers, and she is archetypal passive woman-who-waits. People like that, they're comfortable with it: it's a very old archetype. Woman as The Prize, the Goal, the Hero's Reward. Odyseuss' Penelope. A character that we speculate about endlessly because there's so little to know about her. That makes her even more mysterious and feminine. The unknowable Other.
Unless you happen to be a woman yourself, in which case other women are no great mystery and we've got no thanks for some other woman 'trying it on' with us, as it were. Come on, Arwen, what are you thinking? We don't know, only because we're not given ten minutes alone with her. Our point of view would be very different.
That's almost another issue, the point-of-view issue. The one that fascinates me is whether the change in our society is permanent enough to generate new myths, or whether it's merely a swing of the pendulum that will be reversed. Will Xena be a permanent expectation in our culture? Will the Rings movie give us that ten minutes alone with Arwen that will show us her heart as a woman would understand it? Given that two of the scriptwriters are women, quite possibly yes.
Bouquets and brickbats: Send to tehanu@theonering.net
Next episode: Quests – inner, outer, and Arthurian.
BACK TO NOTES HOME