Tour Update from TORn's Cruise Coordinator Garfeimao!
Kia Ora fellow travelers;
The Cruise to Middle earth has proven to be a smashing success and I've got a few little updates for you all.
The website will be updated, today or over the weekend, with pricing information for Single passengers on the cruise and for 3rd and 4th passengers in a stateroom (I still need to find out from Red Carpet Tours what the charge for a 3rd and 4th passenger will be on the pre-cruise tour).
The pricing for any tour package that includes a land portion with Red Carpet Tours currently has a 4% surcharge on it for credit card processing. If your budget is tight, you can always ask what the price would be without that charge and then you'd be asked to pay for the Red Carpet portion of the trip with a check.
For those of you who are researching the cruise, the ship, and the pricing, I discovered yesterday that the standard price for an individual sale on this cruise has gone up by $3000. Yes, you read that correctly, Celebrity Cruises raised the prices in all cabin categories, by $3000. That's more than the cost of the full pre-cruise tour package for a single passenger.
With this in mind, my group allotment will hold the pricing I currently have, but I've only got so many cabins, and then this lower price will vanish as quickly as Bilbo did at his Eleventy-first birthday party.
Yours Truly,
Cathy Udovch
Cruise Consultant
cathy.u@cruiselocators.com
Announcing the Ultimate Journey to Middle earth!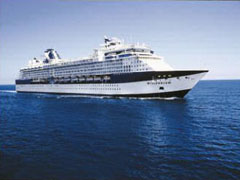 TheOneRing.net and Red Carpet Tours is celebrating the 5th anniversary of the release of The Return of the King with a cruise to where it all began.
Be among the first to join us on Celebrity's Millennium as she sails for 14 nights from Auckland, New Zealand to Sydney, Australia, leaving on November 23, 2008.
Red Carpet Tours has customized a Pre-Cruise tour for us and come up with several day-long excursions to LOTR filming locations reachable from the ship.
This 14 night cruise will take you to such filming locations as Hobbiton, Edoras, Helm's Deep and Lothlorien. And we will throw in the Sydney Opera House as a bonus.
For the fullest immersion into Middle earth possible, Red Carpet Tours has designed an optional, personalized 6 night pre-cruise land tour. This tour will set out from Auckland on November 17, 2008 and return in time for the cruise. This is in addition to special LOTR themed day tours that Red Carpets will be offering during the cruise.
Prices starting from $1869 Cruise Only, and from $4519 for the 6 night pre-cruise tour, 14 night cruise and 3 LOTR themed day tours during the cruise. Please call or email for any and all enquiries.
Complete Details!
Click on this link for all the details!
Contact us for more information!
Complete details will be posted shortly, but in the meantime, please contact Cathy Udovch (aka Garfeimao at TheOnering.net) if you are interested.
Cruise Locators, Long Beach Office: 1 (800) 955-7447 ext. 19812
Phone/Fax: 1-562-552-9812
Email: Cathy.U@cruiselocators.com