[an error occurred while processing this directive]


Help Support
TheOneRing.net

This contest is completed and the entries are being reviewed.

Are people always putting words in your mouth? Well, the shoe is on the other foot today! Here is your big opportunity to take the place of Peter Jackson, and decide exactly who says what! It's easy, Just take a look at the image below, and try to think of what they might be saying if LotR was a Mel Brooks movie. You can't lose! Some fine prizes are at stake! So, throw in some Jerry Lewis DVDs and get in a wacky, Middle earth state of mind!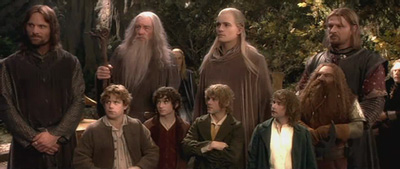 [ CAPTION HERE ]
click the image for a larger version
Sponsors:


To obtain information on an international distributor located closest to you please contact Sideshow sales at sales@sideshowtoy.com or click here


The Prizes:


First Place
Frodo Figure

Second Place
Peter Jackson's
Heavenly Creatures on DVD!

Third Place
The Letters of J.R.R. Tolkien

Dates:
Starts: 09/27/01
Ends: 10/31/01
Winners Announced: 11/09/01

How to Enter:
Send your text caption entry in an email with the following items and information:

Your Caption
IF you have edited the image slightly, you may attach it to the email in only JPG format.
Full Name
Email
Shipping Address
Phone (optional)

Email entries to gamgee@theonering.net

Offical Rules:

Small amounts of editing (photoshoping) is allowed, but not to the detriment of the characters or the image
No nasty or off color captions please. (remember, we are a family site!)
No racial/sexual orientation/ethnic captions of any sort will be accepted. (This of course does not pertain to fantasy races)
No members of TORN's staff may enter contest
All entries must be received by deadline in order to be judged.
Please send name, email, shipping address, phone (optional) and any additional information with your entry to gamgee@theonering.net. Only emails sent to this address will be accepted.
Also read the REALLY fine print at the bottom of the main contest page.
BACK TO CONTESTS HOME