Hosted by:




We are very pleased to announce the official sponsors for this year's 'Two Towers - One Party.' It is through the support of companies like the ones below, that TheOneRing.net can continue to put on large-scale fan events. Please make sure you support our sponsors.
Click on a sponsor logo below to learn more:
---
Black Label Games - Vivendi Universal
Vivendi Universal Games and Black Label Games are headquartered in New York. Vivendi Universal Games is a global leader in multi-platform interactive entertainment. A leading publisher of PC, console and online-based interactive content, Vivendi Universal Games' portfolio of development studios includes Black Label Games, Blizzard Entertainment, Coktel, Knowledge Adventure, NDA Productions, Sierra Entertainment and Universal Interactive. Through its Partner Publishing Group, Vivendi Universal Games also co-publishes and/or distributes interactive products for a number of strategic partners, including Bits Software, Crave Entertainment, Interplay, Majesco, Mythic Entertainment and Simon & Schuster, among others. www.vugames.com
www.blacklabelgames.com
---
EA Games
Electronic Arts (EA) is the world's leading independent developer and publisher of interactive entertainment software for personal computers and advanced entertainment systems such as the PlayStation(r)2 Computer Entertainment System, the PlayStation(r), Xbox(tm) video game console from Microsoft, the Nintendo GameCube(tm) and the Game Boy(r) Advance. Since its inception, EA has garnered more than 700 awards for outstanding software in the U.S. and Europe. EA markets its products worldwide under four brand logos and has over 33 product franchises that have reached more than a million unit sales worldwide. http://www.ea.com
---
Games Workshop
Games Workshop is a global licensee creating tabletop strategy battle game systems and associated miniatures that attract people worldwide. The Lord of the Rings battle games are dice-based hobby games for two or more players that require strategy, skill and a little bit of luck. Hobbyists can paint the highly detailed miniatures (crafted to look like the actors from the films) and use them to re-enact their favorite battles from the films on realistic scenic boards. With Games Workshop, Middle-Earth is closer than you think. With its international headquarters in the UK, Games Workshop also has wholly-owned subsidiaries in the US, Canada, France, Germany, Spain, Australia, Italy and Northern Europe. The company owns over 270 retail stores worldwide and its products are featured in more than 2,000 independent outlets internationally. Games Workshop has a Tolkien Enterprise license to product character and scenery based on the books that were not used in the film. http://www.games-workshop.com/thelordoftherings
---
Sideshow/Weta Collectibles
Founded in 1993, Sideshow Toy is a specialty market manufacturer of licensed and proprietary collectible figures. Weta Workshop is the special effects company that provided the design, construction and on-set operation of the creatures, armor, weapons, special make-up effects and miniatures for Peter Jackson's The Lord of the Rings film adaptation. In coming together as Sideshow/Weta Collectibles, the company has been able to ensure a level of faithfulness and accuracy in high-end merchandise rarely possible in a collectible line. Sideshow products have been highlighted in national trade and specialty toy publications where their action figures, 12-inch dolls, and polystone collectibles have been awarded Best of the Year by various trade publications. Sideshow products are currently sold worldwide in specialty, trend, collectible and comic shops, as well as on the Internet at http://www.SideshowWeta.com.
---
back to top
---
Houghton Mifflin
For over a century and a half, Houghton Mifflin has shaped ideas, information and instructional methods into a variety of forms to satisfy the lifelong needs of people to learn and to be entertained. Houghton Mifflin's ten divisions produce publications and materials for all ages. Houghton Mifflin has been the American publisher of J.R.R. Tolkien's work since 1938. For more information, log on to http://www.houghtonmifflinbooks.com.
---
The Noble Collection
The Noble Collection has gained an international reputation for products of exquisite design and fine craftsmanship. They have developed products in the most widely sought collectible categories, specializing in the particularly demanding area of weapon replicas and metallurgy, as well as porcelain, bronze, silver and fine jewelry. In their quest for perfection, they have sought out the most talented and acclaimed sculptors and artists from around the world to recreate historic designs. Their craftsmen have perfected the techniques that have produced the world's greatest works in metal. Relying on the methods often passed from generation to generation and family secrets, they create pieces of unsurpassed beauty and enduring quality. Through this dedication to time honored artistry and authenticity, they have become the premier source for connoisseurs and beginning collectors alike. http://www.noblecollection.com/
---
About American Flyer(tm)
American Flyer(tm) has been producing quality travel luggage since 1987. Founded in New York City, New York, American Flyer(tm) believes that luggage at significant value and affordable price is what you are looking for. AmericanFlyer(tm) has been manufacturing luggage for over forty years. They are experts when it comes to well-designed travelware that is both innovative in features, durable in usage and fits into a modern and sophisticated lifestyle. http://www.americanflyer.com
---
About Serious USA
Serious USA is a cutting-edge multi-media company specializing in the production of CD Cardz for the consumer markets. These trading card-sized CD-ROMS hold up to 70MB of content, integrating full-screen video, photos, music, screensavers, sound effects, graphics, text and interactive games and puzzles, as well as downloadable software, downloadable coupons and hyperlinks to the web. http://www.serioususa.com/
---
About Wychwood Brewery
Begun in 1983 as a one-man brewery, producing eight to ten barrels per week, Wychwood Brewery is now capable of producing 600 barrels per week. Wychwood continues a tradition of brewing in Witney, which has existed for centuries, and is one of Britain's most colorful breweries. Hobgoblin, its flagship beer, is delightfully packaged with a magical, Tolkienesque label, echoing the "witches and wizards" theme of Wychwood's thirty or so Hobgoblin pubs. Their beers contain local water from the river Windrush, English malt (in various recipes), hops and yeast. No additives are used. Wychwood Brewery has received several awards, mainly from the many branches of the Campaign for Real Ale (CAMRA)-proof that Wychwood's policy of producing high quality, traditional beer is satisfying an increasingly knowledgeable and discerning public. http://www.wychwood.co.uk/

Join the Mailing List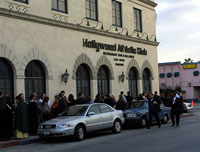 When:
Where:
Hollywood Athletic Club
6525 Sunset Boulevard
Hollywood, CA USA

Time:
4:30pm - 1:00am
*Tiered Pricing
Ticket prices change based on the date of purchase. See the table below for the current price for general admission. Price shown represents one ticket. :

| | |
| --- | --- |
| Dates | Price |
| 1/8/03 to 2/1/03 | $75 |
| 2/2/03 to 3/21/03 | $85 |