[an error occurred while processing this directive]


Help Support
TheOneRing.net
| | |
| --- | --- |
| Interview with Ian McKellen | Xoanon |
Last fall Ian McKellen and the cast of 'X2: X-Men United' were not-so-quietly filming on the west coast of Canada. Ian sat down with us via telephone to share with us his experiences on the 'X2' set, and his future in film and theatre.
Note: This interview was conducted in late October early November of 2002
---
TheOneRing.net: Sir Ian, thank you for taking the time out of your schedule to talk with us
Ian McKellen: It's a pleasure Michael, thank you.
TheOneRing.net: You are currently in Vancouver shooting the 'X-Men' sequel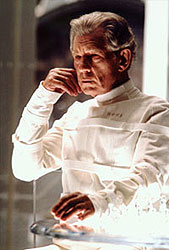 © 2003 - Twentieth Century Fox - All Rights Reserved

Ian McKellen: Yes I have one more day to go here in the city, and next week I go to Kananaskis which is a resort in the Rockies, to the east of here. We're going there for the final sequences of the film which require snow, which is the main reason we've been filming in this part of the world instead of Toronto or anywhere else.

TheOneRing.net: How long have you been out there?

Ian McKellen: I've been here since the end of June which is as long as anybody. While the other actors come and go because they live in the United States, in LA or New York, Hugh Jackman and I have remained here for most of the shoot. I feel I've settled into Vancouver more that the rest of the cast because of that reason. I love Vancouver, I've got a beautiful house right on the bay overlooking the water, with the city on the right and the wonderful skyline, and the mountains with the snowcaps. The weather has been so brilliant, I think it's been the best weather they've had in over 70 years.

TheOneRing.net: What is the difference between X-Men 1 and 2?

Ian McKellen: I think there may be more action and special effects in this one. I know that a lot of the actors, including me, have had to do a lot of blue screen work - even more so than last time. Perhaps there's more action and less talking in this film, or maybe only I've got less talking to do. But we've got the same director, Bryan Singer. Brian is very hands on with the dialog and the script, he keeps his writers there in case he needs to change anything or amend to it. It's likely that it's going to be very much a sequel to the first and not a change or re-working. I don't see anything in the format that Bryan has wanted to change. If there were a second sequel and someone else were directing it then who knows where it might go but this is basically more of the same with a few extra characters brought in.

TheOneRing.net Is the confidence level a little higher compared to last time, you now know you've got a hit on your hands.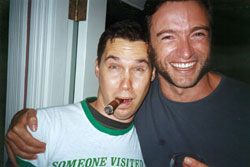 Director Bryan Singer and Hugh Jackman

Ian McKellen: Yes there certainly is a different atmosphere because last time there was a level of apprehension, you know, that we wouldn't measure up to the popularity of the comic. But when that didn't happen and everyone was extremely pleased with the first film, we knew it would work again. I mean why wouldn't it? All the indications are that X-Men 2 will be a brilliant film, John Ottman, who is the composer as well as the editor is on the spot here in Vancouver cutting the film as it arrives. It's very interesting because John receives the footage from the shoot on a particular day, and the next day he's already got it cut together, and Bryan tells us that this is THE cut they are going with for a particular scene, minus any special effects. That allows you to get a very good impression as to how the movie is going. Bryan has been showing the footage to guests as well as people involved with the film, so there is a high level of expectation, and yes the film is looking extremely good.

TheOneRing.net: So how did you handle the many action scenes?

Ian McKellen: As far as action doubles, no, I've not been 'doubled' much. I've had to do a bit of flying and floating about. So no, I've done a lot of my own shots. But what the others get up to I don't know, when I hear that the second unit spends a week working on 1 fight scene I just feel sorry for them (laughs).

TheOneRing.net: And where are you off to after filming is complete?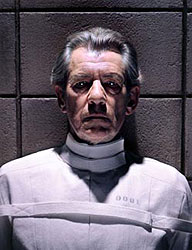 © 2003 - Twentieth Century Fox - All Rights Reserved

Ian McKellen: I'm staying out here in British Columbia. Once the sequence in the Rockies is complete I'm heading back west, back to Vancouver island, which lies between the city of Vancouver and the sea and has the capitol of British Columbia, Victoria. I'm going there for 3 or 4 weeks working on a film for Carl Bessai, who has written a trilogy of themed movies, all to do with people who have a crisis in their lives. This film has to do with an old man who retires in London, where he has lived for 40 years. He's a Canadian citizen who decides to return home to a place he hasn't visited in 40 years, back to his family. Carl sent me the script, and I thought it was intriguing and I thought it would be fun to work with some local filmmakers on quite a different enterprise altogether, compared to X-Men. It is a different type of film, shot on the spot with hardly a budget and shot very quickly. That will take me through until the Holidays, then I'm off to London where I've been since the summer.

TheOneRing.net: Tell us a bit more about you doing a play to raise funds?

Ian McKellen: That is a response to the Vancouver Playhouse, which could do with a bit of funding so I decided that if I could do my one man show I could raise a little money for them. We're also going to have a silent auction, with a new poster of X-Men 2 signed by the cast.

TheOneRing.net: Ian, once again thank you, you have been an absolute pleasure to interview, I hope to see you soon!
Ian McKellen: Take care, thank you again Michael!