Go back to Special Reports Archives
June 16, 2001 - June 24, 2001
Weekly Cast Watch
Xoanon @ 10:49 pm EST

Viggo Mortensen (Aragorn)
28 Days (2000)
Walk on the Moon, A (1999) UK

Thin Red Line, The (1998) UK

Perfect Murder, A (1998) UK

Psycho (1998) UK

Portrait of a Lady, The (1996)
Albino Alligator (1996)
Prophecy, The (1995)
Ruby Cairo (1993)
Young Guns II (1990) UK

Fresh Horses (1988) UK

Witness (1985)
Cookie's Fortune (1999)
Plunkett & Macleane (1999)
Heavy (1995) UK

Silent Fall (1994)
Alice Through the Looking Glass (1999) (TV)
Simon Magus (1999/I) UK

eXistenZ (1999)
Sweet Hereafter, The (1997) UK

King Lear (1997) (TV) UK

Fifth Element, The (1997) UK

Another Woman (1988)
Return of the Soldier, The (1982)
Alien (1979) UK

Shout at the Devil (1976)
Ronin (1998) UK

Stormy Monday (1988)


Marton Csokas (Celeborn)
Broken English (1996)
Hugo Weaving (Elrond)
Matrix, The (1999) UK

Strange Planet (1999)
Interview, The (1998)
Bedrooms and Hallways (1998)
Babe (1995) UK

Exile (1994) UK

Adventures of Priscilla, Queen of the Desert, The (1994) UK
Miranda Otto (Eowyn)
What Lies Beneath (2000)
Jack Bull, The (1999) (TV) UK

Thin Red Line, The (1998) UK

Last Days of Chez Nous, The (1992)


David Wenham (Faramir)
Boys, The (1997/I) UK
Faculty, The (1998) UK

Good Son, The (1993)
Forever Young (1992) UK

Internal Affairs (1990)
Back to the Future Part II (1989) UK
Cate Blanchett (Galadriel)
Ideal Husband, An (1999) UK

Pushing Tin (1999) UK

Oscar and Lucinda (1997)


Ian McKellen (Gandalf)
X-Men (2000)

Apt Pupil (1998) UK

Gods and Monsters (1998) UK

Shadow, The (1994) UK

Walter and June (1986) UK

Plenty (1985) UK

Alfred the Great (1969) UK

Touch of Love, A (1969)


Mark Ferguson (Gil Galad)
Every Woman's Dream (1996) (TV)
Au Pair (1999) (TV)
Secret of the Andes (1998) UK

Bloodsport 3 (1996)
Unnamable II: The Statement of Randolph Carter, The (1993)
Seventh Coin, The (1992)
Perry Mason: The Case of the Murdered Madam (1987) (TV)
Victor/Victoria (1982)


Andy Serkis (Gollum)
Topsy-Turvy (1999)
Among Giants (1998) UK


Stephen Ure (Gorbag) *rumored*
Broken English (1996)
Heavenly Creatures (1994)
Wilde (1997) UK
Hostile Waters (1997) (TV)
Bruce Spence (Mouth of Sauron)

Sweet Talker (1991)
Mad Max 2: The Road Warrior (1981)
Sean Astin (Sam)
Kimberly (1999)
Icebreaker (1999)
Deterrence (1999)
Bulworth (1998) UK

Dish Dogs (1998)
Teresa's Tattoo (1994)
Low Life, The (1994/I)
Rudy (1993)
Encino Man (1992) UK

Toy Soldiers (1991) UK

Memphis Belle (1990)

Staying Together (1989)
War of the Roses, The (1989)
Like Father, Like Son (1987) UK

White Water Summer (1987) UK

Goonies, The (1985)
Christopher Lee (Saruman)
Tale of the Mummy (1998) UK

Jinnah (1998) UK

Gremlins 2: The New Batch (1990)
Treasure Island (1990) (TV)
Safari 3000 (1982)
1941 (1979) UK

Return from Witch Mountain (1978) UK

Four Musketeers, The (1974) UK

Three Musketeers, The (1973) UK

Nothing But the Night (1972)
One More Time (1970)
Scream and Scream Again (1969)
Psycho-Circus (1966)
Gorgon, The (1964) UK

City of the Dead, The (1960)
Hound of the Baskervilles, The (1959) UK

Curse of Frankenstein, The (1957)
Dark Avenger, The (1955)
Scott of the Antarctic (1948)
Loss of Sexual Innocence, The (1999)
Midsummer Night's Dream, A (1999) UK

True Crime (1999) UK

Shirley Valentine (1989) UK

Restless Natives (1985) UK

Bounty, The (1984)
Gandhi (1982) UK
Brad Dourif (Wormtongue)
Shadow Hours (2000)
Ghost, The (2000)
Bride of Chucky (1998) UK

Urban Legend (1998) UK

Murder in the First (1995)
Death Machine (1995)
Trauma (1993)
Amos & Andrew (1993)
Body Parts (1991) UK

Hidden Agenda (1990)
Mississippi Burning (1988)
Blue Velvet (1986)
Ragtime (1981) UK


Jim Rygiel (SFX)
102 Dalmatians (2000)
Anna and the King (1999) UK

Star Trek: Insurrection (1998) UK

Starship Troopers (1997)
Scout, The (1994)
Cliffhanger (1993)
Alien³ (1992) UK

Batman Returns (1992) UK

Last of the Mohicans, The (1992)
Ghost (1990) UK

2010 (1984) UK


Howard Shore (Composer)

Cell, The (2000)
eXistenZ (1999)
Dogma (1999) UK

Analyze This (1999) UK

Truth About Cats & Dogs, The (1996)
Crash (1996) UK

Se7en (1995)

Sliver (1993) UK

Prelude to a Kiss (1992)
Single White Female (1992) UK

Silence of the Lambs, The (1991)
Postcards from the Edge (1990)
Moving (1988)
After Hours (1985) UK

Places in the Heart (1984) UK

Silkwood (1983) UK


Peter Jackson (Director)
Heavenly Creatures (1994)
To get more information, use the sites I use like:
More on Gimli and the Ring
Xoanon @ 3:01 pm EST

You've all read the news now about John Rhys-Davies saying that his character Gimli will attempt to destroy the ring and fail. We've seen hints to this before.
Take a look at this image from our scrapbook. It shows some future LOTR action figures, if you take a look at Gimli you can see his action figure is poised to chop the ring in half on a small table.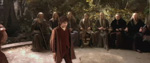 The exact same table that you can see on this picture. So it seems that Gimli will attempt to destory the ring at the counsil of Elrond. Cool...'nuff said.
Houghton will thank the 'Lord'
Xoanon @ 2:16 pm EST

From: Boston.com
Like the famous Boston dowagers, the publisher Houghton Mifflin possesses some priceless antiques. And Houghton, inevitably - and not always charitably - described as ''venerable,'' knows when to polish them off, and make a few dollars in the process.
''The monkey pays the bills'' used to be the watchword at Houghton's Park Street headquarters, referring to H. A. and Margret Rey's Curious George books, which have poured untold millions into the publisher's coffers. This year, it is going to be different. Houghton's trade division is spewing forth its usual line of quality fare: a memoir by John Edgar Wideman, a novel by Philip Roth. But Bilbo Baggins will be paying the bills.
Three years ago, Houghton had the idea of introducing J. R. R. Tolkien's fabulous ''Lord of the Rings'' epic to the children of the '60s generation, who embraced the paperback trilogy almost as enthusiastically as they embraced sex, drugs, etc. (Factoid: Tolkien considered LOTR a single novel, not a trilogy. It was broken into three volumes for sales purposes.) There was talk of a ''Rings'' movie, but no one knew whether it would get made, and, if it got made, whether it would be any good. ''We wanted to make sure people would get the real story by reading the books,'' says Clay Harper, Houghton's Tolkien czar.
After Houghton started gearing up, word arrived that the long-delayed LOTR movie project had finally gotten off the ground. Filmmaker Peter Jackson spent 14 months in New Zealand in 1999 and 2000 with stars Ian McKellen, Cate Blanchett, and Liv Tyler, and is now preparing the first of three movies, ''The Fellowship of the Ring,'' for December release. Early clips have caused a huge sensation on the Internet, and the early word of mouth, based on a 20-minute sequence, is quite positive. Yes, one could probably string together 20 good minutes of ''Pearl Harbor,'' and yes, a movie about a young British boy named Potter will offer stiff competition, but the early divinations bode well for Houghton.
(Factoid: Tolkien sold the movie rights to his work in 1971 and laid down strict guidelines for their use. None of his characters could be used in scenes that were not in his books, and he enjoined Hollywood from dreaming up prequels or sequels to the epic. Potentially, this makes the as-yet-unfilmed ''The Hobbit'' a very valuable property.)
Backed by a $300,000 promotion campaign, Houghton's Tolkien sales are gaining momentum - and the real action is still to come. New Line Cinema plans to release one LOTR movie each of three coming Christmas seasons, and every order of Frodo's Fries at Burger King (just kidding; but Burger King does own the movie tie-in promotion) will be, in effect, a mini-ad for Tolkien-ana.
''We don't want to look like slathering opportunists who see there is a movie coming,'' Harper says. Then again, fortune favors the prepared publisher. Houghton has just published a biography of Tolkien and a one-volume version of the epic with movie art. Still to come in 2001: separate movie tie-in volumes of each novel in the ''trilogy''; a reissuing of Tolkien's ''Unfinished Tales''; a young adult version of ''The Hobbitt''; ''The Lord of the Rings: The Fellowship of the Ring Visual Companion,'' and ''The Lord of the Rings Official Movie Guide.''
Norwegian Newspaper Cartoon
Xoanon @ 10:20 am EST

From: Odin
I was reading the biggest tabloid paper in norway this morning, and when I got to the cartoon pages I saw this:
A norwegian cartoon character called Nemi was sleeping outside the theatre in a sleeping bag when this guy from the ticket box shouted something like "hey! wake up, you can't sleep here! I've told you a million times; The Lord Of The Rings doesn't release until december!" [More]

Hollywood One-on-One Transcript
Xoanon @ 9:51 am EST

Thanks to Christian for the text!



Announcer: It's not every day that we give you a preview of a film which is still months from release; it's not every day that a studio decides to film a trilogy all at once, with $270 million. That trilogy is Lord of the Rings, based on JRR Tolkien's books that have sold millions of copies in 40 languages around the world. New Line Cinema held a preview party for the films at this years' Cannes Film Festival, and we were given a sneak peek at the films, and a chance to meet the cast 'One-on-One.'



Peter Jackson: Well, I read LOTR when I was 18, and I thought at the time: Wow, I can't wait till the film comes out, and I waited for twenty years, and I couldn't wait any longer!

Announcer: And, after spending a year and a half in New Zealand filming the LOTR trilogy, director Peter Jackson couldn't wait to show a select audience at Cannes 20 minutes of Lord of the Rings, and introduce his cast to the world.

Billy Boyd, Sean Astin, Elijah Wood, and Dominic Monaghan, sitting in a very picturesque castle-garden>


Billy Boyd: The 'Lord of the Rings' books is a huge book in my family's history, my father's a huge fan, my uncle's a huge fan, and my mother's read the book, so it's always been battered around in my household.




Sean Astin: I was in Los Angeles on the cell phone with my agent who said (he does a great imitation of his agent), "Honey, the, uh, Peter Jackson's doing the LOTR Trilogy for New Line," and, while she was talking, I turned the car around and went to Barnes and Noble, and bought my first copy of the books.


Elijah Wood: Being a part of it, being a part of the film and taking the journey, uh, for fifteen months, being immersed in the world of Tolkien and Middle Earth, how could you not be a fan?



Announcer: Before joining the 'Middle Earth' in New Zealand, the cast had to give up a year and a half of their lives to bring this trilogy to life.

<Liv Tyler comes onscreen>


Liv Tyler: When I first heard about it, and they offered it to me, I was, like, oh my god!, can I handle this? Just my home and my family, I'm a Cancer so I'm such a homebody, and it took me about two days and I thought, what do you mean, it's only like a year out of your life, and that's not very long!

Aragorn charge>

Announcer: Judging by the initial reviews of the first twenty minutes shown here at Cannes, one of the greatest stories ever told, may well become one of the greatest movies ever shown. . . Look for Lord of the Rings: Fellowship of the Ring, to open in US cinemas December 19th.

-

I think the publicity LOTR is getting is great, I live in Zambia, right in the middle of Africa, and I still get pretty regular updates on TV! Way to go New Line!
NEWSWEEK Japan - Translation
Calisuri @ 10:41 pm EST

Ringer fan Masahiro (Mabi) Knittel sent in this translation for the recent Newsweek Japan Article featuring Calisuri (aka Chris Pirrotta) and his trip to Cannes.
A Glimpse of the Ring: The Lord of the Rings Unveiled
Cinema: Portions of the epic fantasy film awaited by fans worldwide released at Cannes
Every year, a large number of those involved in the movie industry gather for the glamorous Cannes Film Festival. On May 11th, the third day of the festival, Chris Pirrotta, a 26 year old engineer from America, could be spotted among the throngs of reporters displaying press cards. It was a special day for Pirrotta. "I was unable to sleep from the excitement," he said, as he strode toward the festival hall bursting with anticipation. The reason? This year's festival was to host the first public exposition of a portion of the popularly awaited film, The Lord of The Rings, to be released this coming December, with the Japanese release date scheduled for next spring.
The film is based on the worldwide best-seller fantasy trilogy, The Lord of the Rings [translated as The Story of the Ring in Japanese], written by J. R. R. Tolkien and first published in the United Kingdom in 1954. Set in the land of Middle Earth, where Hobbits who stand less than 1 metre tall and immortal Elves coexist with a variety of fantastic creatures, it is a story of unfolding adventures revolving around a ring which possesses incredible magical power.
It has been said that this world which overflows with creativity would be impossible to capture on film. It is for this reason that "ring fans" all over the world are watching and waiting with heated anticipation for this 270 million dollar filmproduced by New Line Cinema, the first ever live-action version of the trilogy.
The Internet trailer released last April recorded approximately 1.7 million downloads within 24 hours of its release, and fan sites are popping up all over the Internet. Pirrotta is involved with one such site, TheOneRing.net [originally TheOneRing.com in Newsweek Japan], and was invited to attend the film's first public appearance as a representative of the website's fans.
The 20 minutes of film shown at the festival was a digest of the first installment of the trilogy. Parts of the second and third installments, already finished with production, were also introduced. "I couldn't help but cry," said Pirrotta, "I was worried about whether or not the film would properly reflect the novels, but I am glad I came." Applause also roared from festival hall, which was packed with reporters and journalists. "They really did it," was the sentiment of Harry Knowles of AintItCoolNews.com, a popular American movie website.
Having so many fervent fans worldwide, film director Peter Jackson has said that he "tried to create the film as being true to the memories of [the trilogy's] readers." As such, one of his first priorities was casting actors suited to the images of the film's characters. Actor Christopher Lee, who plays the malevolent wizard Saruman, said of the first cast meeting: "We immediately knew who would play which roles."
Will it Become the Greatest Movie Hit?
Said to be a film project of large enough scale to bolster the GDP of the country, politicians of New Zealand, where the picture was filmed, were also helpful during its production. Six thousand soldiers of the New Zealand Army were delighted to participate as extras on the set during scenes of battle. "I told the Prime Minister when he came to visit the set that I needed soldiers, and he immediately gave us some," said Jackson.
Even the computer graphics were produced by a SFX studio in New Zealand. Although incomplete at the time, the hoard of monstrous orcs were breathtaking to see. One movie writer agreed by saying, "It cost less than Hollywood, but it's on the same scale as George Lucas."
Infusing it with giant-scale funding, New Line Cinema is staking its future on this project. Production costs were reduced by taking the unique approach of filming the live-action portion of all three installments of the trilogy at once, making it difficult to implement any significant modification to the film.
New Line is releasing the first film this Christmas and plans to follow with the second film in 2002 and the third in 2003. If the first film does not top the box offices, New Line doesn't anticipate that the second or third film will either.
However, representative fan Pirrotta feels that there is no need for concern: "It will probably be bigger than 'Star Wars'!"
Caption of photograph on left: The cast lineup joins the party held at the old castle.
Caption of photograph on right: Peter Jackson (middle) and key actors.
Article by Naomi Saeki, originally appearing in Newsweek Japan, June 13, 2001 issue.
Translation by Masahiro (Mabi) Knittel. Square brackets mine.
LOTR translation for films in Japanese - Fans worried.
Tehanu @ 7:15 am EST

More Japanese fans have written in to defend the LOTR books in Japanese. They say that, like many English readers, a casual reader could be put off by the slow beginning of the story. They have a greater expectation that fantasy should be full of active magic. Lucifer put it this way:
"The problem is , they [Japan] have got really great animation industry. And it is really important to create scene with huge magic battle and impossible tough heroes in order to attract fans. So, most of the Fantasy lover in Japan get used to "Destroy the world with a wink" type animation and comics."
However those Japanese fans that do persevere with reading LOTR feel well-rewarded. Lucifer again:
"The translator who translated LOTR into Japanese is quite famous in Japan. He(or She. It's hard to judge by Japanese names) is a children's literature writer.He spent several years to translate LOTR, his jap edition of LOTR even got [the] Anderson Superb Translation Award (I'm not sure the exact name)and Japan Culture Award. I guess there's no problem with the translation."
James backed that up:
"I am just yet another one of those numerous Japanese individuals who loves LOTR. Since I believe there are so many LOTR lovers in Japan probably, well at least in my opinion, largely because the Japanese translated version is a painfully beautiful piece of work ..."
James commented that Christmas isn't an important festival in Japan [therefore it's not a specially important time for releasing new movies] and that all movies arrive 'staggered' back a few months from their appearance in the West. I'd have to say that LOTR is unusual in that it IS being released in so many countries at the same time.
However, the main thread of discussion concerns the translation that New Line seem to be using - This is a copy of a letter that Chris is trying to bring to New Line's attention.
"I am writing to you to raise a concern about the marketing campaign for LOTR in Japan. I have been corresponding with several Tolkien fans in Japan who are members of the Japanese fan community. These good people have mentioned to me that the use of katakana instead of direct translation (phonetic equivalents instead of meaningful translation) on the NewLine site may significantly diminish the understanding and appreciation of The Lord of the Rings in Japan. There is a faithful translation of LOTR done in the 1970s by Seta Taiji that could be used as a guide to assist in clearer presentation of this work in Japanese. Additionally, the Japanese version of Ralph Bashki's movie adaptation might provide some ideas. I am sure that the assistance of some in Japan who have read Tolkien's work in Japanese could greatly enhance the impact and appreciation of Tolkien's work in that country.
This is offered with respect and appreciation of all the effort NewLine Cinema has invested in bringing JRRT's work to the screen. I understand that bureaucracies have momentum such that can it be difficult to shift course once funds have been invested, however as we are only at the beginning of a number of years of marketing strategy concerning a potentially large market, due respect, both to JRRT's lifelong work and to the sensibilities of the audience in Japan would undoubtedly make good marketing sense in the long run. For instance, if the trade name "Lord of the Rings" is particularly important to the marketing campaign I am sure some creative way to incorporate both the native understanding of Tolkien's intent and LOTR can be found. Simply using the un-translated English title subtitled "Yubiwa Monogatari" might work very well. While the title has been focused on as an example of the concern, it is only, perhaps, the most visible manifestation of it. I am not sure how far work on Japanese subtitles might have proceeded, but that clearly would be an important issue as well. A good translation is sure to increase the breadth and depth of the audience appeal.
Please take this in the spirit that it is offered - deep respect for language and culture that was central to JRRT's work and life."
Weekly Cast Watch
Xoanon @ 10:15 pm EST

Viggo Mortensen (Aragorn)
28 Days (2000)
Thin Red Line, The (1998) UK
Psycho (1998) UK
Perfect Murder, A (1998) UK
Portrait of a Lady, The (1996) UK
Ruby Cairo (1993)
Young Guns II (1990) UK
Witness (1985)


Liv Tyler (Arwen)
Cookie's Fortune (1999)
Plunkett & Macleane (1999)
Can't Hardly Wait (1998)
Heavy (1995) UK
Silent Fall (1994)


Ian Holm (Bilbo)
Simon Magus (1999/I) UK
Alice Through the Looking Glass (1999) (TV)
eXistenZ (1999)
Night Falls on Manhattan (1997) UK
King Lear (1997) (TV) UK
Sweet Hereafter, The (1997) UK
Fifth Element, The (1997) UK
Return of the Soldier, The (1982)
Alien (1979) UK
All Quiet on the Western Front (1979) (TV)
Shout at the Devil (1976)
Severed Head, A (1971) UK
Fixer, The (1968) UK


Sean Bean (Boromir)
How to Get Ahead in Advertising (1989) UK
Nostradamus Kid, The (1993) UK
Strange Planet (1999)
Matrix, The (1999) UK
Bedrooms and Hallways (1998)
Interview, The (1998)
Babe (1995) UK
Adventures of Priscilla, Queen of the Desert, The (1994)
Exile (1994) UK
For Love Alone (1986)


Karl Urban (Eomer)
Heaven (1998)
What Lies Beneath (2000)
Jack Bull, The (1999) (TV) UK
Thin Red Line, The (1998) UK
Nostradamus Kid, The (1993) UK
Last Days of Chez Nous, The (1992)


David Wenham (Faramir)
Molokai: The Story of Father Damien (1999)
Boys, The (1997/I) UK
No Escape (1994)
Faculty, The (1998) UK
Ice Storm, The (1997)
Good Son, The (1993)
Forever Young (1992) UK
Internal Affairs (1990)
Back to the Future Part II (1989) UK


Cate Blanchett (Galadriel)
Pushing Tin (1999) UK
Ideal Husband, An (1999) UK
X-Men (2000)
Apt Pupil (1998) UK
Shadow, The (1994) UK
To Die for (1994) UK
Walter and June (1986) UK
Keep, The (1983) UK
Alfred the Great (1969) UK


John Rhys-Davies (Gimli)
Secret of the Andes (1998) UK
Bloodsport 3 (1996)
Cyborg Cop (1994)
Unnamable II: The Statement of Randolph Carter, The (1993)
Perry Mason: The Case of the Murdered Madam (1987) (TV)
Sword of the Valiant (1982) UK
Naked Civil Servant, The (1975)
Arabian Nights (2000) (TV) UK
Topsy-Turvy (1999)
Among Giants (1998) UK


Craig Parker (Haldir)
Tommyknockers, The (1993) (TV) UK
Heavenly Creatures (1994)
Braindead (1992) UK
Wilde (1997) UK
Hostile Waters (1997) (TV)
Bruce Spence (Mouth of Sauron)
Mad Max Beyond Thunderdome (1985)
Mad Max 2: The Road Warrior (1981)


Sean Astin (Sam)
Deterrence (1999)
Kimberly (1999)
Icebreaker (1999)
Bulworth (1998) UK
Harrison Bergeron (1995) (TV)
Low Life, The (1994/I)
Rudy (1993)
Encino Man (1992) UK
Where the Day Takes You (1992) UK
Toy Soldiers (1991)
Memphis Belle (1990)
War of the Roses, The (1989)
Staying Together (1989)
White Water Summer (1987) UK
Goonies, The (1985)
Jinnah (1998) UK
Tale of the Mummy (1998) UK
Gremlins 2: The New Batch (1990)
Safari 3000 (1982)
1941 (1979) UK
Return from Witch Mountain (1978) UK
Killer Force (1975)
Three Musketeers, The (1973) UK
Nothing But the Night (1972)
One More Time (1970)
Scream and Scream Again (1969)
Brides of Fu Manchu, The (1966)UK
Face of Fu Manchu, The (1965) UK
Dr. Terror's House of Horrors (1965)
She (1965/I) UK
Gorgon, The (1964) UK
City of the Dead, The (1960)
Captain Horatio Hornblower (1951)


Bian Sergent (Ted Sandyman)
Braindead (1992) UK
True Crime (1999) UK
Loss of Sexual Innocence, The (1999)
Midsummer Night's Dream, A (1999) UK
Restless Natives (1985) UK
Gandhi (1982) UK


Brad Dourif (Wormtongue)
Ghost, The (2000)
Senseless (1998) UK
Urban Legend (1998) UK
Phoenix (1995)
Death Machine (1995)
Amos & Andrew (1993)
Body Parts (1991)
Graveyard Shift (1990)
Child's Play 2 (1990)
Hidden Agenda (1990)
Mississippi Burning (1988)
Child's Play (1988)
Blue Velvet (1986)
Jim Rygiel (SFX)
102 Dalmatians (2000)
Anna and the King (1999) UK
Star Trek: Insurrection (1998) UK
Starship Troopers (1997)
Last of the Mohicans, The (1992)
Batman Returns (1992) UK
Alien³ (1992) UK
Ghost (1990) UK
2010 (1984) UK
Howard Shore (Composer)

Cell, The (2000)

Dogma (1999) UK
eXistenZ (1999)
Analyze This (1999) UK
Crash (1996) UK
Striptease (1996)
Se7en (1995)
Mrs. Doubtfire (1993)
Single White Female (1992) UK
Prelude to a Kiss (1992)
Silence of the Lambs, The (1991)
Postcards from the Edge (1990)
She-Devil (1989)
Dead Ringers (1988) UK
Fire with Fire (1986) UK
Places in the Heart (1984) UK
Silkwood (1983) UK
Gilda Live (1980)
Peter Jackson (Director)
Heavenly Creatures (1994)
Braindead (1992) UK
To get more information, use the sites I use like:
Media Watch: The Advocate
Xoanon @ 12:49 pm EST

From: Bruce S
I'm shooting you a quick email to let you know that there is a piece on Cannes in the latest (July 3, 2001) issue of The Advocate, the national (US) gay & lesbian news magazine.
The title of the article is "Lord of the Cannes" and the first paragraph is about LOTR, focusing on Ian McKellen. Both of the pictures that accompany the article are party-related LOTR shots. One is a picture of McKellen and the hobbit actors (he really is taller than all of them!), and the other is a small inset shot of the castle where the party was held.
The article describes McKellen as heroic and says that the hottest ticket in town was the 25 minute screening of LOTR. Elijah Wood is described as looking "delectable" in the footage. Next there was some familiar info about the Cannes party, and finally there was one new bit (to me): an awful pun from one of the Hollywood trade periodicals, "Be a Frodo; be very a Frodo."
The rest of the article talks about the non-LOTR Cannes scene.

LOTR in Japanese - just too many volumes?
Tehanu @ 6:04 am EST

Thanks to Jay, we have some more answers to something that's been bugging me: Why LOTR hasn't been a hit in Japan up until now. We had heard it was due to bad translations. I had email from Japanese people denying that LOTR in Japanese was a bad translation, though ironically they were using translation software to write to me so I couldn't really follow it. I wondered what Tolkien the philologist would have thought of that particular development in technology.
Here's what Jay found out: " I am on a Japanese BBS with some of those guys. I think they have been trying to send you guys some email, but I looked at it and the English was pretty bad. So, I thought I'd like to clear some things up for you. These guys actually really love the Japanese translation of LOTR and hold the translator in very high esteem. They can't understand why some people are saying that the Japanese translation is a poor one. I think the main problem for Japanese people is how long the book is. The set that I have seen in Japanese was broken up into 9 books. The Japanese translation is very accurate when compared with the English original, and I think this adds to the length of the Japanese translation (which seems like more text than the English version). I must admit that I too would be hesitant to read some foreign literature that is the length of LOTR. There is a very small but solid fanbase for LOTR in Japan. They are very much dedicated to their Japanese translation and feel that many of the direct romanizations (transliterating English into Japanese characters and sounds) that they have seen from the movie so far (e.g. the title "Lord of the Rings", "Sting" - Frodo's sword) sound kind of silly and hope that the Japanese translation equivalents will be used instead. One mentioned that hearing the word "Sting" would remind him of the British singer. Anyway, that's just some of the stuff I've heard listening to these guys talk."
Thanks for that, Jay. I have to ask: Do they read 'The Wheel of Time' over there?
More on Barrie and Carleton College
Xoanon @ 5:33 pm EST

Here is I a copy of Barrie Osborne's nomination paper for his Carleton College Distinguished Achievement Award:
Nomination for Barrie Osborne ('66) for Carleton College Distinguished Achievement Award
Barrie Osborne has been in the film industry for over 30 years and has been involved in the production of over 30 films. Currently, he is the Executive Producer for the Lord of the Rings trilogy, the first of which, The Fellowship of the Ring, is due to be released in 2001. He is also the Executive Producer for this year's film The Last Place on Earth.
After receiving a degree in Sociology from Carleton in 1966, Barrie spent 4 years in the Army Corps of Engineers rising to the rank of 1st Lieutenant.
Barry entered the Film Industry in 1970 as an apprentice editor and assistant production manager. After being accepted into the trainee program in the Directors Guild of America, Barrie worked under the tutelage of Directors such as Francis Ford Coppola, Alan Pakula and Sydney Pollack, on films that included The Godfather Part II, Three Days of the Condor and All the President's Men.
He subsequently worked on 17 films in a variety of production and director capacities (Production Manager, Producer, Second Unit Director, or Assistant Director). Among these films were Kojak, Apocalypse Now, Cutter's Way, The Escape Artist, The Big Chill, Fandango, Peggy Sue Got Married, and The Cotton Club.
During a two-year tenure as Vice President for Feature Production at Walt Disney Pictures, Barrie oversaw 15 motion pictures, including Ruthless People, The Color of Money, Tin Men, Three Men and a Baby, Tough Guys, Outrageous Fortune, Who Killed Roger Rabbit and Good Morning Vietnam.
After leaving Disney Barrie was Executive Producer for Wilder Napalm, Face Off, Rapa Nui, The Fan, and China Moon. Barrie also was Executive Producer for the 1999 film, The Matrix, which won four major Academy Awards (Sound, Sound Effects Editing, Visual Effects and Film Editing). The last two of the Oscars were especially significant since Star Wars: Episode One was nominated and heavily promoted in these two categories.
As a result of these many contributions, Barrie is well known and well respected in the film industry. In his acceptance speech for The Academy Award for Film Editing, Zach Staenberg thanked Barrie for "fighting some good fights on our behalf." In his preview of Lord of the Rings, critic Chad Baetz writes, "Barrie Osborne is . one guy who knows his Hollywood."
TV producer William Scott writes "Barrie is known as one of the truly fair, honest and respected producers in the business. I would certainly applaud his receiving a Carleton Distinguished Achievement Award."

Dagorhir's Ragnarok War This Weekend!
Calisuri @ 2:33 pm EST

TheOneRing.net Community Member Dagorhir is having an event this weekend. Here are the details:
Event name: Dagorhir's Ragnarok War
Event Type: World Event
Dates: June 17-23
Where: Spring Valley Campground, Cambridge, OH Site URL: www.dagorhir.com/ragnarok
Description: You've only read Tolkien. Dagorhir Battle Games lives it! Tolkien's Middle Earth meets Dark Age Europe in this safe, action-packed national battle game. Dagorhir "Realms" from around the US all congregate for a national War every June in Ohio. This war is called Ragnarok, and it draws hundreds of Tolkien and medieval combat enthusiasts from all over the country.
Dagorhir weapons are padded, and minimum safety requirements are stringently enforced to ensure the safety of the participants. Minimum costume requirements are also enforced. Participants ages 16 and up may compete on battlefields across the country. The rules emphasize safety and playability, to keeping the game fast and fun. While Dagorhir is athletic, you don't have to be an athlete to successfully compete. There is a niche for everyone. Dagorhir challenges the mind and body, and inspires the imagination. Dagorhir is a living, breathing, and growing celebration of Tolkien's works.
Visit the http://www.dagorhir.org/ site for more information [More]
Go back to Special Reports Archives