Go back to Special Reports Archives
November 26, 2000 - December 10, 2000
Shadowfax retires
Tehanu @ 10:43 pm EST

A few months ago we ran a story on the horses that are being used for the production, as I was pleased to discover that Shadowfax was to be played by horses of an unusually graceful and intelligent breed, the Andalusian. Since then we've seen a few shots of the wonderful silver-grey horses playing Shadowfax - for there are two of them. One of them is the galloping Shadowfax, the other is trained to do various things on words of command.
Sadly one of them has had to be retired; the vet said 'he is not working in his present condition.' Sources close to the production have said that the condition is cancer and that it was terminal.
The treatment of horses on set has been the subject of intense scrutiny for the last few months.
New Line publicist in Wellington Claire Raskind declined to comment on the reasons for Shadowfax's retirement so close to the end of principal photography.

Cast Watch: December 11-16
Xoanon @ 8:03 pm EST

Monday, December 11
Bernard Hill (Theoden) True Crime MAX

Sean Astin (Sam) Icebreaker MAX

Ian McKellen (Gandalf) Gods & Monsters TMN
Tuesday, December 12
Hugo Weaving (Elrond) The Matrix MAX

Sean Bean (Boromir) Airborne MAX
Wednesday, December 13
Viggo Mortensenhttp://theonering.net/movie/cast/mortensen.html (Aragorn) American Yakuza SHOWX

Liv Tyler (Arwen) Empire Records TNTI

Karl Urbanhttp://theonering.net/movie/cast/urban.html (Eomer) Heaven STARZ5

Elijah Wood (Frodo) The Faculty SHOW2P & Paradise WTIC & Avalon STARZ5

John Rhys-Davies (Gimli) Cyborg Cop KWKT & King Solomon's Mines WTAT

Paul Sutera (Lotho) The Brady Bunch Movie HBOF

Sean Astin (Sam) Dish Dogs WEWS & Encino Man WXXV & Toy Soldiers BETM & Boy Meets Girl TMN

Brad Dourif (Wormtongue) Scream of Stone STARZ5 & The Exorcist III ENCORE
Thursday, December 14
Elijah Wood (Frodo) Internal Affairs WTWBCAB

John Rhys-Davies (Gimli) Firewalker USA

Bruce Spence (Mouth of Sauron) Sweet Talker STARZ & Mad Max Beyond Thunderdome WMMP

Christopher Lee (Saruman) The Crimson Pirate AMC

Bernard Hill (Theoden) Gandhi HBOPL
Friday, December 15
Ian Holm (Bilbo) Beautiful Joe MAX

Ian McKellen (Gandalf) Apt Pupil TMC & Rasputin HBOPL & Restoration LOVE & Gods & Monsters TMN

Andy Serkis (Gollum) Career Girls IFC

Sean Astin (Sam) Kimberly MAX

Christopher Lee (Saruman) Return From Witch Mountain STARZ4

Brad Dourif (Wormtongue) Urban Legend SHOWX & Death Machine WNDS & Amos & Andrew SHOWS
Saturday, December 16
Viggo Mortensenhttp://theonering.net/movie/cast/mortensen.html (Aragorn) Young Guns II WGN

Ian Holm (Bilbo) The Sweet Hereafter BRAVO

Elijah Wood (Frodo) The Good Son FX

John Rhys-Davies (Gimli) Marquis de Sade SHOWB & Desperado: Badlands Justice WHUB

Orlando Bloom (Legolas) Wilde SUNDAE

Bernard Hill (Theoden) Shirley Valentine RCN

Sean Astin (Sam) Teresa's Tattoo WNPA & The War of the Roses KBMT

Christopher Lee (Saruman) Police Academy 7: Mission to Moscow SHOW

Brad Dourif (Wormtongue) Ragtime WSTR

Sean Bean (Boromir) Ronin TMN
Interview with the vampire
Xoanon @ 9:28 am EST

Rigner Spy Bob sends us the entire transcript from the Christopher Lee (Saruman) interview. Enjoy!
HIS REIGN AS COUNT DRACULA IS LONG OVER, BUT CHRISTOPHER LEE STILL HAS LOTS TO GET HIS TEETH INTO. THE LORD OF THE RINGS FILM, FOR STARTERS.
It's the beard that does it; a white, fluffy beard that softens Christopher Lee's features and balances his grey hair and dark eyes. He's almost cuddly. "I feel like a Shakesperian stage direction," he says. " 'Enter, pursued by beard'. I grew it for purely professional reasons." Lee's eyes gleam with enthusiasm. He tries to be stern but underneath he's gleeful. He may be 78 but he's at the peak of his career. He has just finished filming the first part of the Lord of the Rings trilogy.

"You realise I can't discuss anything about that," he says in a hushed, excited tone. Not even the facial hair? "No. I signed a confidentiality agreement. I can tell you who I'm playing, of course, because that is public knowledge." And so he begins by talking about the book, which he has reread every year since it first came out. "I was bowled over by it, line for line, - and I still am. It is magical." There follows a detailed exposition in which he explains Tolkien's genius to me in a slow sonorous voice, as though he were reading a bedtime story to a small child. Finally he gets to the character he plays in the film: Saruman, a wizard.

"He's more than just a wizard," Lee corrects me, a stickler for detail. "They are immortals. But they are human-shaped. They're called the istari:I,S,T,A,R,I. They are immortal they are maiar: M,A,I,A,R." He rolls the R with a flourish. "They are sent by the valar, who are the creators, to Middle-earth. There are three wizards to concern yourself with, and I am number one: the most powerful. The most brilliant. The one of the greatest strength: Saruman, the White." A wizard of great importance, obviously. "Yes, and the point is, power corrupts. Absolute power corrupts absolutely, famous phrase and that's what happens to him." "Oh dear," I say. "Yes. Unfortunately he gets turned. Like a double agent. He's meant to be the white wizard, but it comes out that he's gone to the dark side. That's all in the book. That's all in the film. And that's all I can tell you."

Lee's loquaciousness is legendary. It's endearing and exhausting in equal measure. He's not afraid of the sound of his own voice. Barely has the tall, distinguished presence introduced himself when I am treated to a long discourse on alcohol. The trigger? The suggestion of a glass of wine. No, he told me, he rareky drinks. "A glass of wine perhaps, but I pratically never drink during the week. And I never, never drink when I'm working. Unless it's incredibly cold. I've made several features in Stockholm in the winter, and everyone drinks aqua vitae there. I used to have it with my breakfast: one, like that" – he mimes knocking it back – " because it was so cold. I remember making a picture at night outside Stockholm. I got shot by a police chief, fell into the snow. It burnt, it was so cold. You really need something to warm you in that kind of climate. But when it's hot, one of the things that I can't understand, when you work in France, Italy, Australia, New Zealand, all those hot climates, is how the crew can drinks alcohol. They'd sit down to have their lunch and they'd have one, two glasses, usually red. I suppose they're used to it, and if you tried to give a French crew lunch without wine, there would be a riot."

He does tend to go on rather, but this is a sore point. "I'm a good listener," he protests. "People think I'm not, because I talk a lot, I know that, but I do listen." Is the talkativeness a nervous habit, or a need for attention? He says he was shy as a child. "Very self-conscious. Always trying to prove something. Which was taken as a 'look at me, look at me' sort of attitude. It wasn't that at all. I can still be self-conscious. I can walk in front of a camera and think, 'My God, here I am doing this in front of all these people.' I feel like a complete idiot sometimes."

Lee has 54 years' experience in the movie industry, in which he has made over 200 films, more than any other living British actor. He's one of the last survivors of the golden age of cinema, but despite a huge cult following he never made the A-list. While actors such as John Wayne and David Niven were cast as strong, romantic leads, Lee got pigeonholed as the villain. As he dips in and out of his career to make a point, you realise this is more than fond recollection. He wants to be taken seriously. He's stacking up evidence for the defence. The directors he has worked with: Orson Welles, John Huston, Steven Spielberg, Raoul Walsh, Nicholas Ray, Billy Wilder. The co-stars: Richard Burton, Roger Moore, Raquel Welch, Ursula Andress. Muhammad Ali, the boxer, who declared himself a fan and asked Lee to give him his best scary look. Lee's website, he tells me, got 980,000 hits in it's first day and now averages 1.5m hits a month. It goes without saying that Lee occupies a special place in the public's heart. But that's not the same as critical recognition, and he knows it.

That Lee should have become an actor was by no means likely. Born in Belgravia, London, in 1922, he was destined for great things. His father was a colonel in the 60th King's Royal Rifle Corps; his mother was a countess, from the ancient Carandini family of Europe, and a noted Edwardian beauty. Lee could almost have been a count, but the line of succession stopped at his mother. "Even this consolation was denied me," he wrote in his 1977 autobiography, Tall, Dark and Gruesome, which is filled with self-deprecating humour. "I was 'a mistake', "he states on the first page. "My mother often told me so.

When Lee was four, his father left his mother after 16 years of marriage. Lee was left with the "idea of a father like the hero from a tale from Boy's Own comic". His mother had to raise two children with "literally nothing", though she later remarried. Lee took a scholarship to Eton, but even with it's help this proved beyond the family's means; when the money ran out, he had to take yet another scholarship to Wellington. He was trained for life, " I was brought up and educated in such a way that it was made clear to me what was the sensible thing to do and what wasn't," he says. "My father, sadly, was a gambler. He was a gallant, brave man, but he couldn't afford to gamble. My stepfather was a drinker. They combined to put me off such things. I had to leave school at 16 because my father went bankrupt, and I went into the City as a messenger boy at £1 a week. That's gambling, if you like, because I didn't have anything else."

He credits his public-school education for giving him "one very important thing, which is vital if you're going to be an actor: self-discipline". No doubt, to a young boy with a chaotic family life, self-discipline gave an illusion of control. But bits of the chaos leaked out. "I was a real tearaway when I was young," says Lee, "and I'm still considered by some of my relatives to be a bit of a rebel." With his well-bred accent, his refined tastes (his passions are opera and golf, which he plays exceptionally well, with a handicap of eight) and his top-class education, his family hoped he might have been a diplomat. But, he says, contradicting his earlier remark, he would have been disastrous: despite the discipline he finds it hard to bite his tongue. "I always say what I think. One of the most difficult things in life is not to show your true opinion of someone, isn't it."

His mother was appalled when he took up the suggestion of his cousin Count Niccolo Carandini that he should try acting. This cousin was the first Italian ambassador to Britain after the second world war. The rest of the Carandini's too, were high-society high-fliers. Lee's signet ring, which belonged to his great-grandfather on the Carandini side, bears the arms of the Holy Roman Empire. "On that side of the family there have been the most amazing achievers," he says. "One was a cardinal, he's buried next to Raphael the painter in the Pantheon in Rome. Another was in charge of the marriage contract between Mary of Modena and one of the kings here – James II or something like that. They've alldone something. It's a lot to live up to."

But he has done a fair bit himself, and witnessed more than most of us. As a teenager, staying with a family friend in Paris, he saw the last ever public execution by guillotine in France. At 17 he joined the RAF and learnt to fly in Rhodesia, but was grounded with an eye problem and transferred to the special forces, where he became an intelligence officer. He saw action in North Africa, and in Sicily found himself responsible for people's lives, all before he was 20. Before promotion he spent two years in the ranks. "That taught me a lot," he says. "How to treat people so you get the best results, whether it's in a war or not. After the end of the war I was posted to some of the [concentration] camps. When you've seen that you've seen the worst human beings can do."

After the war he was, in his own words, "an unemployment statisic". Acting was make-believe, an escape from the harsh realities of life. "The pressure to get two scholarships to be educated, the struggle to stay alive as a messenger boy in the City, five years of war – lots of people have had far worse things to do, but you have to overcome it," he says. "One of the advantages I possess as a result of this discipline is the quality that has made me an actor and is why I'm still working: determination. Show business is not a very attractive profession to be in. It's greed and fear that are the predominant elements today."

Lee's attitude towards the industry is ambivalent. On one hand, it has provoded him with near-constant employment. On the other, he sees himself as the victim of narrow-mindedness. He was considered to foreign looking and to tall to play romantic leads. "If I went in now with a beard they'd say, 'Sorry, you're too beardy,'. People are equally stupid in the other direction: they say,' This boy, this girl, greatest actor we've ever seen. How long is their shelf life? Five to 10 years?' All right, you can make an awful of of money in that time, but what are you going to do afterwards? Stare out the window? Where are the giants today? Where are the Grants, the Coopers and the Waynes? Where's the tremendous charisma of an Errol Flynn? Where is the panache of a Gable?"

Lee's scorn for one-minute wonders comes, in part, from the long time it took him to get noticed. He played bit parts for 10 years, in all weathers and all over Europe, doing his own stunts, hoping for a break. He claims that he never felt resentful watching others play the lead. "I never felt jealous, but I envied them for the fact that they had the opportunity to play the part, when I knew I could play it better." Then in 1957, in his mid-30s, the big break came: Dracula. Among enthusiasts he is still the count, with his hypnotic eyes and smooth manner. It led to a succession of Hammer horror roles, including 5 showings as the sinister oriental assassin Fu Manchu. Types are continually in work, his friend Boris Karlof had told him. "It often comes across that I'm sorry I did it," he says. "Totally untrue. I've always said it was tremendously important for me because, by playing some of these roles, I made my name and my face known. What I have said is I was sorry I went on playing one particular role.

Maybe if he had made just one Dracula film for the Hammer studio, his popular image would have been less fixed. But he made six. The last was in 1972, an age ago, Lee would have you believe, but not long enough ago to be forgotten. "Of course, I've made the decisions that were wrong. I made films I shouldn't have touched. After the first two Dracula films, I said I'm not going to do any more. But I used to get hysterical calls from Hammer. Begging. 'You've got to. We've sold it to the distributor with you in the part. Think of the people you'd out of work if you don't do it.'" He insists, though it sounds unlikely that this is the only reason he made the last four movies, but he's wise enough to admit there have been some howlers. "We all make choices. There are plenty of films I've been in that have been particularly horrendous.

Aside from the blood-spattered B-movies, Lee has played a surprising variety of roles. He was the man with the Golden Gun, a sophisticated baddie with a third nipple. He was the sinister pagan leader Lord Summerisle in the creep cult flick The Wicker Man. He was a businessman by day and gay biker by night ("I can explain all this") in Serial. He was Sherlock Holmes, three times. More recently, he appeared in the popular BBC mini-series Gormenghast, and in the Tim Burton movie Sleepy Hollow. He describes Burton as a "tremendous director to work with" and the films star, Johnny Depp, as "by far the best young actor around today, and a delightful person". He lavishes praise, too, on Peter Jackson, the director of The Lord of the Rings. Casting directors, on the other hand, are the bane of his life. "When I began, I was told you have to be 'on the list'. In other words, this casting director has his or her favourites, so does that one, and that one. And I've never been on their lists, because I haven't taken them out for drinks, haven't sent them Christmas cards. I refuse flatly, I will not play the luvvie game. Never have, never will."

The supporting role in Lee's life is his Danish wife, Gitte, whom he describes as "very strong. She's put up with me for 39 years". Lee was in his late 30s when they were introduced. Gitte was a successful fashion model and painter, the most elegant woman he had ever met. He proposed after two days, and she accepted two days after that. After a brief honeymoon they made their home in Switzerland, a hub around which Lee could work in European films. It was in Switzerland that their daughter, Christina, was born. Gitte nearly died in the process ("It was the biggest shock of my life", says Lee) and they were told they couldn't have any more children. Christina was born with twisted feet (which were rectified as she grew up) and Lee says they spoilt her, "as all parents do". Then she was sent to a boarding school in England, "because we felt it would be more fun for her as a single child to be with other children her own age". In the mid-1970s, tired of being typecast as the villain, Lee and Gitte went to live in LA for 10 years, during which time Lee knocked off another 40 films ("People say to me, 'You make it look so easy'. Well it isn't"). They tried to fit Christina into schools there, but she hated them, and ended up back at her English boarding school, commuting six times a year to the US to see her parents. "We were as close as one could be with those constant separations," he says.

He is a strong believer in responsibility and a proud workaholic, naively astonished that there are people "who don't want to work", who are content to sponge off the taxpayers. But there's a touch of Victor Meldrew about him when he gets on one his rants. "I really do feel sometimes, with all the palaver that goes on, all the lying and cheating, which they call negotiating, why am I bothering with this? I guess it's because I don't think there's anything else I could do. And I'd be extremely bored if I did nothing. You see, I love to create people. Some of them existed and some are imaginary, but I try to make them believable. Sometimes you get it wrong, and a good director will tell you so.

Sometimes he gets it right. Ironically, Jinnah, the 1998 film in which Lee got it most right, has not had a general release in this country. Lee calls it "the best thing I have ever done". He played the Muslim leader and founder of Pakistan, Mohammed Ali Jinnah. A brave casting decision by the film's director and producer, Jamil Dehlavi. "Initially there was some opposition to Christopher because of his Dracula background," Dehlavi says. "I had to really fight for him. Jinnah was quite aloof, quite a stern, uncompromising man. Christopher has those qualities, so my instinct told me it would work, but I took a big gamble".
Dehlavi's instincts were good; Lee portrays the leader with a subtle range of emotions that the skeptics wouldn't believe possible. At the end of the film he even sheds real tears. "I'd never in my life cried in front of a camera," says Lee. "That wasn't just acting, I was feeling." For the first time, his performance got a good response – he was sent advance reviews, but told he couldn't quote from them till the film came out. "I've never had reviews like that in my life," he mourns.

At least as Lee nears his 80th birthday, he has the satisfaction of knowing he is still employable. As well as the Lord of the Rings trilogy, we'll be seeing him in the next Star Wars film, and he entertains dreams of playing Ivan the Terrible and Don Quixote. "Was it Sir Cecil Rhodes who said 'too soon' on his deathbed? I feel like that. I want to live long enough to see all Lord of the Rings films come out – that's 2003, by which time I'll be 81." He says he doesn't fear death. "As Woody Allen said, 'I just don't want to be there when it happens'".

But he won't go quietly – and not, if he can help it, before he has convinced the world he really is A-list material. In his eyes, he could have been great if he had been given a chance. He's keen to point out how, whenever he was cast against type, he surprised people – doing comedy, for example, when he hosted Saturday Night Live, in 1978, with John Belushi, Dan Ackroyd and Bill Murray (it's still the third highest-rated show of the series). "To be a real actor you have to be versatile," he says. "And if you acquire that versatility, you can put it on the screen. I've spent the whole of my career proving people wrong.

Suddenly he notices the time. He is 10 minutes late for a suit-fitting for another project, which, of course, he can't talk about. "Excuse me if I dash away," he exclaims. And he does, his sweeping exit marred only by his having to stoop to avoid a high beam. His 6ft 4in stature is the one part of his image he can't even try to overcome.
Chris Lee interview from the Sunday Times.
Tehanu @ 2:59 pm EST

This sort of thing can be frustrating - I get up in the morning and there's emails telling me that there's an interview with Chris Lee (Saruman) in the Sunday Times - but no clue about the Sunday Times of which country even, let alone which city. Our correspondents had tried to find an online version for us but it didn't seem to be around.
Holraven to the rescue then: the same article was printed in the Norwegian paper Dagbladet, and is available online. In it, Chris Lee is sitting in front of....yes, it's Orthanc!!! (here)
Many thanks to Holraven again for his translation below:
WIZARD OF THE RINGS
- Christopher Lee tests his magical abilities in "The Lord of the Rings".
The filmation of "The Lord of the Rings" is well underway, and the legendary actor Christopher Lee plays the wizard Saruman. In an interview with The Sunday Times Lee, known for his Dracula-interpretations,talks about the already mythical production by Peter Jackson.
Christopher Lee can of course not discuss the film itself. He is bound by a vow of silence as everyone else involved. But he can say a bit about the character he portrays:
"Saruman is more than just a wizard. Three immortal Istari wizards have been sent to Middle Earth. I play Saruman, who is the most powerful of them all. He's brilliant, and by far the strongest. Saruman the White; that's me!", says Christopher Lee.
POWER CORRUPTS
Saruman is the most powerful wizard, and hence the most dangerous. Especially when he spins out of control. And Christopher Lee thinks it's not a cliché that power corrupts the soul. "Saruman was meant to be a good wizard. He was to fight for the light and the good forces. But his power destroys him, and he embraces the dark. This is in the book, and it's kept in the films, and that's all I can tell you, Lee tells The Sunday Times.
The first film of the trilogy have a world premiere next christmas. And Christopher Lee hopes to live long enough to see all the films in their completion.
By May Synnøve Rogne, translated by Holraven.

Cast Watch: December 3 - 9
Xoanon @ 3:33 pm EST

Sunday, December 3
Bernard Hill (Theoden) True Crime MAX & Catherine Cookson's The Gambling Man Granada Plus UK

Hugo Weaving (Elrond) The Matrix MAX

Ian McKellen (Gandalf) Gods and Monsters TMN
Monday, December 4
Ian Holm (Bilbo) Beautiful Joe MAX

Sean Bean (Bilbo) Airborne MAX

Ian McKellen (Gandalf) Amy Foster Sky Premier UK
Tuesday, December 5
Viggo Mortensen (Aragorn) 28 Days TVND5

Ian McKellen (Gandalf) Restoration LOVEP & Apt Pupil Sky Premier UK
Brad Dourif (Wormtongue) Progeny MAX & The Exorcist III Carlton Cinema UK
Sean Astin (Sam) Boy Meets World TMN
Wednesday, December 6
Viggo Mortensen (Aragorn) The Passion of Darkly Noon TMC2

Ian Holm (Bilbo) eXistenZ SUNDAE

Ian McKellen (Gandalf) Scandal TRUE & Gods and Monsters TMN

John Rhys-Davies (Gimli) Marquis de Sade SHOWB

Orlando Bloom (Legolas) Wilde SUNDAE

Sean Astin (Sam) Encino Man WFTE

Christopher Lee (Saruman) Return From Witch Mountain STARZ4 & One More Time TMC

Brad Dourif (Wormtongue) Interceptor Force SCIFI
Thursday, December 7
Viggo Mortensen (Aragorn) A Walk on the Moon ENCORE

Elijah Wood (Frodo) The Faculty SHOW2 & Internal Affairs WTAT

Paul Sutera (Lotho) The Brady Bunch Movie HBOS

Christopher Lee (Saruman) Circus of Fear WSPYLP & The Longest Day AMC

Brad Dourif (Wormtongue) Scream of Stone STARZ5 & Color of Night MAX

Bernard Hill (Theoden) True Crime MAX
Friday, December 8
Viggo Mortensen (Aragorn) The Thin Red Line HBOPL & American Yakuza SHOWX

Sean Bean (Boromir) Airborne MAX & Ronin TMN

Hugo Weaving (Elrond) The Matrix MOMAX

Miranda Otto (Eowyn) & Viggo Mortensen (Aragorn) The Thin Red Line HBOPL

Bruce Spence (Mouth of Sauron) Sweet Talker STARZ

Sean Astin (Sam) Memphis Belle XEWT & Staying Together SHOW3

Christopher Lee (Saruman) Moses TNTI

Bernard Hill (Theoden) True Crime MAXS

Brad Dourif (Wormtongue) Color of Night MOMAX & The Exorcist III ENCORE
Saturday, December 9
Viggo Mortensen (Aragorn) Boiling Point BETM

Ian Holm (Bilbo) Beautiful Joe MAX & Hamlet KSTW & Dance With a Stranger SUNDAE

Ian McKellen (Gandalf) Rasputin HBOPL

John Rhys-Davies (Gimli) Catherine the Great A&E & Perry Mason: The Case of the Murdered Madam COURT

Andy Serkis (Gollum) Among Giants HBOSIG

Bruce Spence (Mouth of Sauron) Mad Max Beyond Thunderdome KOLR

Sean Astin (Sam) Dish Dogs WABC & The Long Way Home WFTX & Safe Passage LIFE

Christopher Lee (Saruman) Private's Progress TMC

Brad Dourif (Wormtongue) Nightwatch SCIFI & Death Machine KTXH

Bernard Hill (Theoden) Shirley Valentine Paramount Comedy Channel UK
Preserving the magic of this earth....
Tehanu @ 3:31 am EST

Marine Research and the One Ring Net
WWF is using the funds for TheOneRing.Net to help fund two projects; saving the North Island Hector's Dolphin and developing a campaign on albatross. A description of the projects is set out below.
The North Island Hector's Dolphin
New Zealand is home to one of the world's smallest and rarest marine dolphins, the North Island Hector's Dolphin. There are thought to be approximately 100 left in a population that possibly numbered in the thousands at the beginning of the century. They are critically endangered. The range of the dolphin has been reduced dramatically and they are now only found along the north west coast of New Zealand's North Island. The decline in the North Island Hector's Dolphin population is thought to be caused by commercial and recreational set net fishing near the coastline in their shallow water habitat.
WWF-NZ has been working with stakeholders to implement a ban and fisheries management system for set net fishing in the area where the dolphins are found. WWF is also working with Auckland University on research which will help to more accurately assess the size of the surviving population and their demographic makeup.
In parallel to the research, WWF will run a WWF Strandings and Sightings Network asking for public assistance in ascertaining the range and behaviours of the dolphins. The WWF public education program targets recreational set net fishers in the northwest of the North Island, and will be run through local schools in the area and community groups. The first of these education programs begins in November, and the WWF Strandings and Sightings Network will start operating at the same time. This is timed to coincide with the beginning of the summer which is the best time to sight the dolphins and when everyone is at the beach.
For further information see www.hectorsdolphin.org.nz or www.wwf.org.nz

Albatross
WWF is currently investigating the status of Albatross populations in the Southern Ocean. Recent information shows that there has been a substantial decline in their numbers. This decline has been expected for some time because large numbers of albatross have been caught by fishing boats in the southern oceans over the last 30 or more years - it is estimated that an albatross is drowned on a fishing line every 5 minutes. But because the numbers caught were not well known and because the birds spend such large amounts of time at sea getting a good estimate on populations has been very difficult. Only recently has the state of the albatross really become apparent and it is a bad news story.
Albatross are amazing birds. They have a wing span of 8 feet and routinely soar at speeds of 160 km/hr, often traveling at this speed for hours on end. Many albatross routinely cirumnavigate the globe. When they are soaring their heartbeat is equivalent to being at rest - soaring is as easy for albatross as sitting on a nest.
Albatross are very slow breeders and even a loss rate of 1% each year will drive the species to extinction. If a parent is killed whilst feeding a chick, the chick will also die. In many cases the loss of one albatross acutally means the loss of 2 albatross, i.e. the chick also.
WWF is becoming increasingly alarmed by recent data that is showing huge declines in albatross numbers. WWF is using funding from TheOneRing.Net to help pull together the necessary background information to develop a campaign and to help fund the campaign. WWF plans to launch the campaign in mid 2001.

Middle-earth Arms and Armour
Calisuri @ 5:17 pm EST

During the last few months quite a few images of armour & weaponry from the LOTR movies have been posted on TheOneRing.net™ and the Web in general. What I aim to do with this article is to examine those images to see how they compare with the descriptions in the writings of JRR Tolkien. I realize that every person who reads Tolkien's works forms their own personal imagery of what they see in the stories, which is as it should be. Accordingly, the purpose of this article is to offer some academic discussion, and not to discount anyone's interpretation of what is shown in Tolkien's books.
Background
To start, I'd like to give a bit of background on the armour & equipment used in Middle Earth. Tolkien was profoundly influenced by the poem Beowulf and by the various Norse Epic Tales. As a result, the armour and weapons of Middle Earth are quite similar to those used when Beowulf and the Norse epics were written: The Dark Ages (part of which is often called the Viking Age). There are also similarities to armour and weapons from the Ancient Period. The prominent form of body armour in Middle Earth is mail, usually made of interlocked rings. There are also a few references to "fishes mail", a colorful term for scale armour. Plate armour is virtually non-existent in Tolkien's writings of Middle Earth (as it was during the Dark Ages). For example, the word "breastplate" is never encountered even once in all of the Middle Earth writings (this includes the vast amount of material published after Tolkien's death). In contrast, "Mail" is encountered many, many times. There are also equivalent terms used for mail on numerous occasions: hauberk, corselet, byrnie, habergeon, and harness. One of the few references that comes somewhat close to mentioning plate body armour is the corselet of overlapping bronze plates worn by the Haradrim warrior who dies in front of Sam in Ithilien. This armour actually sounds like a variant type of scale armour, or perhaps strip armour like that worn by the Romans. There are references to a variety of helmets. Some are entirely of metal, some of metal and leather. These helmets are sometimes referred to as being high in profile (as Tolkien even drew a few pictures of such), while other types sound lower & rounder in profile.
Tolkien was quite aware that weapons (mostly of the non-magical variety) were not indestructible; he wrote of a number of incidents where blades were notched or broken in combat. As a result, Tolkien usually equipped warrior's with shields to absorb the punishment of battle. Sometimes additional protection could be offered through mail coverings or greaves for the legs, and vambraces for the forearms.
A variety of swords, spears, axes, daggers, hammers, and maces were used in conjunction with the shield, though some of these could be wielded in two hands as well. Bows of varying length, power, and construction were in use for shooting arrows.
The Pictures
I. The Riders of Rohan
This first batch of pictures shows various shots of the Riders of Rohan and their equipment. Overall, they show a very high degree of accuracy with regards to the written descriptions.

Click for Larger Version
Here are a couple views of Rohirrim helmets. The first two helmet tops are of "spangenhelm" construction (plates and strips of metal overlapped and riveted together). The two helmets modeled by the Members of Parliament have their tops apparently made in one piece and decorated with a nice hand-hammered texture. Three of the helmets have crests: One consisting of a white horsetail (probably marking it Eomer's helmet), the other two having stylized "horsehead" crests (these may actually be holders for mounting on horsetails). The lower regions of the helmets have metal cheekpieces, leather tails for the back of the head and either simple nasal guards, or eye-and-nasal guards. I am betting that Eowyn will be wearing of the "eye and nasal guard" helmets when she is disguised as Dernhelm. Originally Tolkien was going to disguise Eowyn with the name of "Grimhelm". A grimhelm is a type of masked helmet used in Northern Europe during the early Dark Ages; grimhelms are mentioned in Beowulf a few times. Tolkien didn't go with the "Grimhelm" concept, probably because the name was too close to Grima Wormtongue's name, and perhaps because he did not want to cover Eowyn's face completely with a mask. Merry needed to be able to see "The face one who goes seeking death". So Eowyn became Dernhelm, "Helm of Secrecy". The Type of helmet shown here would be perfect to conceal her identity while only partially covering her face.

Click for Larger Versions
The item shown here is a beautiful rendition of a Rohirrim shield. While it seems to be made of synthetic material, it is very nicely done and quite convincing. It is of classic Dark Age round-shield design: wood rimmed with iron, and having a center grip protected by a boss. The boss has nice motifs molded into it.

Click for Larger Version
Way back when Peter Jackson was doing 20 Question sessions with Ain't It Cool News, I was fortunate enough to be able to ask him how the WETA Workshop would be making armour and weapons for the movies. He noted that mail for the heroes would be made of metal rings in India, and that string-mail for the bulk of the armies was being knitted by a Wellington knitting club. The above picture shows one of the Rohirrim apparently wearing one of these string mail hauberks. It very effectively simulates mail on film.

Click for Larger Version
In this shot you can see the host of the Eorlingas wearing all of the above detailed items together. Most of their helms have black horsetail crests attached to horsehead crest holders. Their horses have chamfrons (facial armour) of a design similar to that which the Roman cavalry used. The resulting effect is quite impressive and highly accurate to Tolkien's descriptions.

Click for Larger Version
Here we can see a picture of a warrior standing next to Gandalf on Shadowfax. I am quite certain that the warrior is Theoden (Bernard Hill or his double). His sleeveless mail shirt is in accordance with the description given in a recent on-the-set E! Online report.

II. Gimli

Click for Larger Versions
Here we see some shots of Gimli. In the LOTR Gimli is equipped with a short shirt of mail and broad bladed axe from the Lonely Mountain; he later on receives an iron and leather helmet and round shield at Edoras. During a recent interview, John Rhys Davies talked about how heavy his armour and equipment were, which probably means it is made of real metal and wood, since synthetic equipment would be pretty light. As a result, I am guessing that these pictures are early test shots since the mail and helmet look synthetic. Also, the mail looks like a kind of vest, while an early E! Online report referred to a short-sleeved shirt of mail. So, I am guessing that Gimli's armour may have changed to some degree since these pictures were taken. One of the E! Online reports mentioned Gimli having his helmet as the Fellowship were arriving at Lothlorien. This would mean that the scene where Gimli, Aragorn, and Legolas receive their helms, mail coats, and shields at Edoras has probably been cut or greatly abbreviated. The helmet Gimli is wearing does not appear to be the simple leather and iron helmet he receives in the book. I would guess that in the movies he will have a helm of Dwarf make from the Lonely Mountain, wearing it from the time that he leaves Rivendell. The helmet in the picture is beautifully crafted and quite appropriate for Dwarf work. It has some nice Celtic-style knotwork on the cheekpieces.
III. Soldiers of Gondor

Click for Larger Version
The above picture shows a unit of Gondorian soldiers in Mordor. These are very nicely done with a good deal of accuracy to the books. Their helmets are based on those worn by the Citadel Guard of Minas Tirith, whose helmets are made to a design virtually the same as the Crown of Gondor. That crown was derived from the form of a Numenorean war-helm. It was said to originally be the war-helm of Isildur, until a more magnificent version was made later on in history. Tolkien even made some sketches of this "crown-helmet" which you can see in "The Letters of JRR Tolkien". Like the Citadel Guard, these warriors have mail coats, over which they wear black surcoats showing the device of the Heirs of Elendil. This device is also on their shields. They wear vambraces and greaves on their forearms and shins. Greaves and vambraces are mentioned in "The Fall of Gondolin", and Price Imrahil wears vambraces in conjunction with his bright mail coat during the War of the Ring. They hold spears in their hands and wear longswords at their belts.
IV. Elves & Orcs

Click for Larger Versions
Above we see a couple of images showing some orcs and an Elven Warrior at some of the Mordor filming. First we'll look at the Elven Warrior. He appears to have a mail shirt with long sleeves worn beneath some sections of overlapping plates on his upper arms and thighs. He is armed with a polearm having a curved blade and a ribbed, curved grip. In addition, he has a long cloak with dyed varying shades of green. This armour and weaponry is very beautiful and nicely crafted, but not very accurate with Tolkien's descriptions. The mail shirt is fine, but the segmented plates are additions by the filmmakers. The curved polearm goes against a concept that Tolkien established early in his writings on Middle Earth's history. From the start Tolkien made curved swords (scimitars) the trademark weapon of the orcs. In contrast, the trademark weapon of the Elves were straight blades. Tolkien even goes to the trouble of pointing this out in The Fall of Gondolin, noting that only one elf among all the Noldor bore a bent sword. One of the staff at TheOneRing.net™ came up with the theory that the moviemakers were trying to show that the orcs were descended from Elves by giving them a similar trademark hairline, in addition to both races having pointed ears. It's my theory that the moviemakers are trying to carry on this concept by giving them both curved blades to use. These curved blades have been noted in other pictures, such as this one: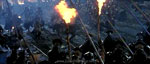 Click for Larger Version
Looking at the Orcs in the Mordor pictures, they are armored in a rag-tag assortment of hide. This is fine, since Tolkien did make some references to leather and hide being used as protective equipment. Perhaps this group represents a unit of lesser orcs who were not as well equipped with metal armour. The orc facing off with the Elven Warrior is also armed with a trademark orc-scimitar.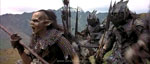 Click for Larger Version
In the above picture we see some orcs from the Internet Preview. Whether or not these are the fighting Uruk-Hai from Isengard (Orcs of the White Hand) is difficult to tell. The Uruk-Hai from Isengard are supposedly going to be covered in some kind of controversial plate armour attached to them at the time of their creation (which may just be a rumor of course). These orcs are covered with a foundation of accurate mail shirts. There are bits of what appear to be hide or carapace added on to the mail shirts, which isn't a huge deviation from the book's descriptions. They have some spiky helmets, which may symbolize the tower of Orthanc, possibly making them Orcs of Isengard. By the same token there are no White Hand or S-Rune symbols on their helms or armour (that can be seen anyway), which Isengarders should have. They appear to be carrying one or two, straight, broad bladed short swords, the trademark weapon of the Isengarders. However, they carry short bows, not the longbows that the Orcs of Isengard used. Overall, these orcs are very nicely done, with a pretty good amount of accuracy; what type of Orc they are is difficult to tell at this point. An early E! Online report described a group of Orcs from Moria pursuing the Fellowship to Lorien that were equipped in a fashion apparently similar to what is shown here. As a result, I'd bet that these are Moria/Misty Mountain Orcs.
V. Various Images

Click for Larger Versions
In Tolkien's essay, "On Translating Beowulf", he gives the advice that a translator should use the terms "Knights, esquires, courts, and princes" to describe certain people in the Beowulf poem, even though there is a risk of bringing up inappropriate images of the Arthurian world. He probably would've said the same for "The Lord of the Rings". The three images above show a selection of warriors that Tolkien might've called a bit too King-Arthurish (referring not to the historical Arthur, but to the fanciful Arthurian legends written long after the real Arthur passed into mythology). The armour and equipment shown is beautifully crafted and very artistic, but it doesn't match up well with the descriptions in the books. Perhaps they are based on a very free interpretation of the Haradrim armor of bronze overlapping plates. The high conical helmets shown in the first two pictures are an accurate exception, since such helms are mentioned in a number of places. The report that came along with the first picture posted on TORN described he riders as Gondorians; indeed their standard seems to show a White Tree on a black background. However, it is strange that two of the riders are wearing scarlet cloaks, scarlet being a very popular color with the Haradrim. This would cause confusion on the battlefield, and also be confusing for a movie audience if both Gondorians and Haradrim were clad in scarlet. The warriors in the second picture look very much like the riders in the first picture, so perhaps they are all warriors of Gondor. I wonder though, if they all are perhaps Haradrim. Their plate armour would contrast to the armour worn by the Gondorian soldiers shown in Mordor above, making for easier screen recognition. There is also the curious figure to the left of the second picture bearing a longbow; he is also hooded and masked. I believe this person to be Ranger of Ithilien, since he is clad and armed as they were described in LOTR. Perhaps the second photo shows a break in the filming of the battle scene in Ithilien between Faramir's Rangers and the Haradrim. The third image shows an orc host on the march, probably during the invasion of the Pelennor fields. Most of the orcs wear a variety of bits of plate armour over hide. A Red Eye can be faintly discerned on the shield in the center of the photo. I also believe that the black banner at the top has a Red Eye on it too, though it is billowing in the wind and hard to tell.
A Note on Weight:
I've seen a number of reports on the web giving weights on the shields, armour, and weapons used in the LOTR movies. They have all been far beyond what would be needed in a real battle, let alone for movie props. Tehanu has theorized that somewhere in the reporting process, kilograms and pounds get mixed up causing the weights to become exaggerated. This is probably the case. For example, the Rohan helmets that the PM's modeled are reported as weighing 5 kilos (about 11 pounds). In reality such helmets should weigh about 5 pounds (or even a little less).
Well, that's all for now. Whether you are a by-the-book purist or someone who favors freer interpretations, these movies should have something in the way of arms & armour that will make you happy.
---

The author, Joe Piela, is a metalsmith specializing in weapons and armour. He is also the owner of Lonely Mountain Forges. Please visit and support our guest authors. http://members.aol.com/gijchar/forge.html

Assassin Films: A look at Tolkien Culture
Tehanu @ 5:30 am EST


You may remember a few months ago I was interviewed by Assassin Films, who are making a documentary on the world inspired by Tolkien. Since then the film crew's been around the world to interview all kinds of Tolkien-inspired artists and musicians as well as people who've had some other connection with the man.
The footage they've already got is absolutely fascinating. There's interviews with mellow drop-outs in Haight-Ashbury who own nothing except the clothes they sleep in and their copy of 'The Hobbit,' there's a chat with up-and-coming band Glass Hammer, whose latest album is a tribute to Tolkien throughout, and there's confrontations with security guards around the LOTR sets here in NZ. It's a really fresh look at the world of Tolkien fans!

The film project has its own website where eventually people will be able to download video clips of the work in progress. The site uses Flash, so that the designers can achieve a high quality of sound and images. As the site grows, there'll be a place where visitors will be able to meet fellow travellers on the Tolkien road and chat with them.

The site's coming fully live in December this year; meanwhile there's an intriguing kind of introductory trailer already at Assassin Films




Media Watch: Pipes & Tobaccos Magazine
Xoanon @ 2:17 pm EST


Ringer Spy Dunkirk sends in the latest from 'Pipes & Tobaccos Magazine', which this month has its cover and main article deicated to JRRT!

I wanted make you aware of an article I discovered today. I am an avid pipe smoker and nothing had a greater impact of my decision to take up the pipe than J.R.R. Tolkien. Almost everyone in THE books enjoyed smoking a pipe. I came home from work today and to my great DELITE I found the newest issue of Pipes & Tobaccos Magezine. I proceeded to open the packaging and LOW AND BEHOLD the cover story is about the man himself, J.R.R. Tolkien. I must say that I have not read the article yet but I did want to share this information with you as soon as possible. The article looks to be four pages in length and I know you can purchase this magezine at most major bookstores. I have seen them at Books-A-Million.
Go back to Special Reports Archives