Go back to Special Reports Archives
November 15, 2001 - November 22, 2001
Media Watch: Live Wire Magazine
Xoanon @ 11:21 am EST

Ringer Spy Roäc's beak sends us these scans from autumn edition of GNER's (UK rail company) Livewire magazine. With the oddest picture of Viggo Mortensen (Aragorn) I've ever seen...
Media Watch: UK Radio Times
Xoanon @ 11:01 am EST

Ringer Spy Andy E sends us these scans from the UK Radio Times, they have a very candid interview with Ian McKellen (Gandalf), and a LOTR contest.

Media Watch: Universo Fantástico In Brazil
Xoanon @ 10:04 am EST

It may not be in English, but there are some really nice pictures of the good Professor, take a look! Thanks to Yuri for the scans!

Orlando Bloom On The Big Breakfast
Xoanon @ 8:37 am EST

From: Aelinwen
Orlando Bloom was a guest on the UK's anarchic morning programme, the 'Big Breakfast' today. His hair had grown so that the shaved image we've become so familiar with had gone. He spoke a few words about his doll, sorry, action figure; it does, apparently, have his approval, and he was interviewed mainly about LOTR:FOTR but also mentioned the Ridley Scott film, 'Black Hawk Down'

He said how he sent off his audition for the film, 'along with everyone else' and was really surprised to be chosen for such a major role. He gently corrected the interviewer who refered to him twice as 'King of the Elves', pointing out that he was a prince. He then showed his tattoo!!!
It's on his arm, girls, calm down.
He was a little nervous about showing it, saying it was supposed to be secret and confirmed that it was a 9 in Elvish. It looked more like the word for nine (nerte) (jps file enclosed to show the difference) than the numeral 9.
He spoke some Elvish! Forgive me if I can't transcribe it but I'm sure it was a greeting in Sindarin to other elves at Lothlorien, definitely said '...Mae (?) govannen' and 'Lothlorien'
Then there was an interview with three members of the Tolkien Society.
Alex, Anke and sorry...couldn't read name tag of the last one.. They were treated very kindly, if somewhat ironically, but their enthusiasm came through. They brought along a copy of 'Amon Hen' bulliten and generally explained what the society was, what it did and how you could join. Last question was, 'Was it necessary to have a beard to join?' which gives you a
flavour of the interview...
Then there was a typical Big Breakfast type section, where a pile of e-mailed questions for Orlando were pinned to an archery target and a UK longbow champion had to shoot at it. Any question she pinned with an arrow Orlando had to answer
The first was, 'How close was the film to the book?'
He said, with commendable sincerity...very close, as close as they could possibly make it.
second question...sent by a student? When he was in NZ did he meet someone called Vale, to which Orlando replied, very gamely, that yes! he had...
Last question was had he made any special friendships with others during the film. The fellowship, he said, everyone was so close in the making of the film but he had made close friends with the fellowship.

Shore Score Reviews
Xoanon @ 11:10 pm EST

TORN Staffer Quickbeam writes: The heaps of praise that Howard Shore is earning for the soundtrack reached critical mass today. Everyone seems to be ga-ga over it.
5 stars: "[Shore] has given us something that will stand the test of time and will be recognized as one of film music's greatest entries."
5 stars: "This score will of course get an Academy Award nomination."

5 stars: "Shore has carefully and intelligently crafted one of the year's best works. The score meets and exceeds the demands of the film, while providing one of the year's most interesting musical/dramatic efforts."

"....Not only one of the best soundtracks of the year, but it's also an incredibly nuanced and moving composition in its own right."
Limited Edition Score Booklett Images
Xoanon @ 11:05 pm EST

Nathanael F was kind enough to send us scans from the Limited Edition Score booklett, seems pretty much the same as the regular ol' score CD. Take a look!
Media Watch: Pipes & Tobaccos Magazine
Xoanon @ 10:41 pm EST

Dunkirk sends along these great scans from 'Pipes & Tobaccos Magazine', some great pictures of our characters enjoying a good pipe!
Media Watch: The Face
Xoanon @ 10:04 am EST

Ringer Spy Jen sends us the photo spread from the latest issue of 'The Face' Magazine featuring Elijah Wood (Frodo).

A ballet about Beren and Luthien
Tehanu @ 4:50 am EST

Tolkien-inspired dance work unveiled at C.S. Lewis and Friends Colloquium

The third C.S. Lewis and Friends Colloquium took place November 16-18 at the Upland,
Indiana campus of Taylor University. Scholars and enthusiasts of the work of Lewis and
his fellow writers gathered from as far away as Japan.
Several papers being presented related to Tolkien, including the first place student essay
"The Lord of the Rings and the Christian Way", presented by Nathan E. Sytsma of Calvin College.
One highlight of the weekend was a post-banquet presentation on a new full-length ballet
entitled The Silmaril. In April of 2003, this ballet will be presented at Butler University by the Butler Ballet under the direction of Stephan Laurent. Ellen Denham, a long-time
Tolkien enthusiast and librettist of the ballet, was the guest speaker. The score for the ballet will be newly composed by Michael Schelle, the composer in residence at Butler, who has extensive experience composing for film.
The presentation was received with excitement, and many Colloquium attendees said that they hoped to return to Indiana for the premiere. To find out more about the Colloquium, visit the websiteTo find out more about the Butler Ballet, visit their websitehere. Following is an excerpt from Ellen Denham's presentation.
"The story of Beren and Lúthien seems to me to be a natural subject for a ballet, because after all, there is a lot of dancing in it! Beren first falls in love with Lúthien when he sees her dancing upon the grass in a woodland glade. When Lúthien comes before the throne of Morgoth, the original source of evil himself, she offers to dance for him, and in doing so weaves a spell of sleep that allows the capture of a Silmaril and her escape with Beren.
I first conceived of the idea of Beren and Lúthien's story as a ballet while listening to Prokofiev's music in the car during a commute. In my mind, I could picture Lúthien's dance before Morgoth. I mentioned the idea to my husband, Stephan Laurent, who is, coincidentally, the Chair of the Department of Dance at Butler University and Artistic Director of the Butler Ballet. He had not read The Silmarillion or The Lord of the Rings at the time, but when I described the story, it appealed to him and he suggested that I try to write a libretto, or ballet plot, based on Tolkien's tale.
In addition to containing references to dance and having a central female character who expresses herself through dance, the Beren and Lúthien story shares other elements with classic ballets. In many Romantic and Classical ballets, a man meeting otherworldly or enchanted female creatures is a common theme, as is that of lovers meeting again after death. La Sylphide premiered in 1832 in Paris with choreography by Philippo Taglioni and music by Jean Schneitzhoeffer. In their book Balanchine's Complete Stories of the Great Ballets, George Balanchine and Francis Mason say about this ballet "...the sylph became ballet's symbol for romantic love--the girl who is so beautiful, so light, so pure, that she is unattainable: touch her, and she vanishes." This aptly describes Beren's first impression of Lúthien.
The theme of beautiful but unattainable women is continued in the ballet Giselle, which premiered in 1841, also in Paris, with choreography by Jules Perrot and Jean Corall' and music by Adolphe Adam. In Giselle, the Wilis, the spirits of young women who had died before their wedding days, rose from their graves at night and danced in the moonlight. These spirits, however were vengeful, and compelled the men who had betrayed them to dance until they died. The exception was Giselle, who forgave her fiancé's duplicity, realizing that he truly loved her, and danced in his stead, saving him from death before day came and she had to return to her grave. Beren and Lúthien's story also expresses a love that transcends death.
Later ballets such as La Bayadère and Swan Lake, both first presented in 1877, continue some of these themes. In La Bayadère, with choreography by Marius Petipa and music by Ludwig Minkus, the hero seeks for his beloved in a dream sequence after her death in the "Kingdom of the Shades", much like Lúthien seeks for Beren in the Halls of Mandos.
Swan Lake, with music by Peter Ilyich Tchaikovsky, was premiered with choreography by Julius Reisinger in Moscow, but this production was not a success and it was presented in a revised version in 1895 in St. Petersburg with choreography by Lev Ivanov and Marius Petipa. Prince Siegfried in Swan Lake falls in love with the enchanted Swan Queen Odette in circumstances similar to the way Beren falls in love with Lúthien. Balanchine and Mason say about this heroine, "She is a princess of the night; she is all magic, a creature of the imagination." Like Lúthien, Odette flees from the hero at first, but then falls in love with him.
In these ballets, the otherworldly female characters, whether they be sylphs, Wilis, enchanted swans, or shades, come in groups rather than alone, so the audience can enjoy the pleasure of the corps de ballet: a stage filled with unison or contrapuntal movement to dazzle the eye. Naturally, this is one thing that needed adaptation to present The Silmaril as a full-length ballet. I have handled this by adding a group of elf-maidens who appear with Lúthien as their leader and giving Lúthien a companion, M'riel. Other corps de ballet scenes include a court dance before Thingol and Melian; spirits of departed mortals dancing in the Halls of the Lord of the Underworld, Mandos; and a group of vampire bats who dance before Morgoth's throne. In The Silmarillion, Lúthien and Beren are able to sneak into Morgoth's throne room because she uses her magic arts to disguise him as a werewolf and herself as a vampire bat. Because of this I thought that it was fitting that in the ballet, when Lúthien and Beren arrive, Morgoth is being entertained by a group of his vampire bats who are led by their queen, Thuringwethil. This presents an opportunity for Lúthien to attempt to blend in with the other bats until her identity is discovered.
Perhaps to Tolkien purists, this changing of the Master's work would seem indefensible. I know that many people have strong opinions about the changes to Tolkien's work that will appear in the upcoming movies beginning with The Fellowship of the Ring this December, but I'm not going to get into that debate here! However, I realized as soon as I started writing that there was, to begin with, no way I could adapt the story for a stage presentation without omitting a lot of material. Much of this deals with the complicated story of the Silmarils and the historical context within which the story of Beren and Lúthien takes place. I chose instead to focus on the love story, the quest for the Silmaril, Beren's death and Lúthien 's choice. A dance production is not a book, nor should it attempt to be. What we will present with The Silmaril is an interpretation of Tolkien's work adapted to meet the special requirements of a ballet. I hope that many of those who see the ballet but have not read The Silmarillion will be inspired to read the book to better understand the rich context of the tale. However, for those who just choose to attend the ballet, I think it still presents an engaging story which is complete in itself."
The Pale Sword?
Berendir @ 1:18 am EST

Thanks to Saulone for pointing out this most interesting tidbit to all hardcore Decipher LOTR TCG fans out there.
In the Decipher card to the left, labeled "The Pale Sword" the Nazgul is holding an ordinary blade, and yet in the card to the right, the "Nazgul Sword", he is holding the Pale Blade. It appears the two cards were accidently switched. The sword below is the picture of the Pale Blade, so you can compare its image to the swords displayed in the two cards.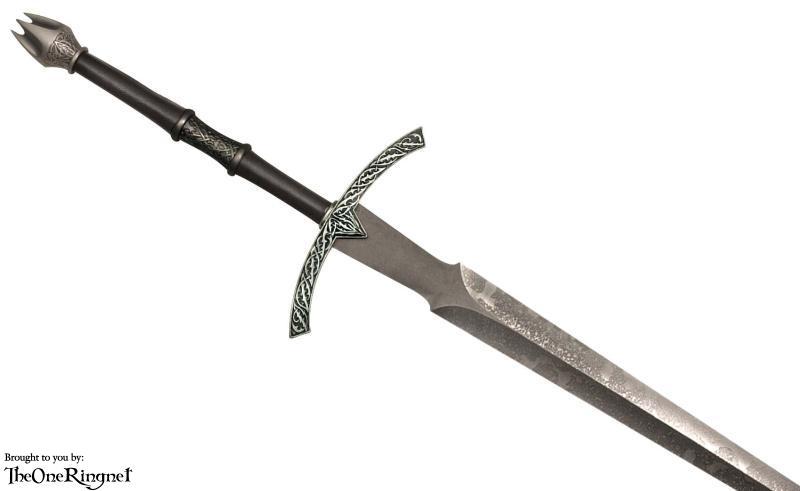 The Sword of the Witchking:
This evil and ancient sword is wielded by the Witchking, leader of the nine Ringwraiths, the indestructible and relentless shadow servants of Sauron. [More]
'Rings' ripe for ride
Xoanon @ 11:27 pm EST

If the earliest advance sales of New Line Cinema's "Lord of the Rings: The Fellowship of the Ring" are any indication, it could give corporate counterpart Warner Bros. Pictures' "Harry Potter" pic a runs for its money.
Denmark, Sweden and Norway have received 200,000 advance ticket orders for "Fellowship" -- a number that accounts for a little more than 1% of the countries' total population.
Swedish "Fellowship" tickets went on sale only yesterday -- much to the relief of the fans who had been waiting in line for as long as five days in temperatures that dipped below the freezing point.
Unusual interest
"We had people going out with hot coffee and hamburgers for people standing in line," said Rasmus Ramstead, president and CEO of the pic's Swedish distributor, Svensk Films. " 'Star Wars: The Phantom Menace' was the last time people queued up outside theaters, but it's never been anything like this."
Tickets were also available via the Internet, but the system went down when it was overwhelmed by online requests.
Denmark has been selling tickets since Oct. 18; Norway's tickets went on sale Nov. 5.
Tickets also went on sale today in the U.K., where "Fellowship" received a PG certificate, boosting its local box office prospects. Pic was initially expected to get a 12 rating, preventing kids under that age from seeing it.
Calling all kids
The advisory parental guidance rating throws it open to the entire kid audience, significantly improving its chance of rivaling the record-breaking figures being posted by "Harry Potter and the Philosopher's Stone" (as the film is titled in Blighty), which is also rated PG.
The British Board of Film Classification saw "Fellowship," which is being released in the U.K. by Entertainment Film Distributors, last week. The PG comes with an advisory note that the pic features "battle violence and fantasy horror" and "may not be suitable for under 8s."
The running time was also confirmed at 2 hours and 58 minutes, some 15 minutes longer than exhibs expected.
Pic enters release worldwide Dec. 19, outside of Japan and Italy.

Media Watch: The Hollywood Reporter
Xoanon @ 8:11 pm EST

My old friend James M sent me this article from 'The Hollywood Reporter' take a look at some of the blue screen SFX work!

LOTR Billboards Up
Xoanon @ 7:46 pm EST

From: J. Bennett
I don't know if this is important enough to list on the web site but today on the way to work I noticed the beginning of Lord of the Ring billboards in Berkeley, California, USA. They're very nicely done, with a stunning "life-like" artistic rendition of just the Hobbits. They don't say anything fantastic, but are very simple, in that black, yellow, brown, green collection of colors most of the authentic movie things appear in. It says "Lord of the Rings", with a larger L and larger S at the front and end. And between the bottom of that L and S is "The Fellowship Of The Ring" in letters of a much more small nature. Underneath it all in bold white unstylish letters is "December 19". I have been a fan of these movies for almost a year now, looking at everything, from wallpaper, to book covers, to web site art, to snapshots, to pictures in magazines and on gaming boxes. But I've never seen this particular rendition of the Hobbits. So it is a new art for me.

Peter Jackson Interview
Xoanon @ 1:22 pm EST

A BIG thanks to Philip O for transcribing this from 'Skoop Magazine':
Peter Jackson - "I make movies I would like to see myself."
Interview published in SKOOP-November 2001.
Since he was a child, Peter Jackson is extremely attracted to everything that has to do with horror and/or fantasy. At the age of eighteen he made his first movie, "Bad Taste", a real revelation. Jackson keeps going the same way and he makes "Meet The Feebles", a kind of horror-version of The Muppet Show. In 1993, "Braindead" gets the Avoriaz-Award and recognition from the big studio's, with "Heavenly Creatures" as a result. With Robert Zemeckis (Back To The Future) he realizes "The Frighteners", and next month theaters all over the world will launch the first part of a fantastic trilogy: "The Lord Of The Rings". Expectations are extremely high…
Did the idea of making a version of this cult-trilogy, that will be watched by thousands of critical fans, cause extra pressure ?
PJ: Sure. I am completely aware of the love that the audience has for the story, and I have tried to respect Tolkien's oeuvre as close as possible. It is my interpretation, this means how I saw the characters when I read the book. I had to try to make a presentation of Tolkien's characters and landscapes, and that is already fantastic.
Many fans see Tolkien's oeuvre as the bible. Does this go for you as well ?
PJ: I really devoured the book when I was eighteen. When I was offered the chance to make the movie, I read it again, and I enjoyed it even more than the first time. The Lord Of The Rings is so complex and complete that you can only realize the wealth of the work after a few readings.
You also did see the screen version immediately as a trilogy. Was it easier to make three movies in one stride ?
PJ: It was not a matter of comfort, but of money; it just was cheaper. The labour itself was longer and more nerve-racking, because you have to prepare three movies before you begin filming.
The three movies have been shot in New-Zealand.
PJ: The studio- and outside-takes have all been made there. The landscapes in New-Zealand are simply overwhelming, the nature is really special. You can find everything there Tolkien described in his books.
You began making low budget "gore"-movies, and now Hollywood is at your feet. How do you experience this ?
PJ: I am a happy man; I do what I like to do. I make movies since I was young, and I got the chance to become a professional director. I never planned to work in Hollywood, but it is evident that, when I want to make movies with a big-budget, I need more money than I can get from the Filmcommission in New-Zealand. Hence the relation with Hollywood. But nevertheless I rather work and live in my own country.
Will you ever return to the horror-genre ?
PJ: Sure, I will always love these kind of movies. The desire exists, but it is time that I'm running short of right now. The Lord Of The Rings took me five years of my life, and it is simply not possible to combine that with anything else. But when this project is completely finished, I will certainly return to my old and first love.
You did work on this trilogy for a long time now. Can you still distance yourself from it?
PJ: Since the preparation and the filming took five years, and that is a pretty long time, you can take distance from it, because you don't run around stressed all the time. You can stop, consider, reconsider, write and rewrite the screenplay. I would not feel as much satisfaction as I do now, if I had to make the movies in other circumstances.
Do you see yourself as a "cult"-director ?
PJ: I just do my job. I never said to myself "you are a cult-director". I don't make other movies as the ones I want to do myself and want to see myself. I'm a fan who loves making movies for his fans.
When we see your movies, we can immediately see that it is a "Peter Jackson"-movie. Now that you've made a movie where the story does not come from your hand, how did you put your personal touch to it ?
PJ: That isn't so hard as it seems. The way you direct is relatively independent to the story. I made movies about all kinds of topics, but the style of directing, what you do with the camera, is always the choice of the director. In this case it isn't different. I have tried to keep the same style that I developed in the past years.
You have made some movies that you cannot directly label "horrifying", because they contain a lot of humor. Is that also the case for The Lord Of The Rings ?
PJ: I don't think that I ever made a real Horror-movie. An sich they are comedies. I find it difficult to keep myself serious opposite to horror-movies. The Lord Of The Rings contains humoristic scenes as well, but above all, it is a trilogy with stunts, action, monsters and romance. Such a thing is very exciting to do, it has allowed me to do things I never did before, and to work on a genre that, in my opinion, never has been put to screen successfully.
Nowadays Fantasy-movies get easier distributed than earlier.
PJ: That's true. The Fantasy-genre permits us to escape the daily reality. I don't go to the movies to see situations that I live to see each day. I have to admit that some of these movies are sometimes really very good, but I want to see a movie that brings me far away from reality. And that's what I try to do with my movies.

Billy Boyd: Most Eligible Scotsman...Almost
Xoanon @ 1:08 pm EST

From: Stuart
Hello all, something I thought that may interest you. Billy was named the second most eligible man in Scotland today by the Scotland on Sunday's Top 50 Eligible men. Here's what they said:

2. Billy Boyd, Actor, 33 Lives: Glasgow Who he? This former graduate of the Royal Scottish Academy of Music and Drama has gone from the Scottish acting platform of Taggart to starring in one of the biggest films of the year, The Lord of the Rings. With his role of Pippin, Boyd's fulfilling a lifelong dream. As a child, these books were the only ones he ever finished.
Conquests: Billy is a self-confessed ladies man and he is currently keeping his options open.
Pluses: He'd fight for you and in some style. Boyd has a grade 7 in foil fencing and a phase 4 in jeet kune do. Some type of judo-type thingie.
Minuses: Being chased by hobbit freaks.
Haunts: At forthcoming Lord of the Rings premieres all around the world, in city pubs with his website designer, or check out what he's up to on www.billyboyd.co.uk
Billy has a slightly off-the-wall sense of humour.
So who beat Billy to the top spot???? Prince William.

Scathing Shore Review
Xoanon @ 12:04 pm EST

From: entertainment Weekly
"VARIOUS ARTISTS - The Fellowship Of The Ring (Reprise) With its blandly cartoonish notion of revelation, New Age music captures a child's view of religion. So it makes sense that soothing music goddess Enya would get tapped for the soundtrack to a movie based on a book often associated with young people. The musician, whose fortunes have soared higher than defense stocks in the wake of Sept. 11, penned two pieces that lurk aid Howard Shore's generic score. As usual with Enya, these faux-holy new odes simply reduce faith to goo. C- - JF" - Entertainment Weekly #627 November 23, 2001
(ouch -Xo)

Wizard Vs. Wizard
Xoanon @ 11:40 am EST

From: LC
A Salt Lake City newspaper led its weekend section today with a Wizard vs. Wizard story. [More]

Decipher RPG Chat
DarthCaeser @ 11:37 pm EST

We are extremely pleased to have Steven S. Long, the Designer of the Decipher LOTR RPG come do a chat with us this weekend. Steve is a huge Tolkien fan, such a big fan that he was drafted to help find the text to add to the bottom of the LOTR TCG cards. Steve wrote almost the entire RPG himself, and he's just finishing up the first draft, so this will be your first chance to have your questions about the RPG answered.
Information about the chat:
When: Saturday, Nov. 17th 5:00 PM EST
Where: Barliman's Chat Room
Info on how to join the chat: Here

Aragorn Toy Found!
Xoanon @ 10:18 pm EST

Ringer Spy Hawke has found the hold grail, the golden fleece, his very own Aragorn action figure!

Burger King - Lord of the Ring Collectibles On The Way
Xoanon @ 10:07 pm EST

King of the "Ring"...
Beginning November 23rd, BURGER KING customers can be a part of the highly-anticipated New Line release, "The Lord of the Rings: The Fellowship of the Ring," by collecting authentic, glass goblets featuring the movie's leading characters: Frodo, Arwen, Gandalf and Strider. All four Middle Earth goblets are available while supplies last for $1.99 with the purchase of a WHOPPER sandwich Value Meal.
Magical and enchanting like the film, the 13-ounce goblets feature detailed etching and sculpting and "light up" in a glowing red color using a built-in function at the base, which is easily removable for dishwashing. Packaged in a collectable box, they're perfect for holiday stocking stuffers.
"This promotion with New Line Cinema, producer and distributor of this year's ground-breaking epic adventure release, represents our commitment to bringing the magic and adventure of quality entertainment to our customers inauthentic, creative ways," said Chris Clouser, executive vice president and chief global marketing officer for Burger King Corporation. "In the case of'Lord of the Rings; The Fellowship of the Ring,' we also understand the importance of staying true to the film and giving our customers high-quality premiums they would be proud to give as gifts."
"New Line and Burger King have worked very closely on this innovative program for over a year and we are thrilled to see the culmination of our efforts and are sure that the fans will be excited as well," said Rose Polidoro, executive vice-president of promotions for New Line Cinema.
In addition to the glass goblets, Gandalf the Wizard, Frodo the Hobbit and seventeen other authentic collectibles depicting the movie's characters will make their debut inside Kids Meals and Big Kids Meals at 8,500 BURGER KING restaurants in the U.S.
These toys feature high-quality laser scanned images of the movie characters. Each premium also has at least one electronic function, featuring sound or light, and any combination of the toys can be used to build the "Ring of Power" with a removable, gold-plated "One Ring that Rules them All" as the centerpiece.

Media Watch: Metro Gothenburg
Xoanon @ 9:59 pm EST

From: tz
Just wanted to tell you guys I more or less woke up to this wonderful full-page ad today (in "Metro Gothenburg"). Now I finally know what day I have to skip work ;D Anyway, since I guess you can't read Swedish, the ad says "World premiere 19 December 00:01 - Tickets available from monday 19 november 08:00 (Internet booking from 13:00)".

Games-Workshop Manual
Xoanon @ 9:31 pm EST

DN sends along these scans from White Dwarf Magazine. Take a look at all the Games Workshop coolness!
RIOT-E and Orange Join Forces
DarthCaeser @ 2:30 pm EST

Orange and RIOT-E to launch exclusive "The Lord of the Rings" Products and Services
Innovation to span multi media platform available to over 30 million customers
London, 13 November 2001: Orange, Europe's second largest mobile operator has joined forces with Riot Entertainment (RIOT-E), the global leader in wireless entertainment to launch a series of The Lord of the Rings services across Europe. The products, which are exclusive to Orange, will be launched across six Orange territories – France, the UK, Switzerland, Belgium, Denmark and the Netherlands – as New Line Cinema's trilogy of movies based on the classic Tolkien novel are released.
The new range of products provided by RIOT–E will include three new wirefree™ games, innovative messaging services, ring tones and logos. Included within this diverse portfolio are several innovations, such as a unique multi-player WAP game, personalised services that allow the download of logos, picture messaging, and services that allow names and logos to be translated into the middle earth alphabets of Elven script or Runes.
RIOT-E will also include an "infotainment" element to Orange's The Lord of the Rings mobile services. Combining information and entertainment, it will consist of an SMS single player quiz on a weekly theme with prizes, a weekly poll for customers on the issues of the week, and a daily detail revealing exclusive and previously unheard information on The Lord of the Rings movie trilogy.
Tim Robertson, Vice President Life Services & Strategy at Orange comments: "This service is a real innovation for the communications industry, combining the best elements in mobile entertainment for over 30 million Orange customers throughout Europe. Orange, in conjunction with our partners, is continuing to set the standard in wirefree™ gaming and consistently demonstrates innovation in the other services across our multi media platform of voice, WAP, SMS, and the web."
Jan Wellmann, CEO of RIOT-E comments: "Mobile entertainment is all about interactivity. The Lord of the Rings tie-in is a perfect way for Orange customers to get the most out of it. The Lord of the Rings is already hyped as 'must-see' film over the Christmas period. Mobile entertainment is the tool that will really make the Middle-earth adventure a total consumer experience."

About Riot Entertainment Ltd (www.riot-e.com)
Founded in February 2000, Riot Entertainment immediately established itself as the most innovative publisher, creator and distributor of entertainment in the wireless sector. RIOT-E provides wireless entertainment, communication and commerce to mobile users worldwide. Games created by RIOT-E are promoted and co-branded in parallel with highly visible international media releases such as movies, TV shows and sports events. RIOT-E has successfully launched its Bridget Jones's Diary and X-Men mobile services with operators in Europe and Asia and has secured exclusive rights to mobile content based on Guinness World Records and New Line Cinema's The Lord of The Rings film trilogy. Headquartered in Helsinki, Finland, RIOT-E employs 70 people worldwide.
Information about Orange can be found on the Orange website at www.orange.co.uk and media information can be found at www.media.orange.net

Decipher Updates
Berendir @ 2:03 pm EST

There are six new elven culture cards added to Decipher's massive archive of LOTR TCG cards. [More]
Does your Lord of the Rings™ TCG deck have what it takes?
Is there no one in your area who can compete with your skill at deck building? Do you have a deck so strong that it is impossible to beat? Now is your chance to prove it! [More]
The interactive tournament map continues to be updated all through today, so if you're looking for a tournament to join, check it out, and let us know how it goes. [More]
Frodo Topps Card
Xoanon @ 9:04 pm EST

My Precious sends along this Topps card featuring Frodo.
New Line and Warner Bros - Backing Different Wizards
Tehanu @ 8:39 pm EST

The war of the wizards
"Lord of the Rings" vs. "Harry Potter"! The inside story of how a pair of AOL Time Warner movie studios are facing off with the two biggest movie releases of the new millennium.
- - - - - - - - - - - -
By Chris Petrikin
Nov. 15, 2001 In May, a group of executives from AOL Time Warner took a break from meetings at their New York offices to watch a 26-minute promo reel. It was their first substantive glimpse of the company's $300 million gamble on a three-part film version of J.R.R. Tolkien's "The Lord of the Rings."
The AOL TW chiefs watched as images flickered by of charming but less-than-earthshaking footage of the pastoral life of hobbits in a glimmering shire set in preindustrial Middle Earth; but then sat engrossed at a thrilling battle as members of the titular "Fellowship of the Ring" (which included actor Elijah Wood, reduced on screen into a 3-foot, hairy-footed hobbit, Frodo; Ian McKellen as the towering wizard, Gandalf the Gray; and Viggo Mortensen's warrior prince, Aragon) are attacked by an evil balrog in the Mines of Moria, and then desperately jump to safety from a towering stone footbridge. The reel ended with an impressively disparate quick run-through of scenes from all three of the forthcoming films.
Robert Shaye, the chairman and CEO of New Line Cinema -- one of AOL TW's two major film production and distribution units -- had brought the footage to New York after its gleeful debut at the Cannes Film Festival just days before. Also in the room were a smattering of AOL TW bigwigs, including CEO Gerald Levin and top deputies Richard Parsons and Robert Pittman, and Warner Bros. studio heads Alan Horn and Barry Meyer.
None of them was there because of an abiding fascination with J.R.R. Tolkien. Warner Brothers -- the blue-chip Hollywood studio that for years was synonymous with Clint Eastwood, private planes and blockbusters like "Batman" and "Lethal Weapon" -- had escaped nearly unscathed during the first round of cuts that had hit the conglomerate in the wake of the 2000 merger that made it the biggest media company in the world.
The comparatively blue-collar New Line -- the scrappy division that had made Freddy Krueger and Ninja Turtles iconic figures of pop culture -- had not been so lucky. Shaye had recently been forced to cut New Line's staff by nearly 20 percent and been told to return to making lower-budgeted genre movies.
At the time of the meeting, AOL TW executives had been closely following the parallel progress of "Lord of the Rings" and Warners' own wizard tale, "Harry Potter and the Sorcerer's Stone." Warners, true to form, had the safer bet: Chris Columbus was bringing his $125 million-plus vision of British author J.K. Rowling's novel to the big screen.
Some estimates put the budget as high as $150 million, but Columbus is the treacly, highly commercial director of massive hits like "Home Alone" and "Mrs. Doubtfire," and the kid-lit juggernaut looked to be fireproof financially, no matter who directed it; handled with sufficient care, it could be turned into a lucrative franchise for years.
Meanwhile, New Line had an unprecedented, astonishing $300 million riding on a three-part adaptation on Tolkien's abidingly popular but somewhat dated fantasy novels. The three films have been simultaneously shot over a 14-month period by Peter Jackson, the New Zealand director whose only previous studio-backed film was a 1996 bust, "The Frighteners," starring Michael J. Fox.
It looked like the holiday season was shaping up to be an internecine War of the Wizards between "Harry Potter" and "Lord of the Rings"; but any rivalry that may have been brewing took a back seat to increased pressure for New Line just to stay alive in the new AOL Time Warner complex. Much more was at stake than bragging rights over whose box-office wand was bigger.
The "Lord of The Rings" trailer played well during the New York get-together, and as the lights came up in the executive screening room, the corporate chieftains were elated (or relieved). Shaye and his New Line contingent, glowing in the approbation, got a glimpse of what it was like to be the favored child -- if only for a short time.

That moment might have been a little brother's last chance for swaggering. Smart money in Hollywood and Wall Street has been that "Harry Potter," coming out the Friday before Thanksgiving, is as close to a sure thing as Hollywood gets. For the New Line execs, however, the future is more uncertain. The first "Lord of the Rings" episode, "The Fellowship of the Ring," arrives Dec. 19. That will be when they find out whether those 26 minutes were a peek at the next "Star Wars" -- or the next "Willow."
"'Lord of the Rings' is a cultural event and I can hardly wait to see it," says Tom Pollock, the former chairman of Universal Pictures, summing up the conventional wisdom in town. "But if I could own 5 percent of one of these films, either 'Harry Potter' or 'Lord of the Rings,' there's no question which one I'd want: 'Harry Potter.' If it's good, it will be one of the biggest films of all time."
Except for "pre-sold" sequels to "Austin Powers" and "Rush Hour," New Line has never won one of its big-budget bets. (The list of the studio's recent major flops is quite long: "Town and Country," "Lost in Space," "Little Nicky," "The Long Kiss Goodnight," "The Island of Dr. Moreau," "Last Man Standing.") If the "Lord of the Rings" trilogy is a major hit, the formidable if inconsistent film company could have a bright future in the AOL Time Warner universe. If not, a number of darker scenarios could confront its little shire in Beverly Hills.
Among the theories proffered is that in failure, New Line would be folded into Warner Bros. and become little more than a releasing label. Or maybe its imperious and elusive founder, Bob Shaye, who tried unsuccessfully to come up with the money to buy back the company when Time Warner tried to spin it off a few years ago, would attempt to make it a stand-alone independent again. Regardless of the outcome, the story of the making of "The Lord of the Rings," one of the biggest gambles in film history, is a study of New Line's strengths and weaknesses. It is also a glimpse into the perils that lie in wait for every independent production company-turned boutique movie studio in the world of media conglomerates.
At a time when the big, mainstream studios are managed by teams of bland executives whose marching orders are set by corporate bean counters, New Line, despite its ownership, has always moved to Shaye's own mercurial personality.
And with "Lord of the Rings," Shaye has put his company (and his own legacy) in the hands of two men: Peter Jackson, a director whose work up to now has hardly put him in the same league as a Steven Spielberg, James Cameron or a George Lucas; and Tolkien, a fusty Oxford don whose nearly half-century-old fantasy has a huge, devoted following but has never successfully made the journey to film.
John Ronald Reuel Tolkien was a philologist and scholar, a professor of Anglo-Saxon and later of English at Oxford. He created the fantasy "The Hobbit" in 1937 as a deceptively whimsical sideline to his day job. Seventeen years later, he began releasing "The Lord of the Rings," its epic sequel, in three volumes. In these works ("The Fellowship of the Ring," "The Two Towers," "The Return of the King") Tolkien took his interests in language and uncannily sweeping ability to create coherent fantasy worlds into a darker, more adult epic tale of a prehistory Middle Earth, where the Ring, an evil and powerful talisman, pits the varied forces of good (hobbits, elves, dwarves, wizards and some men) against the sinister armies of evil (orcs, balrogs, various wraiths and a Darth Vader-like bad wizard).
The trilogy became one of the most popular published works of the last century. Even though it has been linked to the inspiration behind films like "Star Wars" (and enjoyed a certain '60s and '70s vogue among the counterculture movement), no one has ever successfully managed to capture Tolkien's entire trilogy on screen.

Director John Boorman flirted with a live-action version in the early '70s, but never got past the script stage. In 1978, Ralph Bakshi, who attained notoriety with the X-rated, animated "Fritz the Cat," allied himself with iconoclastic producer Saul Zaentz and made an $18 million animated feature encompassing about half the trilogy under the name "The Lord of the Rings" -- using a technique called rotoscoping, which essentially traces and paints over live-action footage.
But critics panned the film and the further episodes of the tale were never attempted. "When I made it, the book was at the height of its popularity, " says Bakshi when reached in his South Salem, N.Y., art studio last August. "He [Tolkien] left it open how these people looked and walked and that was my job as the director to come up with that. Those were huge challenges that terrified me."
But seated in the audience of the Old Plaza Theatre in Wellington, New Zealand, in 1978, watching Bakshi's handiwork was a heavyset, curly-haired 17-year-old Peter Jackson who "immediately went out and read the book." Nearly 20 years later, he would have the opportunity to craft his own version of the saga.
Jackson began as an unnoticed director of splatter-gore films like "Bad Taste," "Meet the Feebles" and "Dead Alive" (aka "Braindead"). This early body of work smacked of the micro-budgeted schlock films produced by Lloyd Kaufman's Troma Studios ("Surf Nazis Must Die"), often falling short of the latter's production values. In these films, Jackson presented us with an army of aliens intent on massacring a New Zealand town to supply their intergalactic fast food chain; the oversexed, drug-addled cast of a Muppet-like variety show; and the misadventures of a man whose domineering mother has been turned into a ravenous zombie.

But then came the art-house hit "Heavenly Creatures," a stylish tale of murderous schoolgirls that launched the career of Kate Winslet and made him the darling of the film-festival circuit. With the heat of that film behind him, in the fall of 1995 Jackson approached Miramax Films' co-chairman Harvey Weinstein (who had acquired "Heavenly Creatures" and had first refusal on Jackson's future projects) and suggested putting together a series of Tolkien-related films.
Jackson's original plan was to make "The Hobbit," and, if it was successful, then to turn the full "Lord of The Rings" tale into two movies, shot back-to-back. Easy enough -- but the plan required that Miramax obtain the rights to the books from Saul Zaentz, the difficult but talented Academy Award-winning producer of "One Flew Over the Cuckoo's Nest" and "Amadeus."
Zaentz had controlled all "LOTR" film and merchandising rights since the 1970s and had refused to part with them ever since he produced Bakshi's movie. But Miramax had an edge: The company was bailing out Zaentz on the production costs for "The English Patient" (which would also go on to win an Oscar for best picture). Weinstein began what would become a yearlong process to secure the rights to "Lord of the Rings." (Zaentz controls "The Hobbit" as well, but because of some preexisting copyright kink, United Artists owns the rights to distribute the film, so Weinstein decided to dive directly into "The Lord of the Rings.")
By early 1997, Miramax had completed its deal with Zaentz, and Jackson turned his attention to making two "LOTR" films for $75 million. But as the director got deeper into the development process, the budget began to look inadequate; Weinstein's partner and brother, Bob, pushed to find another studio to help shoulder the cost. With no takers, in mid-1998, Miramax decided that the only way it could move ahead was to make a single three-hour film. Harvey Weinstein, by some accounts, was furious when Jackson told him he couldn't agree to direct only one film and wanted to try to find someone else willing to finance two.
"It got really ugly," says one person close to the situation. The outsized, dogged movie mogul had, after all, allowed Jackson to break from his deal with Miramax to make "The Frighteners" and to work on another dream project, "King Kong," since scuttled, both at Universal; and besides that had spent nearly a year securing the rights for the director to a project no one else previously had managed to get.

After hits like "Shakespeare in Love" and the "Scream" trilogy, Miramax today is a formidable mainstream studio. But at that time, the company, which was bought by Disney in 1993, had not yet crossed over into big-budget movies and was under financial restrictions that made it impossible to single-handedly mount a project of the magnitude Jackson envisioned. And even if they had the resources, the Weinsteins were probably also a little skittish about turning over two films based on a longstanding literary work to a guy whose oeuvre included killer aliens, heroin-dealing walruses, and Michael J. Fox as a psychic investigator.
But Miramax had already sunk about $12 million into the project -- buying rights, testing special effects and paying Jackson. Not wanting to lose that investment, Weinstein grudgingly agreed to give Jackson three weeks to try to find a new backer -- with several seemingly prohibitive restrictions. Among these demands were that Miramax's investment be repaid within 72 hours of a signed agreement; that the two Weinsteins share executive producer credit with Zaentz on any film that resulted; and that the brothers receive a hefty 5 percent of the gross earnings of any and all films.
With the clock ticking, in late summer 1998 Jackson's representatives began shopping the two scripts and an animatronics tape (a reel of storyboards accompanied by actors' voice-overs) to major studios and a few top producers who held significant sway with certain studios. Quickly, nearly every potential patron summarily passed on the "Lord of the Rings" project, citing issues of cost, scope or Jackson's ability to pull it off. Only two companies -- New Line and Polygram Filmed Entertainment -- were willing to hear Jackson's full pitch for the project. While his team was out soliciting interest, to further help their cause Jackson returned to New Zealand to shoot a documentary to make the case that this was the right time to mount "Lord of the Rings." His central point: Movie-making technology had finally caught up to Tolkien's imagination. Jackson spent roughly $35,000 of his own money to make the reel, which included footage of special-effects tests, creature models, locations in New Zealand and interviews with department heads.
The next week, Jackson and his writing and producing partner, Frances Walsh, flew to Los Angeles with props and that 38-minute raison d'être for a day of meetings, first with Polygram and then with New Line. The group from Polygram was intensely interested in the project, but because the company had just been taken over by Universal Studios, its future was up in the air; the executives present hadn't the authority to make a deal. So Jackson's last hope came down to New Line.
Shaye first met with Jackson alone. The director recalls: "Essentially, he said, 'Look, you know before I hear your presentation that I'd love to work with you. You're always welcome here.' He seemed to be almost preparing me in advance to say no."
Then Shaye heard the team's presentation and watched the documentary. Jackson's agent, Ken Kamins, who was also in the room, says that when the tape ran out, Shaye turned to the group and said, "Well, it's not two movies."
Says Kamins: "And Peter begins to hang his head, dejectedly, because he's thinking, 'Oh, no. Not again.' But Bob says, 'Tolkien did your job for you. He wrote three books. It's three movies.' At which point my foot is black and blue because Peter is kicking me under the table because he can't believe what he's hearing."
Kamins and Jackson weren't the only ones stunned by Shaye's pronouncement. "I was hoping no one would pick it up -- and some people corporately rooted that they wouldn't," admits Weinstein, who thought the project would come back to Miramax and Jackson would concede to doing one film. "I was surprised."
- - - - - - - - - - - -
The Weinsteins are throwbacks to the old-school movie moguls, who chose projects with their guts and did the math later; Shaye and his fellows at New Line are by contrast more vaguely reminiscent of riverboat gamblers, who bought into the high-stakes movie game with modest outlays on teen- and kid-friendly genre films before getting a seat at the big game through multiple transitions of corporate parents. But in many ways, the two companies' histories were mirror images of each other. New Line started in the genre business with the lucrative "Nightmare on Elm Street" and "Mutant Ninja Turtles" franchises and then launched Fine Line Features to compete with Miramax in 1990. Miramax hit its stride with art house hits like "The Crying Game" before launching a genre division called Dimension in 1992 to compete with New Line, hitting big with the "Scream" and "Scary Movie" series.
Hollywood thumbed its nose at New Line's lowbrow machinations. But all the while, Shaye and his feisty little company were getting rich by rejecting high-priced stars and directors in favor of unproven filmmakers who could key in on under-served demographics like teens and black audiences for box-office manna. A native of Detroit who lived in New York most of his adult life, Shaye didn't have much of a profile in Hollywood until he added a West Coast residence in the early '90s. Smart and enigmatic, he never bothered to court the town. "[Shaye's] favorite quote was 'I hate agents,'" says Mike De Luca, New Line's former head of production. De Luca was fired in January after huge losses on big-budget gambles like the $80 million Adam Sandler comedy "Little Nicky," and out-of-control costs on "Town and Country," a $90 million debacle starring Warren Beatty. "He thought everyone was out to screw him. I think that contributed to my role as the company's face in Hollywood; I got it by default."
But Shaye is a walking duality. He's prone to intense displays of emotion -- as evidenced earlier this year, when he broke down repeatedly after his beloved Jack Russell terrier, Venus de Milo, was swept overboard during a holiday cruise off the coast of Venezuela. He can also be brutally pragmatic. Not long after Venus' demise, Shaye went about firing more than 100 of his employees as part of AOL Time Warner-mandated cuts; and casting off De Luca, New Line's creative pilot, who was commonly thought of as Shaye's surrogate son.
Just as the company's independent spirit stemmed from his own temperament, by the early '90s, Shaye seemed to yearn for a gravitas that eluded him but was being afforded to men like Harvey Weinstein and other studio heads. So when Ted Turner came calling in 1993, Shaye saw an opportunity to make a killing and move into a higher, riskier echelon of the film business.
"We played that game for awhile," Shaye told the New York Times in 1994, after Turner acquired the company for approximately $550 million. "And this amalgamation gave us the wherewithal that we were looking for."
Turner encouraged New Line to make more movies to stock his library, and the company quickly rejected its past and went on a shopping binge, buying into expensive, star-driven films that were the domain of the major studios. Occasionally this paid off with hits like "Se7en" and "Dumb & Dumber." But more often, the gains were erased by ill-fated, big-budget attempts like "The Long Kiss Goodnight" and "The Island of Dr. Moreau."
With Turner's acquisition of New Line and the subsequent transition of Turner's holdings to Time Warner in late 1996, Shaye reportedly made upward of $400 million on the deals. But he nearly saw his domain vaporized: New Line was considered such a liability that the new parent, Time Warner, tried to sell it off. There were no takers, however. In the interim, Turner served as New Line's benefactor in the boardroom, keeping watch over the company's interests and ensuring its autonomy.
When AOL bought Time Warner in late 2000, the news wasn't all bad: Shaye's large amount of AOL TW stock was said to put him near the billionaire mark. But Turner was quickly cast as a crazy uncle, and ultimately banished by AOL TW CEO Gerald Levin to the corporate attic as a "senior advisor." New Line had lost its Gandalf, the wise wizard who watched over it and ensured its safety. To date, no one else has donned those robes.
New Line managed to bounce back in 1998, led by modestly budgeted comedies like "Rush Hour" and "The Wedding Singer"; and it was at this felicitous time that Peter Jackson came calling with his outlandish plans for "The Lord of the Rings."
Shaye announced the acquisition of "The Lord of the Rings" -- and a budget of "more than $130 million" -- in August 1998. Even by Hollywood standards, the figure was amusingly wishful. New Line had the advantages of basing the production in New Zealand: tax incentives from the government, favorable exchange rates and a generally lower cost of filming (including special effects work done by Jackson's in-house Weta Digital facility). Besides that, a decision made early on to make all three films simultaneously was intended to bring enviable economies of scale to the production.

Still, the $130 million figure was vastly understated -- the three scripts hadn't been written at the time, so New Line had no way of accurately calculating how much the films would cost. After the scripts were finished and New Line made substantial upgrades to Jackson's effects infrastructure, the budget increased to somewhere between $180 and $210 million when filming began in October 1999. And by the time the nearly 15 months of principal photography ended last December, followed by a long post-production schedule, the final cost ballooned to around $300 million.
For Jackson, whose visual wizardry has been preeminent on screen, the challenge was "getting the script to work" and being true to Tolkien's vision while also appealing to an audience larger than Tolkien fantasy camp attendees (who, within the postmodern Middle Earth of the Internet, have kept close watch over every -- real or rumored -- mutation of the project). "If we were being truly faithful, you would be up to five or six hours on each film," notes the director, who went online early in the process to address the more militant fans' concerns.
For New Line, it became about managing costs. "The sheer fact of going up to three films added to the budget," says Jackson, phoning from London last September as he was working on the sound for the film. "Then we did 150 to 200 more effects shots for the first movie than we had planned. But we can argue that because we have massive numbers of locations, a huge cast [more than 20 primary actors and hundreds of extras] and we shot for 14 months, that New Line got value for its money."
Even though no studio had ever attempted to shoot three films simultaneously, Mark Ordesky, the head of New Line's Fine Line Features and the executive tapped for the ulcer-inducing job of supervising "The Lord of the Rings," maintains that the strategy "creates unbelievable economies of scale. You have the same crew and same cast throughout the entire shoot, effectively making one gigantic movie."
New Line also hedged its risk on the "LOTR" by selling off international rights to the films, recouping about 65 percent of the budget. It also struck various money-spinning licensing deals for merchandise stemming from the trilogy (to be split with Zaentz and the Tolkien estate). That reduces the company's exposure on each film to around $30 million, before figuring in the cost to market and release the films. (That's estimated at more than $60 million for the first film and about $50 million for each of the following installments, depending on how "Fellowship of the Ring" performs.) It is also getting a huge promotional boost from Burger King, JVC and other partners, which will amount to tens of millions of non-New Line dollars spent to prop up the films.
Nevertheless, once Zaentz's, Jackson's and Miramax's takes are thrown in, the company will have to gross more than $160 million on each of the films to make money.
The films should also test AOL Time Warner's highly touted but not yet realized synergistic and cross-promotional dreams. "The whole empire is mobilized," says Ordesky, but one has to wonder whether AOL has put more of its branding arsenal behind "Harry Potter," which is a contemporary phenomenon and will spawn at least three more films after this first one.
New Line and Warners executives pooh-pooh any rivalry between the two; and in the months following the screening at corporate headquarters, "Lord of the Rings" was being heavily promoted across AOL TW's online and television components. (Of course, New Line was paying for most of that exposure, since AOL TW apparently requires its divisions to spend a large chunk of their advertising budgets on internal organs.)
Still, there are signs all is not well. Time magazine showed little interest in securing "LOTR" for one of its fall covers -- choosing instead to go with "Harry Potter," according to people involved with the film. No one's saying whether Time was required to put the schoolboy wizard on its cover, but as one New Line executive put it: "Obviously Time had the inside track."

But New Line executives, who maintain they still have a lot of autonomy to make such decisions, apparently couldn't commit to Newsweek -- which "was really eager to do it" -- until it became clear where Time stood on a "Lord of the Rings" cover story. (Executives for both films now have to contend with the possibility that their precious newsweekly cover exposures will be preempted by actual life-and-death events in a post Sept. 11 world.)
New Line also seems to be confronting a crisis of perception that Warner Bros. -- which purposely avoided most cross-promotional opportunities -- has managed to avoid with "Harry Potter." In creating awareness for the trilogy beyond the indeterminate horde of ardent Tolkien fans, the company and its promotional partners are casting a wide net, embracing even the margins of film-going society. This multi-media barrage will bring the expected TV and online ads and special programming as well as consumer tie-ins, including LOTR-themed popcorn tubs and drink cups, collectible trading cards, soundtracks, books, breakfast cereal, action figures and VCRs with special LOTR packaging.
But New Line also is encouraging theater owners to holistically promote the movie by suggesting such gimmickry as turning lobbies into forests; sponsoring a Hobbit Hole day at a local miniature golf course; or linking up with jewelers to give away a 14-carat gold ring, like the one that serves a pivotal role in the films. And according to promotional material New Line sent to theater chains, the company seems to be doing its part to influence school curricula: "By bringing adventure to your local schools you can increase awareness and business. Meet with teachers of after school clubs. Various clubs might be interested in creating Middle Earth in their school or having their after school study groups talk about the book."
After all, New Line enthuses, "There are many ways to get the word out about 'The Lord of the Rings: The Fellowship of the Ring' and you don't have to use magic -- all you need is wisdom."
To prepare for the release and insulate against any further major losses on the 2001 books, New Line has pushed back several finished and previously scheduled 2001 releases into 2002, among them "John Q," starring Denzel Washington, and the 10th Jason horror film, "Jason X." And it has helped that "Rush Hour 2," currently at $224.7 million in receipts, performed beyond expectations. While that success may have given New Line some breathing room, other events have conspired against it. The continued decline of advertising and the aftereffects of the Sept. 11 terrorist attacks led to AOL TW's warning in September that the conglomerate as a whole probably will not meet its revenue targets for the year. That only increases pressure on the studio.
Whether "Lord of the Rings," or New Line for that matter, is a great success or a great failure will be determined next month by audiences. The question the company is trying to answer now, according to one employee, is: "How do we find a way to do what we do a little differently so we stand out from Warner Brothers, who is the crown jewel and whose role is distinct?" Whether a sibling rivalry exists or not, we'll soon see if that kid in the scarf and glasses sends the hairy-footed Hobbit to the showers. Or, maybe, Frodo lives, again.
salon.com
- - - - - - - - - - - -
About the writer
Chris Petrikin is a Los Angeles writer

Tolkien and Terror: Insights from Salon.com
Tehanu @ 8:24 pm EST

Tolkien and terror
A tale of good and evil battling under the dark cloud of fear, Tolkien's masterpiece resonates with a wisdom that our recent horror allows us to understand.
- - - - - - - - - - - -
By Jim Paul
Nov. 15, 2001 In one of those odd zeitgeisty moments, when one finds oneself a creature of the culture without even trying, I picked up J.R.R. Tolkien's "The Lord of the Rings" recently, for the moment forgetting about the three-movie hobbit extravaganza about to be visited upon us. I found one of the three volumes on a shelf and wondered what I'd think of it now. I'd loved it when I had read it before, in the flower power era. I ended up reading the entire work, all 1,000 pages.
It surprised me. I am not a fantasy buff. My friend Harry simply said he would never read a book that long that had elves in it, and I had to agree. But what I recalled about the book and what I found still true was that it was scary. Evil flying things cast shadows of despair across the land, and these things, the Nazgul, still had a potency that got me through dozens of pages of elves and dwarfs.
The book has its other points. Tolkien was a serious and learned scholar of Anglo-Saxon myth and language, and an Oxford Don, and this, his life's work, remains monumental and beautifully written, if seriously eccentric. As amazing as ever is the minutely detailed geography of Middle-earth, as well as the fully foliated language system for each of the various races in it. Tolkien the philologist wrote that the book was "fundamentally linguistic in inspiration," a story written to provide a world for his invented languages.
There is, it hardly needs to be said, no sex on any of the thousand pages of the work. Hobbits seem to procreate through poetry. Tolkien was a devout Catholic born in the 19th century and was Victorian about matters sexual. In a letter advising his son he wrote, "The hard spirit of concupiscence has walked down every street and sat leering in every house since Adam fell."
But never mind that. The book is still scary, in some ways scarier than when I last read it. What surprised me about the novel is how current it seemed. For Tolkien's book is a story of war, and its theme is one we've heard a lot about recently: the nature and power of evil. This work of hobbits and elves and wizards, innocence and far-sightedness and magic, is all about terror, it turns out, and about the difficulty of countering evil deeds.
The dark days of 2001 are more like the days in which Tolkien wrote the book than any since. The first of the three volumes of "The Lord of the Rings" appeared in 1954. Tolkien began the work in 1938 and wrote it throughout World War II. And though he discouraged readers from reading any "'allegory,' moral, political or contemporary," into the work, it's clearly the product of war years and dire times, no less so than Ian Fleming's James Bond novels, with which it shares the fantasy of total victory, the quest of the doughty individual hero against an unredeemable enemy and an obsession with magical technology, if not sexual conquest.
"The Lord of the Rings" is a war story; more particularly it is story of grim war coming to an innocent country, the Shire, the home of the race called hobbits. Short and furry-footed, hobbits are unmistakably English, tidy homebodies, natives of "a well-tended region," colloquial connoisseurs of a good smoke and a good brew.
What the hobbits do best, though, is make foils for the evil characters, bad guys still perfectly terrifying and memorable. Sauron, Tolkien's arch villain, embodies absolute evil, and never appears in person in the book. Both near and far, everywhere and nowhere, the Dark Lord Sauron in his tower in Mordor controls things from a distance, watching events through his "seeing stone" and emitting clouds of smoke and stinking ash to cover the movements of his armies and his emissaries.
The principal thrill of the book still comes from the fearsomeness of Sauron's black-cloaked outriders, the Nazgul, hooded phantoms sent into the far reaches of Middle-earth to do his will. The scariness of these emissaries themselves also arises from their indefiniteness. Beneath their dark mantles, they have no expressions -- only a deadly gleaming pair of eyes.

We hear about these Black Riders before we meet them -- always good practice in presenting a villain ("Hissed at me, he did," reports the Gaffer. "It gave me quite a shudder.") -- and they first appear on horses, pursuing the little hobbits through the woods of the Shire. Part of the terror of the riders comes from their presentation through the eyes of the hobbits, who besides being innocent and ignorant of the evil in the larger world, are only 4 feet tall. When we first glimpse one of these Black Riders we peer up at them from the undergrowth. "Only his boots in the high stirrups showed below," writes Tolkien. "His face was shadowed and invisible."
In later chapters, the Nazgul appear in the air, riding huge flying creatures like pterodactyls. "Ever they circled above the City, like vultures that expect their fill of doomed men's flesh." The potency of these evil messengers comes not from physical strength or acts of violence but from their psychological impact on their foes. They spread paralyzing terror. Ordinary mortals fling themselves to the ground when the Nazgul pass unseen overheard and think "no more of war, but only of hiding and crawling, and of death."
But however scary these creations, evil entirely evil and evil entirely other is ultimately neither nuanced nor very interesting and is of course a staple of melodrama, not great art. What makes "The Lord of the Rings" work now, in this time when villains entirely evil and entirely other are often invoked, is that Tolkien's presentation of evil is deeper than that. Tolkien complicates the over-simple moral scheme and gives evil its due.
For the evil in Middle-earth does not simply reside in Sauron and his emissaries. It enters every character, and indeed infects the hero. The central object in "The Lord of the Rings," the magic ring, stolen from the wretched Gollum by the hobbit Bilbo and given to his nephew Frodo in the books that follow, makes its wearer invisible and confers other powers, but it is ultimately an evil thing, having been created in the first place by Sauron. It must be destroyed, by tossing it into the volcano in which it was forged. This is Frodo's quest.
But all who come in contact with the ring -- high and low, hobbits and men -- are corrupted by it. Under its influence, the wizard Saruman, who once led the Council opposing Sauron, turns traitor to the cause. A member of the Fellowship of the Ring itself, a man of Gondor named Boromir, cannot withstand the temptation to power that the ring offers, and his treachery dissolves the company that undertakes the quest.
So Frodo and his faithful servant Sam must go on alone. But even the hobbits are not immune, and Frodo himself fails, finally, in his quest. He cannot relinquish the ring of power in the ultimate moment. "I will not do this deed," he cries on the brink of the volcano. "The ring is mine." And so there is not finally in Middle-earth an absolute good to counteract its absolute evil. Tolkien writes expressly about this in his letters. "The power of Evil in the world is not finally resistible by incarnate creatures," he notes, "however 'good.'"
Does the irresistible power of evil then make the hero's quest futile? No -- the hero's effort is necessary but not sufficient. Tolkien's other insight is that evil itself will take evil down. For one thing, evil offers no basis on which to organize anything. In Book 5, when Frodo is taken captive by evil Orcs, he is liberated not just by Sam's rescue, but by the Orcs themselves, who fight over the spoils and kill each other off. And evil lacks clarity. The smokes and vapors that the Dark Lord sends out of Mordor, to cloak his armies' movements, are finally the cover that Sam and Frodo need to infiltrate the evil realm.
In the end, it is the greed of Gollum, not the virtue of Frodo, that casts the ring to its destruction. One might even say that the ring annihilates itself, as Gollum's consuming desire is one effect of its evil power over him. On the brink of the volcano, Gollum attacks Frodo, severs his finger and recovers the ring at last, but when he lifts his eyes to gloat on his "precious," he falls into the cauldron, where it and he are destroyed.
So this hobbit book, on the surface an escapist fairy tale, in the end offers some wisdom, and for this reason it has flourished for 50 years and in 50 million copies. "The Lord of the Rings" addresses the ancient crisis that arises in a dire time like this one, when it is not so much what we do to confront evil that wins the day, but what we must refrain from doing.
About the writer
Jim Paul is a writer who lives in Arizona. His books include "Catapult" and "Medieval in L.A."
New Line Cinema Screens LOTR For 9/11 Fund
Xoanon @ 4:35 pm EST

NEW LINE HOSTS SPECIAL SCREENING OF THE LORD OF THE RINGS: THE FELLOWSHIP OF THE RING TO BENEFIT THE NEW YORK STATE WORLD TRADE CENTER RELIEF FUND
November 15, 2001, New York, NY – New Line Cinema will hold a special advanced screening of the epic adventure The Lord of the Rings: The Fellowship of the Ring on December 13 to benefit the New York State World Trade Center Relief Fund, it was announced today by Robert Shaye and Michael Lynne, Co-Chairmen and Co-Chief Executive Officers of New Line Cinema Corporation.
"New Yorkers and Americans have been so very generous in the wake of the September 11 tragedy, and I am delighted that New Line has offered to host this exciting screening in support of the World Trade Center Relief Fund," Governor George E. Pataki said. "I really look forward to seeing The Lord of the Rings: The Fellowship of the Ring with my family. My son Owen and I read this story together over the summer -- he for the first time, and me for the second. It is particularly fitting that proceeds from this screening of a story of good triumphing over evil will go to a fund that is designed to help those good people victimized by this evil attack on America."
"We were tremendously saddened by the events that took place in New York City and feel privileged to have this opportunity to give something back to the community where our company was founded," Shaye and Lynne stated. "Governor Pataki's special fund plays a vital role in the effort to both heal and rebuild New York; we consider the Governor and his organization a true force of good in the city at this time, and we feel honored to be given the chance to let our film play a role in that effort."
Tickets are priced at $250 for admittance to the screening, with a limited number of $500 tickets to the screening and a reception preceding the film with members of the cast.
Governor George E. Pataki urges all New Yorkers, concerned Americans and those throughout the world who wish to support the World Trade Center emergency response and victim support effort, to make a contribution to the newly established New York State World Trade Center Relief Fund.
The purpose of the World Trade Center Relief Fund is to assist the families and dependents of the victims of the September 11th terrorist attacks. This fund is for the benefit of all victims both injured and deceased, including innocent civilians, the dedicated firefighters, policemen, Port Authority officers, Emergency Medical Personnel and relief workers. After the monetary needs of these affected people have been addressed, consideration may be given to other related relief and recovery expenses.
New Line Cinema is presenting the first installment of The Lord of The Rings: The Fellowship of The Ring starring an international cast that includes Sean Astin, Sean Bean, Cate Blanchett, Orlando Bloom, Billy Boyd, Marton Csokas, Ian Holm, Christopher Lee, Ian McKellen, Dominic Monaghan, Viggo Mortensen, John Rhys-Davies, Andy Serkis, Liv Tyler, Hugo Weaving, and Elijah Wood.
The film is directed by Peter Jackson and produced by Barrie M. Osborne, Tim Sanders, Fran Walsh and Jackson, from a script by Fran Walsh, Philippa Boyens, and Jackson. Robert Shaye and Michael Lynne are the executive producers. Mark Ordesky and Bob and Harvey Weinstein also executive produce.
The film opens worldwide on December 19.
Founded in 1967, New Line Cinema is the entertainment industry's leading independent producer and distributor of theatrical motion pictures. New Line licenses its films to ancillary markets including cable and broadcast television as well as to international venues. The company, which is a subsidiary of AOL Time Warner Inc., operates several divisions including in-house theatrical distribution, marketing, home video, television, acquisition, production, licensing and merchandising units. More information about New Line Cinema can be obtained at www.newline.com.

Decipher Updates
Berendir @ 3:30 pm EST

Todays six newly released Decipher card images come from the Nazgul theme. [More]
Chase the Ring!
100 retail stores around the world have been selected to host Chase the Ring! Tournaments November 16-18, 2001. Though many locations around the world will host events during this first competitive tournament weekend for The Lord of the Rings TCG, these 100 stores have something extra special to share. [More]
Special Decipher TCG Tournaments Scheduled for This Weekend! [More]
For anyone planning to attend these Decipher events, don't forget to send in Your Reports.
Go back to Special Reports Archives