Go back to Special Reports Archives
November 07, 2001 - November 14, 2001
Magic imagined
Xoanon @ 11:30 pm EST

When Harry Potter opens this week, will your mind's eye blink?
'A kind of crime against the imagination." That's what a recent editorial in Canada's Globe and Mail called the upcoming film adaptations of J. R. R. Tolkien's Lord of the Rings trilogy and J. K. Rowling's Harry Potter series. Strong words to describe the two most anticipated films of the year. But as they fast approach–Harry Potter and the Sorcerer's Stone opens November 16, The Fellowship of the Ring December 19–apprehension lurks, albeit alongside great excitement.
Leah, 13, can't wait to see Harry, but she's nervous, too. "I have [the characters] totally down to their wrinkles in my mind," she says. (She asked that her real name not be used.) "I just hope it doesn't change my imagination, because I've got a really big one–I don't want it to limit it." That's the fear: that these two films, both created with special effects and obsessive accuracy that arguably make them the "realest" fantasies to ever hit the big screen, could imperil the richly imagined inner worlds of millions of readers.
Virtually real. These aren't just any movie adaptations, after all. Both book series have sold over 100 million copies worldwide. Pleasing these fans is not just a happy byproduct of accuracy but a necessity in selling the film. And special effects haven't been up to the challenge of Lord of the Rings till now–creatures are portrayed by humans or convincing computer graphics, not wheezy animatronics (or worse: puppets!), and the battles are reportedly astonishing. Harry, for its part, doesn't disappoint: Hogwarts is just as Rowling described, all spires and staircases; the Quidditch matches look real enough to be live. "We've reached the point where it's no longer necessary, when watching a film like the Lord of the Rings or Harry Potter, to suspend disbelief," says Phil LoPiccolo, editor-in-chief of Nashua, N.H.-based Computer Graphics World.
The downside, of course, is if the images overpower the imagination. When children describe what they've read, details vary widely from child to child, says Douglas Reeves, author of The 20-Minute Learning Connection. But kids who have just seen a movie are likely to give very similar accounts. LoPiccolo's 12-year-old daughter, for one, refused to look at so much as a still from either film, not wanting to contaminate her mental images.
But that's assuming our fantasies of how books "look" are very defined, which will vary from person to person. "Of the characters in Lord of the Rings, I have more of a feeling for the way they look than I actually have visions of them individually," says Amanda Cockrell, director of Hollins University's graduate program in children's literature. Not so for Potter and friends, whom she sees clearly. "I think we tend to form a clearer picture of people in fantasies that are essentially laid in the world we inhabit already."
Lar deSouza, 38, a freelance illustrator, was so taken with Rowling's books that he started sketching people and scenes in his spare time (they're online at www.harry potterfans.net/potterica). He thinks the film has the potential to make the books more vivid. "When I get comments from kids writing to say 'that's just how I pictured Hermione and Neville,' I don't think they really do picture [them]. As an artist, there's not a photographic process in my brain and a Xerox coming out of my hand," he says.
Visitors to an exhibit of props from The Fellowship of the Ring at Toronto's Casa Loma castle last week were entranced with the costumes, cutlery, pipes, books, and other artifacts. The verdict was virtually unanimous (save for one man who thought the dreamy-eyed elves looked "too out of it"): What they saw matched their imaginations. But then, fans have long used filmic imagery to help envision their favorite books. "Casting" fiction with real-world actors is commonplace. And the more cinematically inclined may shoot scenes in their heads. Michael Regina, 23, the editor of Tolkien fan site TheOneRing.net, says, "I'm rereading the books now just to see how the filmmaker in my head would do it."
Outside Casa Loma, fans weren't too worried about either film. "I can't wait to see Harry Potter," says Madeline Maynard, 17. "It might change things for the better, but if I don't like the movie, I can just forget everything I saw."

LOTR: FOTR DVD News
Xoanon @ 7:37 pm EST

RHM writes: Region 2 DVD release for LOTR is rumoured to be August 27th. Even official release dates can change ofcourse, but it suggests that the previous rumour of an easter release is now unlikely (except the Americas, perhaps). Warner/New Line will no doubt want to build excitement for the second movie. More]

Decipher Updates
Berendir @ 1:54 pm EST

Six Gandalf culture cards were added to todays Decipher update. [More]
Deck Designs
Want to see how other people are designing their LOTR TCG decks? Decipher added a few examples from fans to their site. [More]
Free Starter Decks
Try out The Lord of the Rings TCG for free! Just download these pdf versions of the Gandalf and Aragorn starter decks, print out the sheets, cut the cards apart, slip 'em into clear sleeves and you're ready to go! [More]
Web Buttons and Banners
For all those Decipher LOTR TCG fan sites out there, a host of cool new button images have been added for you to use. [More]
Special Decipher TCG Tournaments Scheduled for This Weekend! [More]
Media Watch: UK's Evening Standard
Xoanon @ 8:40 am EST

Mark S sends along these scans from the UK Evening Standard take a look at these Tolkien fans from the 70's!

First FOTR tickets go on sale in NZ.
Tehanu @ 8:27 pm EST

Tickets for the midnight screening of FOTR go on sale on Thursday morning, 15th November, NZ time. You have to buy them at the Hoyts box office (ie not over the phone) and the box offices open at 7:30am at the earliest.
There are three Hoyts cinemas which are confirmed for the midnight screenings: Auckland's Wairau Park (who the heck knows why?), Moorhouse Avenue in Christchurch, and Hoyts Midcity in Wellington. TVNZ's cameras will be there, so you can grab some media attention if you dress up really wildly for the first screening. The Wellington Hoyts Midcity is offering a $70/head cocktail party/midnight screening or there is also one theatre available for just seeing the film at midnight (presumably at the normal price.)
Those wanting to book for the Hoyts $70/head event can book online here but get in quick.
There are a limited number of prints of FOTR in NZ, which is apparently why TORN and its friends were not able to organise our own midnight screening at 12:01 am on December 20th.
So yesterday we found that the only confirmed midnight screenings are at certain Hoyts cinemas, unless you can afford the $2500/head after-premiere screening at the Embassy.
TORN and its friends in the Phoenix science ficition and fantasy club plan to meet elsehwere beforehand and do our own party as planned, before going to the other Hoyts midnight show in Wellington. All TORN friends are invited to join us, should the Hoyts cocktail event sell out. Wellington itself is throwing a monster street party on the evening of the 19th so there should be plenty of enjoyment for everyone.
Games-Workshop: Cave Troll
Berendir @ 5:28 pm EST

Games-Workshop has released the Cave Troll miniature; an enemy of the Fellowship we have seen in the trailers. Check out the similarities between GW's representation of the Cave Troll, and the official movie image.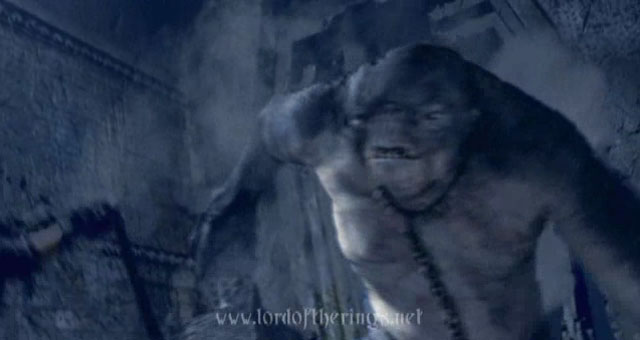 Decipher Updates
Berendir @ 3:01 pm EST

Six new cards added at Decipher today, and this time all are from the Dwarven culture! Cool stuff. [More]
Announcing The Motor City Comic Con
November 17 & 18, 2001
Do you want to play in sanctioned The Lord of the Rings TCG tournaments? Look no further... [More]
Check out more fan testimonials on their experience with Decipher's LOTR TCG.
Enthusiastic feedback on The Lord of the Rings TCG is pouring in from all over! Check out the reports and reviews from retailers, volunteers, and Lord of the Rings-related and gaming websites. [More]
Take a look at the new Dutch poster for the LOTR TCG!
Games-Workshop store presents...
Berendir @ 11:58 am EST

The Games-Workshop online store has a host of products to buy. Let us know your experience with the game so far, we would love to hear!
You can use Bilbo in your games of The Lord of the

Rings! If he accompanies Frodo on his epic quest then Bilbo carries his magical sword, Sting, and wears the Mithril coat whilst Frodo carries the Ring. Find out what could have happened if Bilbo Baggins had journeyed with his brave nephew and companions. [More]

Painting your Lord of the Rings miniatures is just

as much a part of the hobby as playing a game with them! Painting your miniatures is much easier than you think. If you can write with a pencil, then you can paint! The paints you'll find inside this Fellowship of the Ring Edition Paint Set will help you get started in the most rewarding part of The Lord of the Rings hobby. [More]
If you've already delved into the Games Workshop table top game, and are looking for more additions, the shop has lots more to look at. [More]
Media Watch: Starlog Magazine
Xoanon @ 11:57 am EST

The latest Starlog Magazine has 14 wonderful pages filled with LOTR cast interviews in a beautiful layout. Take a look!
Media Watch: Digital Media World Magazine
Xoanon @ 10:54 am EST

Ringer Spy Andrew sent us this scan from Digital Media World Magazine, it takes a look at some of the other SFX houses helping WETA to make LOTR.
Potter Inspiration
Xoanon @ 8:49 pm EST

Check out the UK's 'Daily Mail' for a very interesting comparison of Potter with works of fiction from the ages, including Star Wars and our very own LOTR.
Decipher Updates
Berendir @ 5:16 pm EST

As with each passing weekday, six new cards were added to Decipher's archive of LOTR TCG images. Check out todays cards from the Isengard Culture. [More]
If you're still on the fence about whether to buy the new TCG, and want to read some more fan testimonials of their experiences with the game and celebrations surrounding its release, read on. [More]
Middle Earth Vault is proud to announce a new contest.
From November 8, 2001 – December 15, 2001, we will be running a Middle Earth story contest with our friends over at Decipher Games. [More]
Games-Workshop Review
Berendir @ 2:12 pm EST

From Dr Graham:
Games Workshop's LOTR Tabletop Battle Game
It's been about 6 years since I had an interest in miniatures or tabletop gaming, but on a bit of a nostalgic whim a friend and I went halves on purchasing the LOTR game boxed starter set and the Fellowship figure set.
The main game comes with 38 plastic figures (Moria Goblins, Elves and Men of Gondor) some sections on ruined building and the 120-or-so page rulebook. The Fellowship boxed set comes with the nine fellowship members, obviously, and these are very nice looking and cast in metal.
My friend and I were fairly concerned about the price mark up (seeing as it was Games Workshop's soaring costs that were the catalyst to our leaving the hobby years ago) and decided that, despite our excitement about trying out the game, the asking price is way too high; the contents of the box certainly not being worth £40. I emailed Games Workshop about this and they said that New Line Cinema had asked them to keep the prices constant and offer no deals or discounts... I can only accept their word on this and hope they spend their fat profits on something nice!
Anyway, I digress. The rulebook is glossy and full colour throughout with some very nice illustrations/photos, many I have not seen before. Having been seasoned gamers in the past, we got to grips with the rules fairly quickly and were soon into our first game.
The scenarios are a nice introduction to the mechanics of the game. The first scenario involves the Good player having to make his way across the playing area without the Evil player wiping our more than half his (relatively small) force. The rules are quick and do not hinder gameplay. The introduction of 'Priority', whereby players roll to see who will move, fire or fight first in each respective round is a very good one and provides some very tense dice rolls! The player with 'Priority' has all the more of an edge when it comes to moving into close combat - if you can move first, you can engage your opponents forces before they even get to move and thus choose who fights who in the combat round.
The combat system makes for very exciting skirmishes, allowing even the weakest of characters the possibility of winning a fight (though, not necessarily wounding their opponent). Advantages come from strength of numbers (this is vital in the case of the Goblins), although it can prove difficult to defeat a strong opponent even with hordes of fighters. In the last game we played my Moria Goblins swarmed all over Boromir and were knocked back (not always with casualties) over and over! They succeeded in holding him back for quite some time until he was able to break free, killing three in one round of combat but by that time I'd managed to defeat enough of the rest of my opponent's force to win the game.
The scores and attributes of the characters seem to be fair and reflect well on the game. Not only are Elf bows more powerful than Ork bows, but they have a better chance of hitting their targets with them too. The Hobbits aren't great at fighting, but have advantages of their own. The forces of Good seem to have a lot more special characters to choose from than the Evil, though, but this is something I'm sure will be rectified with the provision of more releases and extra rules.
You can have quite a few good and interesting games with the figures straight out of the box, but most of the other scenarios require additional models. This is obviously with the assumption that new players are buying into the hobby and will thus buy the newly released models as and when they are released. The opinion of my friend and I is that we will buy *some* of the new models, but generally dig out our own old fantasy models to be used as conversions or simply to represent other characters from LOTR. I don't think we can justify the asking price of too many brand new figures, even though it's tempting.
Overall - a very enjoyable game that is both quick, and with characters true to LOTR, and relies heavily on strategy as well as a few lucky dice rolls here and there! The down side is the costs. It won't be cheap to keep up to date with the new figure releases and I certainly do have a problem with Games Workshop and the sometimes ridiculous asking prices of their products... ripping off the very people who are ethusiastic about your products is bad!
That said though, if you can justify the costs (or perhaps split them with a friend as I have done) and have an interest in wargaming in Middle Earth then the game doesn't disappoint.

The Toy War for Holiday Movies
Xoanon @ 1:40 pm EST

The young wizard Harry Potter doesn't make his first appearance on movie screens until Nov. 16, but he can already be found staring across the toy store aisles at a green, one-eyed creature named Mike Wazowski, an animated star of the hit film "Monsters, Inc."
Just over the horizon is an army of action figures and role-playing toys pegged to the Dec. 19 release of "The Fellowship of the Rings," the first in a planned trilogy of films based on J. R. R. Tolkien's fantasy epic, "The Lord of the Rings."
"Those are definitely the big three," Melissa Williams, a toy industry analyst for the investment firm Gerard Klauer Mattison, said of the competing movies.
And like some other analysts, Ms. Williams sees the "Monsters" paraphernalia holding the high ground in the battle for children's hearts and their parents' wallets this holiday season — no matter which movie ends up the winner at the box office. "Looking at them now, from 30,000 feet up," she said, "it does look like `Monsters' is the most toy-friendly of the three, because it skews younger."
And yet Mattel, which is the prime toy- company licensee for Harry Potter, insists that its Professor Snape's Potions Lab and other spinoff items will prevail.
It may sound like child's play, but this is big business.
Ever since the "Star Wars" sequels proved in the 1980's that movie merchandise could be one of a film's prime profit sources, the alliance between Hollywood and toys has been an enduring and lucrative one.
About $7.6 billion worth of toys and video games based on movie or TV characters were sold in 2000, down about 6 percent from 1999, according to The Licensing Letter, a trade publication. And experts predict that 2001 will be a poor year for licensed products — although tie-in toy sales could be stronger if "Harry Potter and the Sorceror's Stone" proves popular.
"Last year stank," said James Mammarella, editor in chief of the trade magazine License. "You will see an upswing this year."
Still, smaller-than-anticipated sales for toys linked to the most recent "Star Wars" installment in 1999 have pushed toymakers to diversify their lines to place less emphasis on movie tie-ins.
Past disappointments have also made toy retailers more cautious about Hollywood products. Toy sellers recall that last holiday season, the Harry Potter products tied to the popular book series did not fare as well as they had hoped.
That may be why Tom Alfonsi, senior vice president for merchandising at the big retailer KB Toys, is wary of predicting big sales for Harry Potter toys linked to the widely anticipated movie. " `Monsters' is more of a movie for little kids, 4- to 7-year- olds, and that is more of a toy age group," Mr. Alfonsi said. "When we look at Harry Potter, we see the 8- to-14-year-olds, which is beyond the toy-buying age."
If that bears out, the main beneficiaries will be Hasbro (news/quote), which has action figures, games and stuffed Monsters, and Thinkway Toys, which has electronic Monster toys.
Yet there are early indications that Harry Potter toys may catch on, now that a film can make Harry's world accessible to many millions of children who were either too young to read or simply disinclined to plow through the books — the most recent of which was published in the summer of 2000.
"I am feeling very confident now," Melody Young, vice president and divisional merchandise manager for Toysrus.com said of the Harry-ware. "I saw the movie and it was tremendous. We always had a little more confidence in the parts of the line that addressed an older audience, and a little less in parts that address a younger one. But we have more confidence now."
Among the Harry Potter toys that are already selling well, even before the film's release, are Mattel's Potions Lab, which allows children to mix drinkable wizard brews. Also proving popular are Lego sets that let children build models of Harry's school, the Hogwarts School of Wizardry and Witchcraft, and a Mattel game called the Harry Potter Levitating Challenge.
There is also Harry Potter apparel, a trading card game, action figures and collectible figurines. And hitting stores on the day the movie opens will be a Harry Potter video game from Electronic Arts.
"We have been somewhat cautious in our forecast about Harry Potter," Ms. Williams said. "In part, this is because the child who is reading a 700-page book is not the same child who is typically playing with toys. However, we're starting to hear from retailers that they are more encouraged now than they thought they would be."
If anything, toy industry executives said, Warner Brothers was even more aggressive in pushing its Harry Potter products than Walt Disney was with its "Monsters, Inc." wares. Hoping to overcome the perception that Harry Potter would appeal to children too old for toys, Warner and its licensing partners began showing off prototype toys as early as February, followed by a 45- minute clip of scenes from the film at a subsequent toy industry gathering in Orlando and a screening of the completed film for toy executives in early November.
"I think in the merchandise field, people are very hopeful," said Marty Brochstein, executive editor of The Licensing Letter. "Personally, I think sales will be solid. But the question in a business sense will be whether it will be solid enough, given how much Warner has paid for the various rights and the number they have charged manufacturers in terms of guarantees for the various licensing rights."
To avoid creating an incentive to flood the market with toys, Mattel has guaranteed only about $50 million in Potter toy sales. But Mattel offered Warner Brothers, a unit of AOL Time Warner (news/quote), a 15 percent royalty — three percentage points higher than the standard — and stock options.
At Toys "R" Us, Harry Potter goods are outselling "Monsters, Inc." merchandise. And for now, there appears to be more interest in Harry Potter on eBay (news/quote), the online auction site. Last week, Potter items outnumbered Monsters goods by 10,276 to 1,315.
Mattel holds the master toy license for the Potter franchise, meaning Warner Brothers has granted the company the right to produce the broadest array of toys and games. Matt Bousquette, president of the gender-specific boys and entertainment division at Mattel, said Potter sales had been doubling every week, and he predicted that both the Potions Lab and Levitating Challenge would be sold out for the holiday season before Thanksgiving.
"We don't need the movie to come out to know we have a success," Mr. Bousquette said. "It's going to be difficult to find key items. They are just going to be gone."
The wild card in the race for holiday sales is "The Fellowship of the Rings." For retailers worried about the appeal of book-inspired Harry Potter merchandise to young children, the grimmer and grander Tolkien trilogy poses an even stiffer challenge.
"I think it will have a lot more appeal in the collector community, because of the darkness of the movie," Ms. Young said.
But David Imhoff, New Line Cinema executive vice president for worldwide licensing and merchandising, said he thought "Lord of the Rings" products would prove Ms. Young and other doubters wrong.
Yes, he acknowledged, there are strong adventure and action elements to the story, and the film will be rated PG-13 (compared with PG for "Harry Potter and the Sorcerer's Stone" and G for "Monsters, Inc."). But Mr. Imhoff noted that bloody action had not squelched sales of toys and merchandise for the "Jurassic Park" movie series.
"Besides, it's one thing for a child of 7 or 8 not to be able to read these books, or to have difficulty reading them, but to see a film of the story is a very different scenario," he said. "It's a very different experience."

LOTR Postcards
Xoanon @ 1:23 pm EST

Tranquileye sends along these scans of some LOTR postcards. Not to shabby indeed.
Weekend Wrap-Up
Xoanon @ 8:36 am EST

New Cast Projects
Xoanon @ 12:54 am EST

Hugo Weaving and Cate Blanchett (Galadriel) will appear in the documentry 'Drama Scool'. The doco focuses on National Institute of Dramatic Art and also features Mel Gibson.

Andy Serkis (Gollum) will star in a new War Drama 'Who Goes There?', the film is currently shooting in Prague.

Orlando Bloom (Legolas) has joined the cast of 'Deed Poll', a thriller directed by Jeremy Podeswa ("6 Feet Under" TV Series).

Christopher Lee (Saruman) is playing King Haggard 'The Last Unicorn: The Movie'. The film also stars Angela Lansbury and Rene Auberjonois (Odo from "Deep Space Nine").


Weekly Cast Watch
Xoanon @ 12:41 am EST

Viggo Mortensen (Aragorn)
28 Days (2000)
Albino Alligator (1996)
Crimson Tide (1995) UK

Prophecy, The (1995)
American Yakuza (1994)
Young Guns II (1990)

Fresh Horses (1988) UK

Witness (1985)


Liv Tyler (Arwen)
Plunkett & Macleane (1999) UK

Onegin (1999) UK

Can't Hardly Wait (1998) UK

Inventing the Abbotts (1997)
U Turn (1997) UK

Stealing Beauty (1996)
Ian Holm (Bilbo)
Joe Gould's Secret (2000)
Life Less Ordinary, A (1997)
Sweet Hereafter, The (1997)

King Lear (1997) (TV) UK

Madness of King George, The (1994) UK

Dance with a Stranger (1985)
Alien (1979) UK

Fixer, The (1968) UK
Sean Bean (Boromir)
Stormy Monday (1988)
Caravaggio (1986) UK
Martyn Sanderson (Bree Gatekeeper)
Ned Kelly (1970)
David Weatherley (Barliman Butterbur)
"Potato Factory, The" (2000) (mini) UK
John Noble (Denethor)
Airtight (1999) (TV) UK

Nostradamus Kid, The (1993)


Peter Mackenzie (Elendil)
In Crowd, The (2000)
Chill Factor (1999)
Major League: Back to the Minors (1998) UK

Nick of Time (1995)
Karl Urban (Eomer)
Heaven (1998)
Hugo Weaving (Elrond)
Matrix, The (1999) UK

Bedrooms and Hallways (1998)
Interview, The (1998)
Babe (1995)
Miranda Otto (Eowyn)
What Lies Beneath (2000)

Nostradamus Kid, The (1993)


Cameron Rhodes (Farmer Maggot)
Absent Without Leave (1992) UK
Elijah Wood (Frodo)
Bumblebee Flies Anyway, The (2000)
Black and White (1999)

Faculty, The (1998) UK

Good Son, The (1993) UK

Radio Flyer (1992)
Paradise (1991)
Avalon (1990) UK
Cate Blanchett (Galadriel)
Ideal Husband, An (1999) UK

Pushing Tin (1999) UK

Talented Mr. Ripley, The (1999) UK

Paradise Road (1997) UK
Ian McKellen (Gandalf)
X-Men (2000)

Gods and Monsters (1998)

Restoration (1995)
Last Action Hero (1993)
Keep, The (1983) UK

Alfred the Great (1969) UK
John Rhys-Davies (Gimli)
Au Pair (1999) (TV)
Secret of the Andes (1998) UK

Sunset Grill (1993)
Perry Mason: The Case of the Fatal Framing (1992) (TV)
Tusks (1990)
Perry Mason: The Case of the Murdered Madam (1987) (TV)
King Solomon's Mines (1985)
Victor/Victoria (1982) UK
Andy Serkis (Gollum)
Topsy-Turvy (1999) UK

Among Giants (1998) UK
Craig Parker (Haldir)
Tommyknockers, The (1993) (TV)
Harry Sinclair (Isildur)
Heavenly Creatures (1994)
Dominic Monaghan (Merry)
Hostile Waters (1997) (TV)
Bruce Spence (Mouth of Sauron)
Mad Max Beyond Thunderdome (1985) UK

Mad Max 2: The Road Warrior (1981) UK
Sean Astin (Sam)
Sky Is Falling, The (2000)
Icebreaker (1999)
Deterrence (1999) UK

Kimberly (1999)
Encino Man (1992) UK

Where the Day Takes You (1992) UK

Toy Soldiers (1991) UK

Memphis Belle (1990)

Staying Together (1989)
War of the Roses, The (1989) UK
Christopher Lee (Saruman)
Sleepy Hollow (1999) UK

Return of the Musketeers, The (1989) UK

1941 (1979)
Killer Force (1975)
Four Musketeers, The (1974) UK

Creeping Flesh, The (1973)
Three Musketeers, The (1973) UK

Horror Express (1972)
One More Time (1970)
Blood of Fu Manchu, The (1968) UK

Gorgon, The (1964) UK

Longest Day, The (1962) UK

Beat Girl (1960)
City of the Dead, The (1960)


Brian Sergent (Ted Sandyman)
Absent Without Leave (1992) UK
Bernard Hill (Theoden)
Midsummer Night's Dream, A (1999) UK

True Crime (1999) UK

Loss of Sexual Innocence, The (1999) UK

Shirley Valentine (1989) UK

Restless Natives (1985) UK

Gandhi (1982) UK
Brad Dourif (Wormtongue)
Ghost, The (2000)
Storytellers, The (1999) UK

Urban Legend (1998) UK

Bride of Chucky (1998) UK

Best Men (1997)
Murder in the First (1995) UK

Death Machine (1995)
Escape from Terror: The Teresa Stamper Story (1994) (TV) UK

Color of Night (1994) UK

Trauma (1993)
Amos & Andrew (1993)
Child's Play 3 (1991) UK

Jungle Fever (1991) UK

Exorcist III, The (1990)
Hidden Agenda (1990)
Child's Play 2 (1990)
Child's Play (1988) UK


Jim Rygiel (SFX)
Anna and the King (1999)
Last Action Hero (1993)
Batman Returns (1992)
Ghost (1990)
2010 (1984)
Last Starfighter, The (1984)

Howard Shore (Composer)
Yards, The (2000)
Cell, The (2000)
Analyze This (1999)
Dogma (1999)
Gloria (1999)
Moonlight and Valentino (1995)
Se7en (1995)
White Man's Burden (1995)
M. Butterfly (1993)
Guilty as Sin (1993)
Sliver (1993)
Single White Female (1992)
Prelude to a Kiss (1992)
Postcards from the Edge (1990)
She-Devil (1989)
Innocent Man, An (1989)
Big (1988)
Nadine (1987)
After Hours (1985)
Peter Jackson (Director)
Heavenly Creatures (1994)
To get more information, use the sites I use like:
Boromir Topps Card
Xoanon @ 12:09 am EST

Ringer Spy My Precious sends along this scan of the Boromir themed Topps card.

Media Watch: Entertainment Weekly
Xoanon @ 7:54 pm EST

Check out these scans from next weeks 'Entertainment Weekly', be sure to pick yours up next week, with 5 different LOTR related covers!

Pierre Vinet Images
Xoanon @ 7:35 pm EST

While watching the RealVideo from Casa Loma, I was surprised to see some excellent still photos from fellow Canadian Pierre Vinet, none of my Casa Loma spies sent me any of those. Vinet was the still photographer for the film. The very next email I opened had some photos featuring the stills from Casa Loma. Take a look!
Media Watch: San Antonio Express-News
Xoanon @ 6:45 pm EST

Ringer Spy Samantha sends along these scans from San Antonio Express-News, yet another 'Frodo Vs. Potter' article I'm afraid.

The Dreammakers
Xoanon @ 2:29 pm EST

Ringer Spy JS sends along these articles about Richard Taylor and the great guys down at WETA Workshop.

Media Watch: Living Abroad Magazine
Xoanon @ 2:02 pm EST

Mark sends along these scans (a little teeny tiny, turn your rez down and read it -Xo) from Living Abroad Magazine. Take a look.

Tribute.ca TV Talks LOTR
Xoanon @ 1:50 pm EST

From: Phyoras
Tribute.ca TV (on TorontoStar TV, channel 21 Ontario), aired a 5 minute short on their show tonight (7pm & 12am) concerning FOTR. While the show usually focusses on Trailers, it sometimes has a short feature on a film, and this time it happened to be about FOTR. It was roughly 5 minutes long and showed the 2nd FOTR trailer with interviews throughout from Dominic Monaghan and John Rhys-Davies. Mostly it just mentioned the popularity growing for the film and the interviews weren't new (they were conducted while JRD and DM were in Toronto for the Casa Loma Exhibit Opening), but they were interesting. John Rhys-Davies says "Best film(s) of all time", while Dominic Monaghan talks about "Hobbits keeping in touch after the filming". All the same, it's worth checking out for anyone who hasn't seen the interviews yet (which were aired on CTV a week or so earlier). I'm sure it will be repeated for the next week or so!

GW Middle Earth Yahoo Club
Berendir @ 12:11 pm EST

From Daniel:
Join the adventure at GW_MiddleEarth!
The Lord of the Rings, Fellowship of the Ring battle game has recently been released by Games Workshop and is selling fast! Many fans are already amazed at the magnificent miniatures, fantastic rules and wonderful gaming possibilities this game provides. It's Tolkien's world of Middle Earth come to life!
Like all war games LOTR has a diverse list of things that can be done, such as painting the minitures, modeling the scenery, playing the game, rules clarification and scenario creation. GW_MiddleEarth is a yahoo group specifically created with these things in mind, not to mention general chat on the new films, questions and discussion on Tolkien's books, pictures of yet to be released models, rumors, breaking news and anything else you need to know! The groups functions on the yahoo groups network of internet email messaging lists. The list is quite large, over 100 members now, and we have been tracking the game and the films since early this year when the group was created. The group is an avid supporter of TORN and for this reason I have been allowed to invite everyone who is even remotely interested in Games Workshop's new game to come and have a look. Even if you just want to know about the game, sign up and we will be more than happy to help out.
To check the list's site out go to
http://groups.yahoo.com/group/GW_MiddleEarth
Or if your already excited and ready to join you can directly subscribe by sending a blank message to
GW_MiddleEarth-subscribe@yahoogroups.com
The list was created as a forum for fans of the game, the films and Tolkien. We are all massive fans and all share a deep interest in Tolkien's books. We would love for everyone interested to join the group.
TheBursar Checks In!!
Jincey @ 3:34 am EST

Longtime Barli regular TheBursar posted this email from somewhere upon the Seven Seas. He misses us, y'all, so send him an e-mail : )
Hello, friends at Barli's!!!
It is I, the intrepid sailor-type Bursar, making our world just that much safer from the terrorists that try to destroy our lives.
I am sittng in my workcenter on the USS George Washington, cursing the Internet block that prevents all us lower enlisted folk from the Net, and, unfortunately, Barli's.
So, I have to talk to y'all through E-Mail. If anyone wants to yell at me, my E-Mail is Hillr@GeorgeWashington.navy.mil
That is, if anyone even REMEMBERS me.....I haven't been in the place for almost a year now....been kinda busy, what with the whole military thing and all. Life at sea isn't bad.....but it isn't very good, either. I miss you all terribly.
Thanx for the E-Mail...this is FUNNY!! I've run into a coupla people here on the ship that are envious of my Tolkien Top 10 T-Shirt. They like it, and I have to tell them all about theonering.net and all you wonderful people! Thanx for thinking about me while I am at sea, and please feel free to write to me whenever!!!
Your buddy, The Bursar
LOTR Day Event/Alpharetta, GA
Jincey @ 3:12 am EST

The LOTR Day Event in Alpharetta, GA had a great turn-out, including several home-schooled kids. They finished their schoolwork up early so as to be able to participate, and participate they did! One lucky kid, 11 year old Alden Lathrop of Atlanta, actually won one of the door prizes. His nifty banner poster was the envy of all!

The staff of the Alpharetta Barnes and Noble put on a nice presentation, including a few Tolkien Trivia questions out of Houghton-Mifflin's pocket sized Tolkien Trivia book. The 20 minute video was very well received by all in attendance. The Rayner Unwin portion of the video was poignant, and PJ's comment about now understanding why no one had ever tried to film three movies at the same time drew laughs from all. From the scenes of Rivendell and Hobbiton it is quite obvious that PJ, the artists, craftsmen and actors all have the utmost respect for JRR Tolkien's works; and I thank each and every one of them for this.

Several of us Ringers were there. Zorina, SamGamgee7, Formula409 and myself had made plans to meet for the event. While there we met 12milecousin, who is a regular visitor to the site. I think we can all agree to a few things: the video was too short, the new movie guide and visual companion are both gloriously illustrated with images of FOTR, those banners rocked and December 19th is still too far away!

Would You Like FrodoFries With That?
Jincey @ 2:33 am EST


Gandalfan sends us a pic of FrodoFries! (Well, not really, but the packaging they will come in, each complete with an answer to one of the riddles on the Burger King site.) He reports that Burger King will put its promotion into full effect this month. It will more than likely start in about a week.


Media Watch: Filmreview and Xpose
Xoanon @ 11:47 pm EST


From: Mark
Here are two new covers for your MediaWatch! Film Review Special #37 and Xpose #62 have just been produced. Film Review and Xpose are just two of our range of TV/film related titles. These are the first covers (and cover features) we've devoted to LoTR, but there should be at least one more before the release of Fellowship...

I'll be preparing web editions with more extensive details, and some excerpts online, next week - but I wanted to try to alert my favorite LoTR fansite before anyone else did www.visimag.com/filmreview/ www.visimag.com/xpose/
are showing the covers now (Scroll down the latter for X62 cover). I'll be able to send issue-specific links next week once the editions are up.

These details of each issue's coverage are taken from our online stores, accessible from the two links above:

Xposé #62, December 2001 (Reference #X62) To be published November 15 2001 The Lord of the Rings: Fellowship of the Ring - 16-page centre section on the fantasy movie of the year. Includes an introduction to JRR Tolkien's Middle-Earth and interviews with director Peter Jackson, Ring-Bearer Elijah Wood (alias Frodo Baggins) and Tolkien expert Brian Sibley, author of The Official Movie Guide and the acclaimed 1981 BBC Radio adaptation. Plus 10 Things... About Christopher Lee, alias fallen wizard Saruman.

Film Review Special #37, Fantasy 2001 (Reference #FS37) Now available Cover: Lord of the Rings: Elijah Wood as Frodo. This issue: a guide to myriad realms mysterious and magical! [100 pages, including] Lord of the Rings (12 pages) - Visit Middle-earth, in Fellowship with John Rhys Davies (Gimli), Orlando Bloom (Legolas) and Viggo Mortensen (Aragorn). With Christopher Lee (Saruman) on why this production is a cinema landmark, Liv Tyler on walking like an elf-princess as Arwen, and a detailed look at the Games Workshop's battle and strategy LoTR tie-ins.

Media Watch: Box Office Magazine
Xoanon @ 11:22 pm EST

Thanks to John P we have this great article from 'Box Office Magazine'. Enjoy the great ELijah Wood (Frodo) interview!

GMTV Transcript
Xoanon @ 11:05 pm EST

From: LlamaStick
Great Site, been hooked for two years! Here's a pretty close transcript of the ITV1 GMTV piece this morning. Nothing new, but thought you might like it anyway:
The segment was fairly short, starting with the first few scenes of the most recent trailer, and a voice over introduction.
Interviewer Voice Over: 'LOTR is an epic adventure in every sense, all three films were made over eighteen months, and the land of Elves, Hobbits and Wizards was painstakingly recreated in New Zealand. Elijah Wood plays the hobbit Frodo, who is given the task of destroying the all powerful ring which is being hunted by the dark lord Sauron.
EW: I expected before we when down there that we would be taking a journey that would mirror that of the journey of the book, and it was exactly that. We went through all of these emotional changes, and we grew as individuals just as the hobbits do. It was an incredible experience, and I knew it would be like that, but I think it was even more fantastic and profund than I anticipated.

Interviewer : Did it ever get confusing, fighting things that aren't there?

EW: Missed the mark slightly? I'm sure that happened a few times.

BB: I remember a great time doing this sequence, the sequence where Frodo was hiding from the cave troll. There was a guy with a polystyrene cup walking around with a stick! (Laughing)

DM: We had to throw stones at this thing!

Arwen. Cut to interview with Liv Tyler>

Interviewer: ..and you had to learn Elfish?

Liv Tyler: Elvish.

Interviewer: Elvish!

LT: Elvish passage

Interviewer: It's so lyrical.

LT: Beautiful. Such a dream to do, 'cos I can't really speak any other languages, and it was so nice for me
to have complete conversations in the film in the language, it was so beautiful, it made me feel really fancy.

Interviewer: So you're going to go out to the pub now with your mates now and start spouting into Elvish?

LT: I do, if I have a couple of drinks, I'm like - I can speak Elvish!

Sean Bean, John Rhys-Davies, and Viggo Mortensen>

Interviewer: Eighteen months of battles, of fires, magic, and elves, you must have been shattered by the time it got to finishing?

VM: Yes, but don't you wish you'd been there?

JR-D: These are going to be some of the greatest films of all time, and anyone who's had any part in them has actually had their finger on a moment of cinema history. They're magical. You haven't seen a thing yet.

Interviewer: He [JR-D] said it to me, it's going to be bigger than Star Wars.
Media Watch: SFX Magazine
Xoanon @ 10:47 pm EST

Check out this article from the amazing SFX Magazine, SFX has been covering LOTR since day one. Take a look at this great article.

Media Watch: Disney's Adventure Magazine
Xoanon @ 10:27 pm EST

Ghan-buri-Ghan sends along the scans from Disney's Adventure Magazine.

Decipher Updates
Berendir @ 3:16 pm EST

Decipher's massive archive of card images updated with six brand new images today, many from the Gondor culture. [More]
If you want to keep up to date with the fan reports on the parties and celebrations revolving around Decipher's LOTR TCG release, you'll be pleaesd to read six new additions to the growing list. [More]
New additions to Radio Decipher have been added, many with interviews and discussions around the Lord of the Rings games. [More]
MediaWatch: Frontier Magazine Austrailia
Calisuri @ 3:05 am EST

Frontier Magazine, a Sci-Fi/Fantasy publication based in Austrailia, has a 7 page LOTR section in the October-December 2001 issue. Read some outstanding interviews, if I do say so myself, with Christopher Lee, Ian McKellen, John Rhys-Davies, Sean Bean and Viggo Mortensen.
If you are like me, and attempting to collect ALL of the LOTR memorabilia possible, you will want to get your hands on a copy. Jump on over to FrontierMagazine.net and order one today!
LOTR Day: Brentano's Beverly Hills
Calisuri @ 12:40 am EST

Lord of the Rings Day is over...but, oh, how fun was had! Here in LA, Tolkien fans of all ages packed into Brentano's Beverly Hills to see the 20 minutes of exclusive LOTR footage and rub elbows with everyone's favorite hobbit, Seanwise Gamgee (aka Sean Astin)
I won't retell the accounts of the footage screened, after all, we have seen many reports from fans all over the country. (see them here) I'd much rather show you some pictures from the event and the great fans that turned out.
InQuest #81
DarthCaeser @ 11:14 pm EST

THIS IS IT! "The Fellowship of the Ring" is finally here, and InQuest Gamer is stuffed chock full of balrog-sized goodness. We've got more dwarves, elves and hobbits than you can shake a staff at, as our countdown to the movie finally reaches zero.
You may think you know all there is to know about "The Lord of the Rings." You may have transcribed the trilogy in Elvish and secretly videotaped Arwen in her underwear. But you still don't know it all. But InQuest does. From the designers at Weta Workshop who gave us the behind-the scenes scoop on the special effects, sets and costumes to John Rhys-Davies Gimli in the flesh, we've scoured Middle-earth for the secrets behind the screen. Heck, we even got a psychic to talk to Tolkien himself! So if you want to dazzle your friends with all the inside info, InQuest Gamer #81, on sale December 5th, is your ticket to the in-crowd.
Plus, we've got a killer deck for Decipher's hot, new Tolkien card game. Will Moria's orcs challenge Magic's orcs for the top spot in the world of gaming? It's a battle worth watching.
And just in case your Tolkien fix still hasn't been sated, InQuest #81 has a "Lord of the Rings" Price Guide, overflowing with values for every Middle-earth and "Lord of the Rings" game ever made. From old CCGs to the newest board games, IQ Gamer has is all.

Sean Astin on E!
Xoanon @ 10:14 pm EST

Many folks are writing in to tell us that Sean Astin (Sam) made an appearance on E! tonight. Apparently he popped in right after his Barnes & Noble event.

Sean was kind enough to show his 'Fellowship' Tatoo!


Serious USA Produces CD Cardz For FOTR
Strider @ 4:30 pm EST


Join The Hobbits On Their Journey From Middle-Earth To Your Desktop First Series Of The Lord Of The Rings CD Rom Cardz In Stores Thanksgiving Day

- New York, New York, November 7 2001

As the first instalment of New Line Cinema's highly anticipated epic, live-action trilogy, The Lord of the Rings, careens towards the big screen on December 19, Frodo, Gandalf, Strider, and Ringwraiths will also hit your monitor screen in a series of CD Rom Cardz. The premiere 4-card set of CD Cardz based on the first instalment, "The Fellowship of the Ring," will offer fans an in-depth look at the greatest fantasy-adventure story ever told -- inside an era where humans share the world with immortal elves, powerful wizards and industrious dwarves. Fully loaded with highlights, screensavers, film trailers and sound FX, the first set of the official The Fellowship of the Ring Cardz will feature the lead characters of "Middle Earth" including Elijah Wood as "Frodo Baggins," Sir Ian McKellen as "Gandalf," Viggo Mortensen as "Strider," and the looming Ringwraiths. Produced by Serious USA, Inc., CD Cardz are the latest in portable and affordable hi-tech, entertainment products and marks the introduction of digital collectibles without the headaches of additional software and hardware installation.

The first set of The Lord of the Rings CD Cardz will be available November 22 and will retail for $19.95 in select stores nationwide and at serioususa.com. Serious USA will continue to produce CD Cardz series for the entire trilogy, including: The Two Towers (December 02) and The Return of the King (December 03).

"The Lord of the Rings is a breakthrough movie franchise on a staggering scale," said Serious USA President, David-Joseph Brown. "The world of this classic story, brought to the screen by the creme of international moviemakers, translates brilliantly on to our new technology."

"We're excited to partner with Serious USA for The Lord of the Rings CD ROM Cardz," commented Randi Goodman, Vice President, Domestic Licensing and Merchandising, New Line Cinema. "Without a doubt, Tolkien enthusiasts will be mesmerized by the cutting-edge artistry of the films. Now, with the CD ROM Cardz, fans of all ages can take some of this cinematography home with them."

Serious USA, the producer of the CD Cardz, is the U.S. operating company of UK-based Serious Global Holdings Ltd (SGH) which sold close to 3 million CD Cardz in its first year of operation including: Euro 00 Soccer; Titan A.E. , Westlife; and Butt-Ugly Martians. Based in Manhattan, Serious USA is a cutting-edge multimedia company specializing in the production of CD Cardz for the consumer market. More information about Serious USA can be obtained at www.serioususa.com.

Games-Workshop Updates
Berendir @ 4:01 pm EST

At last it's here! After months of rumour and speculation, Lord of the Rings must be the most highly anticipated game that Games Workshop has produced to date. The game you've all been waiting for is finally available to buy in the shops. Space McQuirk tears off the shrink-wrap to see what's inside... [More]

Our own staffers got the chance to check out the Games-Workshop, so if you missed their reviews on the contents of the box, and want some more perspective, give them a read: Tookish's Review - DarthCaeser's Review.
Decipher Updates
Berendir @ 3:22 pm EST

Interested in the Shire culture, and how it will be represented in Decipher's LOTR TCG? They released six new cards all pertaining to your lovable furry footed hobbitses. [More]
Release Party Reports Galore!
Enthusiastic email reports on The Lord of the RingsTCG premiere release parties are pouring in from all over!! Happy Lord of the Rings fans, players, and collectors enjoyed demos, trivia games, refreshments, sealed deck tournaments, and pickup games, with posters, oversized Lord of the Rings TCG cards, and exclusive Lord of the Rings TCG T-shirts for raffle prizes. Click on a link to see what our email has looked like since November 6 – we'll continue to post more unedited reports as they arrive! [More]
Media Watch: Time Out Magazine
Xoanon @ 2:52 pm EST

Paul sends along these scans from 'Time Out Magazine'.
Media Watch: Yahoo! Internet Life Magazine
Xoanon @ 1:10 pm EST

Take a look at these first 2 pages from the Yahoo! Internet Life Magazine's December Issue. All LOTR all the time! Check out the amazing article by Angela Gunn. Be sure to pick up your copy for the rest of the article and a Viggo Mortensen (Aragorn) interview today!
More Casa Loma Pics
Xoanon @ 10:53 am EST

From: Faramira
The Casa Loma experience helped calm a little my anticipation for the movie release. But now that I saw and touched the props that will actually figure in the movie, my respect and admiration for Peter Jackson and his crew has grown ten-fold. To all you guys who did not get the chance to see the exhibit in Toronto, rest assured that THIS MOVIE WILL KICK BUTT!


LOTR Cast Sound Bytes
Xoanon @ 10:39 am EST

From: Elom
The Big Breakfast (morning TV) in the UK ran a 3 minute LOTR film, with interviews from the cast:


Ian McKellen said "If Tolkien hadn't written LOTR there would be no Dungeons & Dragons & might not have been any Star Wars but you'd have to talk to George Lucas about that!"



Billy Boyd spoke a little on the background of Hobbits, their disposition, community & lifestyle.



Elijah Wood spoke of his early mornings, " We would have to get up at 5:30 in the morning to get our feet glued on."



Dominic Monaghan told of the different methods used to create the effect of the smaller Hobbits, " Some scenes were shot separately then super imposed together & sometimes we would just be on our knees"



Liv Tyler said that due to the difference in size of characters there would be more than one scale of set used.



Dominic Monaghan joked about Billy Boyd already looking Hobbit like without make up, " Due years of drinking it's given Billy an open face, constantly smiling" to which Billy replied " yes my mind is pickled!"



Ian McKellen pointed out he had seen a Gandalf cake topper once and found it strange that anyone would want a wizard on a cake?


Media Watch: The Movie Cart Show (UK)
Xoanon @ 10:31 am EST

From: Matt
Once again The Movie Chart Show on Channel 5 in the UK had a brief segment on LotR in their programme on Wednesday evening. It showed a part of the first FotR trailer (bah!) and talked mainly about the fan club, and how fans can get their names on the credits of the DVDs. I think the prices they quoted were for the US membership though, rather than the Sterling equivalent of the International option. The programme is usually repeated on a Sunday, around late morning.

Media Watch: Readers Digest
Xoanon @ 10:28 am EST

Juleen W sends along these scans from the November issue of 'Readers Digest' take a look!
Media Watch: Entertainment Weekly
Xoanon @ 11:00 pm EST

From: New Line
Next week, ENTERTAINMENT WEEKLY presents its annual Holiday Movie Preview, a special double issue packed with buzz on all the big-screen offerings for the coming season. This year, New Line's "Lord of the Rings" trilogy (the first installment, "The Fellowship of the Ring," opens Dec. 19), is spotlighted on 5 collectible covers of the issue, including:

ELIJAH WOOD as Frodo
IAN MCKELLEN as Gandalf
VIGGO MORTENSEN as Aragorn
CATE BLANCHETT as Galadriel

...and a CAST COVER, displaying all of the above: Mortensen, McKellan, Wood, and Blanchett.

The issue also features a 10-page behind-the-scenes story on "Lord of the Rings," with quotes from director Peter Jackson, stars McKellen, Wood, Mortensen, Sean Astin, and others. Entertainment Weekly correspondent Gillian Flynn travelled to Middle-Earth stand-in New Zealand and traces the fantasy series' epic journey from page to screen, revealing elements that were excised or changed from the books, how the principal performers were cast, why Jackson was the choice to helm Frodo Baggins' journey to Mordor, and much, much more.

Yeah...It's Still Milk..
Xoanon @ 10:27 pm EST

No comment from me, it's milk..
Media Watch: The NZ Dominion
Xoanon @ 10:20 pm EST

JS sends along this great image and article about the NZ Prime Minister cashing in on LOTR.
Bree Gate
Berendir @ 4:21 pm EST

Josef Bugman just released the first image of the Bree Gate, from his Age of Kings LOTR Mod, fashioned after the one shown in stills from the movie. Here's the Decipher card of Bree Gate to compare the image too, and if you have the time, I heard a rumor you can find another image of the Bree Gate among our archive from Casa Loma.
More on Richard And WETA
Xoanon @ 1:32 pm EST

This picture (from JS) goes along with the 'Toy Weta' article posted earlier, I just wanted to post it because it shows some coolio WETA statues, and Richard!

NZ Government Going LOTR Mad!
Xoanon @ 8:28 am EST

LOTR ANNOUNCEMENTS BY PM...
Prime Minister Helen Clark announced today that the government will allocate up to $9 million in additional funding over the next two years on a range of projects aimed at capitalising on the forthcoming release of the Lord of the Rings trilogy and the. Govt to secure spin-offs from Lord of the Rings

Lord of the Rings trilogy has the potential to be a major tourist promotion and investment tool for years to come, by highlighting the country's natural beauty and the creative talents of its people across a wide range of knowledge-based industries. Maximising spin-offs from Lord of the Rings

- Lord of the Rings (LOTR) is one of the largest movie productions ever undertaken. The film trilogy has been almost entirely made in New Zealand, with both the location shooting as well as the post-production, including the special effects being completed. Some facts about Lord of the Rings
Thanks to Scoop for their news!

What's This? Over 95 NEW Casa Loma Pics?!
Xoanon @ 12:26 am EST

Yes, TheOneRing.net, the ONLY site to provide you with exclusive Casa Loma pics has hit the motherload!!! Here we have an AMAZING collection of NEW pics from Casa Loma! New stuff!!! Amazing!!
Thanks to Rob and Zoltan for all the hard work!
Go back to Special Reports Archives