Go back to Fan News Archives
June 19, 2001 - August 21, 2001
Monday, August 20, 2001
Santa Clarita CA Reading Group - Calisuri @ 00:44 PST


The Santa Clarita Reading Group (from left to right):
Carlos, Benjamin, David, Andrew, Justin, Alyssa, Gregory and Elijah.
I just wanted to take a second to say that I live in a great town!
I moved to the LA area 2 weeks ago and already found my first group of Tolkien fans. I lived in my old state (which will go nameless as not to offend) for 25 years and never ran into a Tolkien reading group.
The fact that a Tolkien group exists, in this small community on the north edge of LA really, is a testament to how much the Tolkien phenomenon is growing. In a few months, I'm sure your local Barnes and Noble will have their own discussion group. And if they don't, all proud Tolkien fans should start one! (After all, we are going to have to set a whole new generation of Tolkien fans straight when they ask who 'Lurtz' is...)
If you live in Santa Clarita, California and want to get a weekly fix of Lord of the Rings come on down to the Barnes and Noble on Valencia Blvd. The group meets every Monday night at 7:30pm PST. Get involved now, we are only on Chapter 4 of FOTR!
Barnes & Noble Booksellers
Valencia
23630 Valencia Blvd.
Santa Clarita CA, 91355
661-254-6604
Monday, August 06, 2001
Fan-made 'Rings trailer - Strider @ 15:43 PST
If you have a few minutes to spare during the day, Chris S mailed us to say that there's a really great fan-created trailer on the Lord of the Rings series on iFilm.com. Seems like there's no end to the talents of Ring fans. [More]

Tuesday, July 24, 2001
'Tolkienisms' On the Rise? - Tookish @ 15:34 PST
Here's the abridged text:
Pledge a promise to keep boats and passengers safe
By Mike Esposito
Tribune staff reporter
Published July 22, 2001
"Boats are quite tricky enough for those that sit still without looking further for the cause of trouble."
--"Gaffer" Gamgee in "The Lord of the Rings"
Venturing off shore--work or play, racing or cruising, sail or power--is hazardous.
To reduce the danger, the National Marine Manufacturers Association is promoting its Sober Boater Pledge, sponsored by Allstate Insurance Co.
The program is very simple. Boaters sign a pledge promising not to drink and drive on the water, to make sure everyone on board wears a lifejacket, to know and follow the rules of the waterways, and to shower their boat with love and affection...
Flotsam and jetsam
- The 2001 Rolex International Women's Keelboat Championship Outreach Committee will select 25 junior women sailors, 13 to 19 years old, to participate in the Rolex Next Step Program...
Wretched writers love Tolkien - Strider @ 13:38 PST
From Elerrina:
There's a famous contest that actually *dares* its contestants to write the worst fiction prose that their fevered brains can conjure up. It's called the Bulwer-Lytton Fiction Contest (at San Jose State University) and this year's runner-up in the "Fantasy" category has composed an homage to Tolkien's LoTR.
You can check it out at: http://www.sjsu.edu/depts/english/2001.htm

Wednesday, July 18, 2001
Lord of the Rings LARP - Calisuri @ 23:05 PST
Check this out from Sam:
Come and see the newest Tolkien LARP, or Live action role-playing game. Ever dream of being a Hobbit or maybe one of the other races from the Tolkien world? Well here is your chance, come join with us at this year's Dragon Con in Atlanta, Georgia; Aug. 31st - Sept. 3rd.
In this story you can act out one of the evil orcs that serve in the armies of evil, or play a great elven warrior. This story is based in the time of the Lord of the Rings books. The characters played will not be from the books but creations of the storytellers. We have broken the playable characters into four classes and eleven races. Players will have the ability to play good or evil characters.
This event will be a three day game from 11am to 6pm, Fri. - Sun.. Our web site has information on the game rules as well as information on story base of the game.
For more facts and game tools check out our web site at: http://www.geocities.com/lotrlarp/ . If you have questions about Live Action Role-Playing or this LARP please feel free to e-mail us at lotrlarp@yahoo.com.
This LARP is sponsored and prizes donated by TheOneRing.net. We welcome you to join us in this grand adventure. Don't miss it! [More]
Saturday, July 07, 2001
Pelennor.com is now Valinor! - Calisuri @ 09:44 PST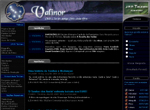 Ringer staffer Dune has made a major update to, the formerly named, Pelennor.com. Tolkien fans in Brazil have united and formed Valinor!
If you were looking for the best Brazilian Tolkien site, you need look for it no more! Welcome to Valinor, the Land of the Powers, where you can find the most complete information on every aspect of Tolkien'swork, as well on the upcoming LoTR movie trilogy. In Portuguese.[More]

Friday, July 06, 2001
Hobbit Renderings and Animation - Calisuri @ 10:56 PST

Ringer staff member Blasm sent me this link today and I was completely blown away. It is quite obvious that we have a bigtime Tolkien digital artist on our hands! Check out these 3d renderings and animations from David Komorowski, a digital modeler/animator from Georgia . [More]
Tuesday, June 19, 2001
The Hobbit Movie is coming! - Calisuri @ 23:43 PST
Alex Russek (Director) is creating an independent film version of The Hobbit.
Shooting has begun in Pound Ridge New York for the Gollum cave sequence. Alex Russek's effects company (Planetary FX) will be handling the bulk of the effects and actor Ben Hoffman will be playing Bilbo. Other cast info will come later. The screen writers have added some new sequences such as a Troll chase scene and a wizards gathering scene in which the wizards learn that the ring has resurfaced. Should be out by 2004.
Cast in the role of Bilbo is Ben Hoffman.
Check out these exclusive pics from the production! Remember, these are only early cg models, but its a look.

Gollum Rendering

Troll Rendering
Go back to Fan News Archives