Go back to Fan News Archives
April 25, 2001 - June 10, 2001
Sunday, June 10, 2001
Fan Wallpaper Update! - Calisuri @ 18:50 PST

40 new desktop images! Fans from all over the world have sent us a variety of desktop wallpaper graphics for your use. Check out the latest batch in pages 14 - 18. [More]
As always, if you have wallpaper and desktop images you would like to send us, email me personally at calisuri@theeonering.net.

Thursday, May 24, 2001
MP3 Frodo of the Nine Fingers - Calisuri @ 12:56 PST
Ringer fan Jason sends us this:
"There is this band that did a really funny version of 'the Nine Fingers'...you can download it at http://www.mp3.com/RBHID/."
I've listened to it, and yes...its is very funny!
Check out other fan music in our Fan Music section.

Wednesday, May 23, 2001
Leave the Flying to Gandalf! - Calisuri @ 16:25 PST

Any Italian Ringers out there? If so, we have an airline for you! Check this out:
I'm the President of Gandalf Airlines, italian regional airlines partner of Air France and listed at Italian Stock Exchange.
When I opened my company, 2 years a go, I decided to call it "Gandalf" in order to provide it the power of a wizard.
I have seen your site and your pictures and it's really strange to see that Gandalf is not just my airlines but there is an other world related to it; of course, I knew it.
My compliments for the coming movie.
Best Regards,
Luciano
Wow, now that is an airline I want to fly on. Lembas and 1420 for cross country flights? Book your flight today! [More]

Thursday, May 17, 2001
Welcome Middle-earth Tours! - Calisuri @ 16:57 PST
TheOneRing.net is proud to welcome Middle-earth Tours to its online community!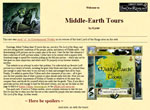 Now you can tour Middle-earth with the help of the best Tolkien artists and images from the upcoming movies. Pictures are reasonably sized, arranged by topic and accompanied by quotes from the books; so "tourists" can compare several artists' renditions of Gollum, Gondor, etc., with Tolkien's own descriptions. Decide for yourself which artist got it "right!" [More]
Sunday, May 06, 2001
LOTR AIM Buddy Icons - Calisuri @ 23:57 PST
Ringer fan David sends in a link to some cool Buddy Icons for you AOL Instant Messanger users.
"Finally!! http://www.aimicons.net/ has animated Lord of the Rings buddy icons for AIM (under movies, LOTR). The animations are from the two trailers, and include the LOTR logo, Aragorn throwing the torch, the ring spinning, and Galadriel talking to Frodo."[More]
Sunday, April 29, 2001
Glass Hammer Update - Tookish @ 21:14 PST
Hiho. Sam the Splendiferous here. I noticed Glass Hammer updated their site on the new middle earth album (being the #1 Glass Hammer fan of all time and everyhting). I'm not sure if this exactly counts as a spy report, but oh well. [More]
Fan Art Update - Calisuri @ 11:49 PST


I just finished adding a whole bunch of new fan art! Thanks to everyone who sent their masterpieces to us. If you want to send us some of your personal Tolkien-related artwork and get your own gallery, please don't hesitate to send me an email at calisuri@theonering.net. [ Fan Art Gallery ]



Wednesday, April 25, 2001
Small Tolkien Ref in last nights 'Buffy' - Calisuri @ 09:45 PST
Thanks to Diane for sending this in:

"Thought you would like to know that they made a joking reference to hobbits on "Buffy the Vampire Slayer" last night.

In reference to some ugly demons of somewhat short stature and wearing monk garb, Xander describes them as "hobbits with leprosy." They didn't actually look anything like hobbits, being too tall, but I appreciated the joke anyway. "


Go back to Fan News Archives