Go back to Fan News Archives
February 25, 2001 - April 21, 2001
Saturday, April 21, 2001
Attention Pittsburgh Tolkien Fans - Calisuri @ 03:54 PST
Ian sends in this event happening TODAY near Pittsburgh, Pennsylvania:
Hello, my name is Ian M. I live north of Pittsburgh,PA, USA; and I'd just like to inform you that my local library (the Saxonburg Area Public Library) is putting on a production at Knoch High School on April 21st at 7:00. The production is called "The Rhythms of the Land: A Tribute to Tolkien." This is a fundraiser for the history and genealogy departments of the library. The local newspaper describes it as a "evening of live performance art, a percussion/drum based program composed by John Tallent that incorporates music, lights, spoken word, and humor." (Source: Valley News Dispatch 4-20-01) For more information, call (724) 352-4801. I really don't know what to expect, and am very excited about going. I will e-mail you again to give a report on the show. Thanks for your time.
Thank YOU Ian for sending us this heads up!
Friday, April 20, 2001
From Fan Art to WETA Digital? - Calisuri @ 13:20 PST
For those of you who follow Fan Art here at TheOneRing.net, we have been blessed with the work of Rich Sullivan, aka Sull (http://fan.theonering.net/art/gallery/artist/Sull) for a few years. His depiction of Tolkien's orcs are sometimes scarily realistic. (I remember the first image he sent me. I thought it was a picture and not a 3d rendering!)
Now that we have seen a few of the orcs that will appear in the upcoming films, some fans have emailed me with queries on whether he has worked for WETA. Ever notice how Rich's Orc representations look REALLY similar to the Uruk-hai in the films?

take a closer look to see what I mean
If he isn't working for WETA now, maybe they should take another look! Its obvious he has a handle on the look and feel WETA and PJ came up with for the films.
And yeah, it would be cool to have a TORn fan art person move on up to the big leagues!
PS- Having problems determining which is fan art and which is from WETA? Highlight the following text to find out: LEFT - Rich Sullivan Ugluk, MIDDLE- WETA Digital Orc Swordsman, RIGHT - Rich Sullivan Orc
April 20th - Middle-earth Day! - Calisuri @ 10:27 PST
So we all know April 21st is Earth Day, but did you know that April 20th is Middle-earth day? Well, neither did I, but in Ringer fan Alec's school it is!
"Today in my school is official student council sponsered Middle Earth day. My friend and I made this day to honor J.R.R's epic books. My suggestion is to make April 20th official Middle Earth day for everyone. We are celebrating by giving everyone a new name from the books (all 500 students), playing music related to the books, and having a special reading after school. I'd like to see today become official Middle Earth day, and be celebrated by Tolkien fans throughout the world."
Declaring April 20th as an international holiday? Sounds good to me!

Thursday, April 19, 2001
Gandalf Wants You! - Calisuri @ 10:04 PST
Ringer fan Jason C sends in this funny manipulation of a recently released Sideshow WETA Toys brochure image.
Monday, April 09, 2001
Oliphant arrested at Massage Parlor... - Calisuri @ 12:33 PST
Ringer fan Jason C. sends us this humorous tidbit:
File this under funny, it was in my local paper on Friday in Toledo Ohio, USA

Monday, March 26, 2001
The Our Father in Quenya - Calisuri @ 01:00 PST
Ringer fan Philip sends us this neat link:
"I don't know if you would be interested in this, but the website for the Convent of Pater Noster in Jerusalem has a page with the Lords Prayer transalated into Quenya on it." [More]
Sunday, March 25, 2001
Wallpaper Galore! - Calisuri @ 17:40 PST
After months of delay, the Fan Wallpaper section has been updated! Check out the 36 brand new wallpaper/desktop patterns and take a few hours to browse through the entire collection. (only about 134 pieces..heh)
If you have any wallpaper to send in, address it to calisuri@theonering.net. I'll be happy to post it up! [More]


Sunday, February 25, 2001
Welcome Dagorhir.org! - Calisuri @ 17:49 PST
Welcome Dagorhir.org!
TheOneRing.net™ is proud to announce another new member of its Fan Community.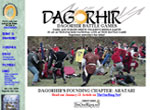 You've read Lord of the Rings. Dagorhir Battle Games lives it! Tolkien's Middle-earth meets Dark Age Europe in this safe, live-action, action-packed, nationwide war gaming society. Why dream the life when you can live the dream? Join yesterday's fun today!

Go back to Fan News Archives