Go back to Fan News Archives
December 19, 2000 - February 21, 2001
Tuesday, February 20, 2001
Music: Lastest from Glass Hammer - Calisuri @ 00:33 PST
Hi folks,
Our hobbit spies have returned from Sound Resources with two interesting finds: MP3 tracks of two songs from the upcoming Glass Hammer album "Live From Middle-Earth"!
Curious Tolkien fans can visit http://www.glasshammer.com and listen to "Dwarf and Orc", a boisterous tune straight from a live performance at the Prancing Pony, or a more solemn studio tune entitled "The Last Ship", written after the band returned from their trip to Middle-Earth.
Lyrics for both tunes are provided so you can sing along. Enjoy the music and spread the word if you like it -- the album will be available this spring!
Thanks, as always, for your continued interest and support of Glass Hammer!
Regards,
Phil
Lady Eowyn for Sale! The Flower that is. - Calisuri @ 00:23 PST
Ringer Fan Nancy B sends us this:
"Here's something interesting for anyone who loves to garden ....there is a beautiful pink and white rose available commercially named "Lady Eowyn." It is offered at www.rosemania.com. If you visit this site and see the rose, you would agree why this rose deserves such a lovely name. (However, I think I should persuade the hybridizer to name future rose hybrids "Arwen," "Galadriel," "Elanor," and, heck.."Rosie's Rose"!) I plan to plant her with my other 70-some-odd roses, and hopefully, I can hunt down somebody who still offers a mini-rose called "Frodo" which is no longer available commercially."
Check it out! [www.rosemania.com]

Tuesday, February 13, 2001
LotR Fan Poster - Calisuri @ 13:20 PST
Check out this great new piece of Fan Art. Ringer fan Matt sent in his rendition of what the LotR poster could look like.
I will be adding all of the fan art contest submissions and other fan art to our galleries shortly! If you have art to send in, please address it to calisuri@theonering.net. In the meantime, check out all the fan art in Fan.TheOneRing.net today!
Monday, February 12, 2001
Welcome My Precious! - Calisuri @ 12:56 PST
Welcome My Precious!
TheOneRing.net™ is proud to announce a new member of its Fan Community.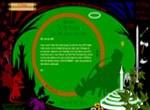 My Precious: Check out the BEST LotR Flash site out there! This well designed and beautifully intricate page makes use of Flash to bring you LotR movie news and much more!
You will need the flash plugin to view this site.

Sunday, February 04, 2001
Fan Art Update - Calisuri @ 11:37 PST
After much delay, I have finally had a chance to updated the Fan Art Gallery!
See the full gallery! [More]
Wondering out the Fan Art 2001 Contest? Look for the winners to be announced Feb 10th!

Sunday, January 14, 2001
Fan Art Contest 2001 - Tookish @ 16:51 PST
That's right! Categories for youth and adult, prizes to pop your eyes, let the contest begin!!

Fan Art Contest 2001
Tuesday, January 09, 2001
The Spud of the Rings! - Calisuri @ 09:34 PST
Ringer fan Kotukunui checks in with a wonderfully silly fan made trailer! Who would have thought that Mr. Potato Head and the household cat would provide such thrills?!
See it in our Fan Multimedia Section!
Tuesday, December 19, 2000
Fan Art Update - Calisuri @ 01:08 PST

Check out the latest and greatest fan art submitted for the months of November and December! Remember, anyone can submit and everyone gets a gallery, as long as your fan art relates to the wonderful world of J.R.R. Tolkien. Don't hesitate to send large files, I can handle them...:) Send all fan art to calisuri@theonering.net.
A Fan Walpaper update will be coming shortly!
Go back to Fan News Archives