Go back to Fan News Archives
October 05, 2002 - October 17, 2002
Thursday, October 17, 2002
Robert Ellwood Report From Chicago - Xoanon @ 13:52 PST
Emma writes: I'm sending along a few photos from the event four of the Chicago Fellowship attended tonight. I believe AZ (Telcontar) is writing up the group notes--I had my hands full with the camera and didn't take any.
The event was author Robert Ellwood (we're still chuckling over the name) discussing his book "Frodo's Quest" at the Transitions Bookplace in Chicago. As promised on their webpage, we did indeed hear "how Ellwood interprets the epic in terms of core themes of the ancient wisdom tradition, including the development of higher consciousness, death and rebirth, and the triumph of good over evil."
Attached in this first batch are the display at the front of the store of Mr. Ellwood's book, and two photos of Mr. Ellwood, one of him reading a passage and another answering a question from our own Sierra.
One is a bit longer shot of the cafe section of the bookstore in which Mr.Ellwood was speaking. The other is 3 of the 4 Chicago Fellowship members in attendance--Telcontar, Emma and Sam (Sierra was behind the camera).
Wednesday, October 16, 2002
The Gathering of the Fellowship - Tehanu @ 20:39 PST
News via Sean P. Dailey, "Gathering of the Fellowship 2003" publicity spokesman
Upwards of 1,300 fans of the late English writer J.R.R Tolkien are expected to descend on Toronto, Canada, in December 2003 for the Gathering of the Fellowship.

The Tolkien fans are also ardent enthusiasts of director Peter Jackson's cinematic adaptation of Tolkien's epic work, "The Lord of the Rings," and are getting together in Toronto to view the release of the third installment of his three-part adaptation of that book, "The Return of the King".

But that's not all. The Gathering is a three-day extravaganza that, besides also featuring screenings of "The Fellowship of the Ring" and "The Two Towers" (the first ever triple feature of all three Lord of the Rings movies), will include a costume contest, a poetry/literature contest, a fan art contest, a trivia contest, a vendors/dealers show, and several seminars and workshops. There will also be a Rohan-themed banquet at the Medieval Times restaurant in Toronto.

"This started out as a simple idea to bring a bunch of fans together to see 'The Return of the King' ", Gathering president and planning committee chairman Ed Rodrigues said. "But it has grown way beyond that to encompass the whole range of Tolkien fandom."

Rodrigues last year was in the middle of planning a Line Party in Syracuse, New York, for the December 2001 premiere of "FOTR", and the Gathering idea sprang from that.

"The idea came about around November or December," said Paulina Gibson, vice president for the Gathering. "Ed was gathering people in Syracuse and he pulled it off. I posted (on the message board for TolkienOnline.com) and I said I wished I could be there with all of you... maybe we can gather for all three movies... just a thought. Ed replied enthusiastically with some ideas and it grew from there."

The Gathering has grown to encompass fans from other Tolkien fan sites as well, including Ringbearer.org, The Lord of the Rings Official Fan Club (lotrfanclub.com), the Minas Tirith Forums (minastirith.com), the Council of Elrond (council-of-elrond.com, formerly imladris.net), various other fan groups, and of course TheOneRing.net.

Interest in the Gathering has continued to swell ever since Toronto beat out six other cities for the honor of being the host city. More than 240 people have paid $50 (US) each for Early-bird ticket reservations, with nearly 700 expressing an interest in attending. The initial budget has been worked out, and the final ticket prices have been set just this weekend.

The official hotel for the Gathering is the Colony Hotel Toronto, with the activities, workshops, galleries, vendors, and the movies triple feature, to be held in the Queen Elizabeth Exhibit Hall and Theatre at Exhibition Place. Medieval Times at Exhibition Place will also feature the masquerade, costume contest, fully catered banquet and live show, music, dancing, and additional programming as well.

The Gathering's official website, www.tolkiengathering.com has also undergone a recent upgrade.

Sean Dailey can be reached at tgpressec@abelink.com.
Monday, October 14, 2002
Tom Shippet In Chicago - Xoanon @ 01:31 PST
Martha writes: Tom Shippey will be one of the featured Chicago Humanities Festival speakers on Saturday, 9 November 2002. Topic: Trees, Chainsaws, and the Vision of Paradise in J.R.R. Tolkien. Event description: "A scholar of Old English and Tolkien's contemporary, Shippey reminds us that beneath their popular, cinema-friendly exterior, his colleague's works amount to a serious meditation on Christian religion and pagan mythologies." Book sales and signing follow. 1-2 p.m.; Harold Washington College, 30 E. Lake St., Chicago. Tickets $15. Order tickets from the festival's Web site www.chfestival.org

Toronto TTT Coolness Ad - Xoanon @ 01:02 PST
Matt writes: I scanned in something from my local paper, The Toronto Globe and Mail. I am sure somebody has already sent you this, but in case not, it sounds a bunch like what they did last year at Casa Loma. [More]
Before you see the movie
Discover an all new exhibit
Alliance Atlantis and Bell ExpressVu Invite you to Journey through Middle Earth
The Lord of the Rings - The Two Towers
Inset: The ROM's McLaughlin Planetarium Building
The Exhibit
October 31 - December 1
Advance Tickets available through Ticketking
Phone 416 872 1212 or 1 800 461 3333
www.ticketking.gom
World Exclusive
Exclusive New Footage
Win a trip to New Zealand courtesy of Goway and Air New Zealand
Thursday, October 10, 2002
Alan Lee Event Report - Xoanon @ 15:50 PST
Pippin Skywalker writes: I must say that this event was special in subtle kind of way. It grew on me and the more I thought about it the more I was happy I went.

It was a rather rainy day in New York therefore creating a good atmosphere to go to something like a booksigning. My ever faithful father Mr. Skywalker accompanied me to the event but considering we went to the wrong building by mistake it would have been fit if we had brought an elven guide with us. Ah well....elves are busy folk...
When we got to the correct theater we were about to buy the tickets when a very kind lady at the book table offered us some extra tickets she had (bless here heart!). We then proceeded to go in and passed a book table of Tolkien Literature. We went into screen one and sat towards the back. Inside were seated about 40-50 people and behind a podium at the front was Alan Lee. A soft spoken man,he talked of other non-Lotr films he had done concept art on and proceeded to guide us through an extended slide show. What we saw was a ton of concept art never seen by the general public as well as photographs from his time in New Zealand. Various Pics were:
1.Jackson exploring a site for the Dead Marshes. they ended up using just a backlot because the other site was to much to handle. :)
2. Jackson at the Moria set looking for the exit lol.
Along with stills we see many sets,building,and props in their early stages. The Dwarven Tombs in grander scale,the knotted roots of a tree where Elrond was to have his throne (they dropped this because our beloved cast might trip),Bilbo's Books and a number of many other things which many fellow reporters have mentioned.
I liked Alan Lee and his love classics,fantasy and art. He is a very cultured person and has wonderful amount of skill and knowledge. I asked him a question of how they film miniatures as opposed to real sets (being you don't want an ugly crane and a cup of joe behind Minas Tirith thank you very much) and he explained how they used green screen for that.
I'm sorry I don't have much to tell but many others have elaborated on this so well I need not say much more. Alan also gave us insight into what concepts were his and which ones where John Howe's. The latter did Bag End,Sauron's armour and has (according to Lee) a very Gothic style,while Alan did the rest of Hobbiton, Bree, Khazad Dum and mimics the style of Da Vinci.

Overall this was a very interesting event and they had some wonderful bookmarks with Bilbo's hobbit hole :)
Welcome to Zloty Las! - Calisuri @ 02:29 PST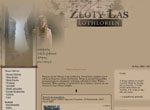 Another day, another great member to add to our Fan Community. Zloty Las is an absolutely great site for Polish Lord of the Rings fans looking for their fix in their native language. It has the latest news, discussion boards, a gallery, and for registered users ability to change the main site theme. Check it out today! [More]

TORNadoe Cookbook Makes Good - Xoanon @ 00:03 PST
~mallorn~ writes: Today while at work I was reading through industry trade magazines and came across this fantastic little article giving some publicity to one of our own TORNados and her Tolkien cookbook! What a shock I had in reading about someone in a magazine that I know from the TORN website!

Anyway, the article mentions her nickname as "Emerald" Took but from speaking with her I believe this is Diamond_Took. She had told me about her cook book and I thought she said it might be on the TORN website somewhere--maybe Green Books, I can't remember.

Anyway, I'm sending you a jpeg of the article; the publication is "Nation's Restaurant News" and is a foodservice trade publication serving the restaurant industry. This does seem a bit eclectic news for them-usually they report on business in the major restaurant chains, new recipes from famous chefs, and industry issues like food safety, training employees, etc. {More]


Wednesday, October 09, 2002
Douglas Anderson In Salt Lake Report - Xoanon @ 10:00 PST
Douglas A. Anderson presented a slide presentation and lecture concerning his book The Annotated Hobbit by J.R.R.Tolkien tonight to an audience of 100 enthusiastic readers at Borders Books in Salt Lake City. Mr. Anderson is a man with a mountain of knowledge inside that he almost canít get out fast enough. He spoke off the cuff for about an hour as he showed slides of illustrations from the book. Many of the slides were from well known illustraters such as Tim Kirk, Alan Lee and John Howe but there were other fascinating ones from editions of the Hobbit around the world. A Russian illustration of a hobbit with hair all the way up his legs because in everyday Russian there is no word to differentiate between leg and foot. There were some Swedish illustrations that Tolkien originally called "frightening", some from Portugal that he described as "foul".

My particular favorites were the picture of Bilbo, by Tolkien no less, wherein he is wearing boots which he apparently got in Rivendel although Tolkien never corrected the text, and the post card from which Tolkien got the idea for Gandalf. There is also an amazing photograph of a scene in the Swiss Alps that could be the prototype for Rivendel. All these examples and many more are included in The Annotated Hobbit.

Mr. Anderson is shows his excitement about his subject and the audience was right with him throughout. At the Q&A session afterward he told more stories about his future plans to work with some of Tolkienís unpublished poetry. He also said some colleagues were working on an Annotated version of Lord of the Rings. He talked more about C.S.Lewis and the inklings, and Tolkiens expertise with Beowulf. He seemed comfortable talking about his subject and the audience was interested and attentive. It was a good evening and well worth the trouble of seeing him in other cities if you get the chance.

He wore a ring on a chain around his neck and I found myself wondering if that was an affectation that he used during his presentations. I was pleasantly surprised to learn that Borders had given him the ring as a gift. It was from the Badali Jewelry Specialties, Inc. in Layton Utah who have the rights to make the "ring" inscribed with the markings of Mordor. Borders is also planning several events on November 6th when many of the Houghten Mifflin tie-in books will be released for The Two Towers.

As for my own experience, I went alone but when the Q&A session started I found that my old roommate was there as well. I didnít buy a book (couldnít afford it right now) but fifteen minutes after I got home the same roommate was on my doorstep with a copy that was autographed with a lovely little compliment about the questions I asked. Thanks Doug. Thanks to my friend. Nice evening.

Tuesday, October 08, 2002
The Lord of the Rings Costumes Site! - Calisuri @ 23:32 PST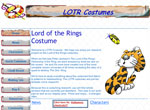 We are extremely proud to present a new member of our Fan Community: The Lord of the Rings Costume site! Just in time for Halloween, this site will tell you everything and anything you could possibly want to know about the costumes in the film version of The Lord of the Rings. [More]


LOTR Event In London - Xoanon @ 16:33 PST
Togo_Baggins writes:

Today I went to Waterstone's Piccadilly Book Store in London, and on a leaflet I picked up, stating the events to take place at the Store next month, it said under November Highlights:

THE LORD OF THE RINGS DAY

Wednesday 6th November from 2pm at Waterstone's Piccadilly Waterstone's Piccadilly and Harper Collins publishers are holding a day of activity to celebrate the publication of their 'The Lord Of The Ring' tie-in. Events will include author readings, book signings, children's activities, an exclusive one day exhibition of film stills, alimited edition lithograph with every purchase of the books, surprise guests, exclusive film footage and much, much more.

For further details please contact the branch on 020 7851 2400 or visit tolkien.co.uk.

Saturday, October 05, 2002
Chatting Up Andy Serkis - Xoanon @ 11:09 PST
Carole writes:

I went to see Andy Serkis in Othello at the Manchester Royal Exchange Theatre a couple of weeks ago. He was absolutely brilliant as Iago and I was spellbound from start to finish.

I met him for a brief chat afterwards and he very kindly signed my DVD cover. I asked him if he enjoyed being in New Zealand and he said he loved it - he also said he was still having to travel out there to do extra work on the film. I said it must have been a very difficult role to do because of all the technical constraints and he said that the repetition was the hardest part of it, but I think he really enjoyed doing it. Andy Serkis was absolutely charming and friendly despite only having a short break between the matinee and evening performances of a three and a half hour play.

If his acting in Othello is anything to go by we are in for a big treat in TTT and ROTK. Roll on December!



Go back to Fan News Archives